By Carla Fried
As explained in a new YCharts Sector Report companies that are deemed to be the most undervalued according to YCharts' proprietary six-factor model have a pretty nice record of delivering for the patient investor. The annualized gain for the lowest decile (most undervalued) stocks since 1980 is 23.4%, more than double the return for the S&P 500.
As director of research Erik Kobayashi-Solomon makes a point of clearly laying out, that's not to be misconstrued as a guarantee that any stock with a YCharts Value Score of 10 right now is bound to please. But it's a pretty nice place to dig into some further investment research.
Here's a YCharts Stock Screen that also requires a market cap of at least $2 billion:
Kobayashi-Solomon generated an intriguing sub-list in this month's report of V10 stocks that he highlights as notables worth some of that research. The top 10 are Exxon Mobil (NYSE:XOM), Royal Dutch Shell (NYSE:RDS.A) (NYSE:RDS.B), Wells Fargo (NYSE:WFC), HSBC (NYSE:HSBC), Intel (NASDAQ:INTC), Telefonica SA (NYSE:TEF), Altria Group (NYSE:MO), Eli Lilly (NYSE:LLY), Canon (NYSE:CAJ) and Exelon (NYSE:EXC).
That's an especially intriguing list for income seekers. The average current dividend yield for the notable V10 stocks is 4%. That said, jumping for the highest yielder, Telefonica's 6%, is not advised. Even after slashing its dividend, as it has had to manage through a debt-laden growth strategy that has had its speed bumps, the payout ratio is still above 60%.
Another one where income stability is suspect is Exelon. Exelon cut its dividend last year and as YCharts contributor Dee Gill recently explained, there's not a whole lot of near-term capacity to grow the reduced dividend from here as long as natural gas continues to make Exelon's nuclear energy less compelling.
Wells Fargo, cut its dividend during the financial crisis, as did all major banks, but it has been aggressively rebounding on the payout front, and even after a strong price gain in 2013, its current 2.6% yield is well above the 2% norm for the S&P 500.
The banks must get federal approval to increase their dividend payouts (and share buybacks) -- which is granted based on an evaluation of capital requirements. In December, Wells Fargo CEO John Stumpf told an investor conference he expects the firm to lobby for an increased payout this year. While rival JPMorgan Chase (NYSE:JPM) has managed to restore its payout to its pre-crisis high, Wells Fargo still has at least one more hike to go to get back to par.
WFC Dividend data by YCharts
In terms of capacity to maintain and potentially grow the dividend, Wells Fargo, Exxon Mobil and Royal Dutch Shell all have payout ratios below 40%. Royal Dutch Shell's 4.7% yield is more than two percentage points more than Exxon's. With Shell's stock languishing it's not a wild guess to suggest the dividend may get another boost this year as a bone for shareholders.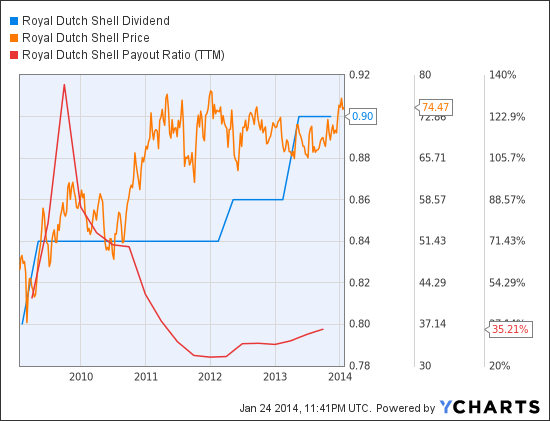 RDS.B Dividend data by YCharts
If you're not wedded to socially conscious investing, Altria looks to be the income darling of Kobayashi-Solomon's V10 group.
The current yield is above 5%. Dee Gill recently laid out the case on how Altria, and Philip Morris (NYSE:PM), have become the new go-to stock for classic widow and orphan portfolios.
Disclosure: None