Occidental Petroleum (NYSE:OXY), the largest Texas oil producer, is beginning its unconventionals push into the Permian. At the same time, Occidental will complement its conventional program of water and CO2 floods, called its Permian EOR market, alongside its unconventional activities. Their management sees this as a way to "maximize field resource potential." They look at their diverse Permian acreage as a strategic advantage and their holistic, more conservative approach as part of the execution strategy. The EOR (enhanced oil recovery) business is the cash cow to help double drilling rigs over the next three years to accelerate overall Permian resources growth. In 2013, they also added 200,000 net prospective acres for a total of ~1.9 million prospective acres. The Oxy story in the Permian is a unique one relative to other producers, but the many Permian players bring different strengths to their strategies. (See primer "Oxy in the Permian.")
A number of top Texas producers like Apache (NYSE:APA), Pioneer Natural Resources (NYSE:PXD), Energen (NYSE:EGN), Concho and others were hit by frigid, icy weather in December; Oxy had some other production hiccups. They plan to spend an additional $450 million in 2014 for a total of $2.19 billion in capital outlays in their Permian Basin assets. Overall oil production in the Permian Resources group (unconventionals) is expected to grow by 20-25%, with total production increasing by 13-16%. This leads to overall Permian assets growth of a 6% increase in oil production, and ~$1.8 billion cash flow after capital. The overall Permian production growth expectations are a projected 10% compound annual growth rate through 2016.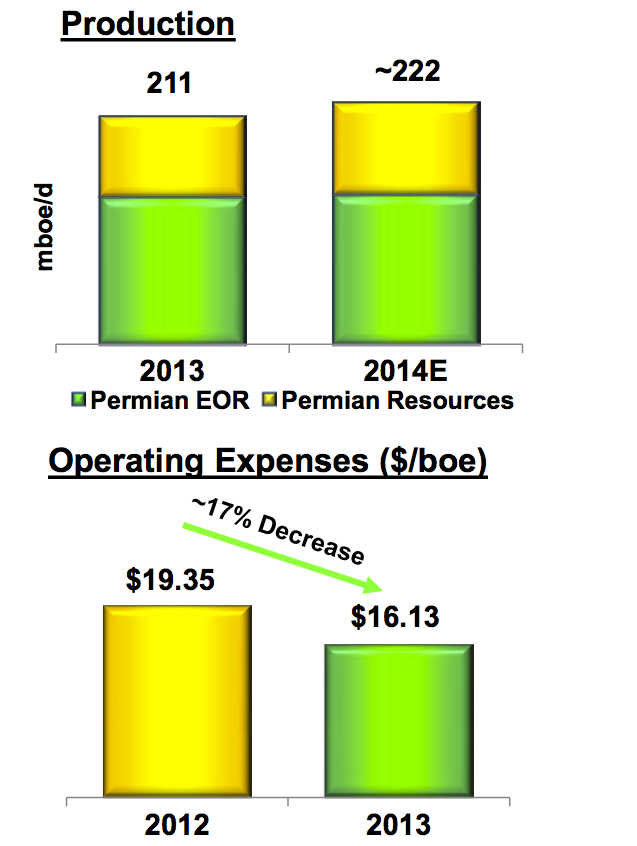 The domestic oil chart below depicts Oxy's U.S. production growth of about 9% spread between California and Permian resources.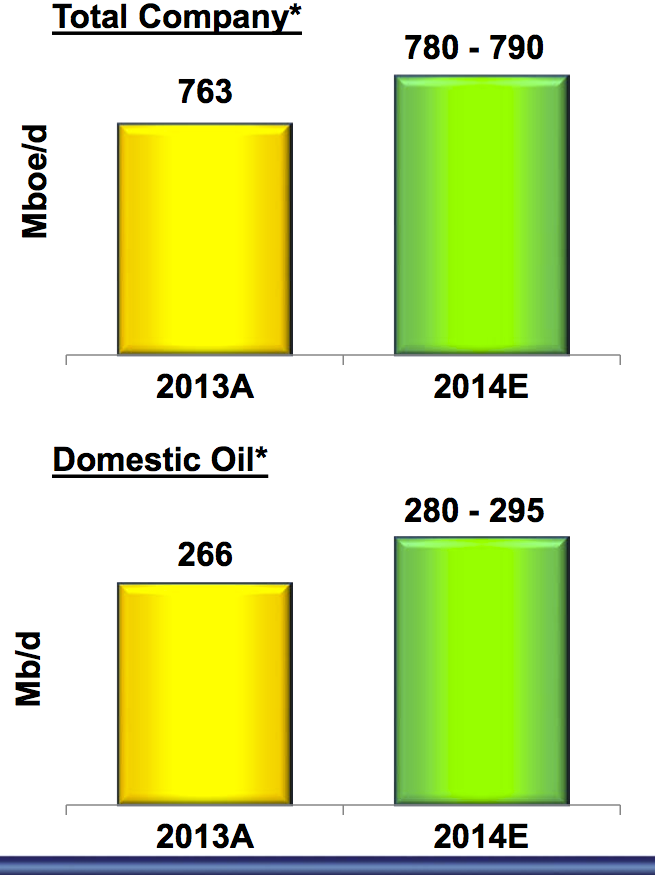 Specific Permian area focal points include the Delaware Basin, Midland Basin and the New Mexico Permian. In the Midland Basin, where the most intensive Permian-wide resource potential lies, they plan to spend $790 million for an average of 8 rigs, with 174 wells of which 74 are horizontal. In the Midland, which overlaps the Cline play, or the Wolfcamp D interval, Oxy has identified 450 locations; they have drilled 6 horizontal Cline wells so far and plan to drill another 5 to 10 in 2014. Midland results thus far suggest that the Wolfcamp A and B benches are their best targets. A South Curtis Ranch well achieved a 30-day IP rate at ~800 boe/d. An executive on the Jan. 30th conference call said about the Curtis Ranch, "This is the property that we acquired in 2010. We have drilled 63 vertical and 6 horizontal wells to date and plan to drill over 200 additional wells on this acreage." The Midland Basin comprises about 2/3 of their currently assessed resource potential.
Their Delaware Basin acreage is larger and they expect its potential to grow. The chart below is updated and reflects new acreage and interval detail. They will spend $370 million in 2014, with 5 rigs on average, for 91 wells, of which 48 are horizontal. Wolfcamp A, B, and C benches are their targets. They drilled (or participated in) 3 horizontal Wolfcamp wells in 2013, rising to 45 in 2014. Reeves County is a focal point.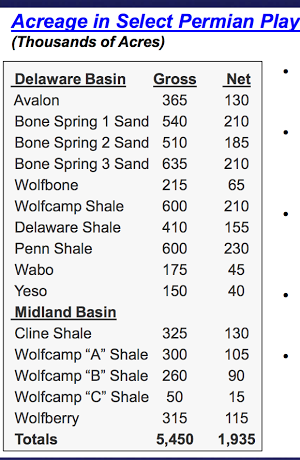 They have a Delaware vertical program, with plans for 43 wells to be drilled in the Bell and Cherry Canyon formations, their Collie program. With their 2013 cost reductions push, IRRs were 48% in 2013 versus 24% in 2012. This map from a Concho Resources presentation indicates the various formations. Concho (NYSE:CXO) was executing horizontal drilling early in the Permian, claiming 299 horizontal wells (with first production after Jan 1, 2009).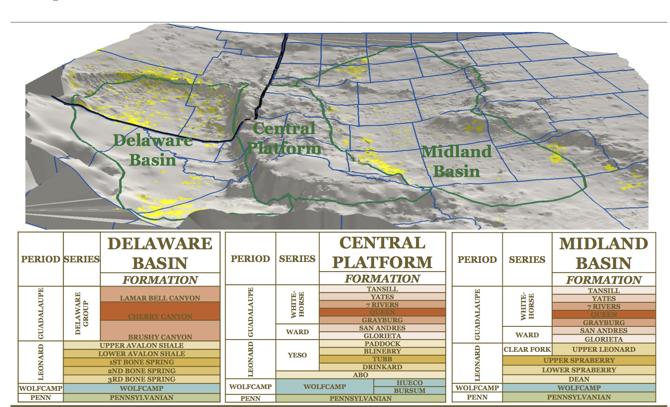 The New Mexico Permian efforts focus on the Bone Springs formations, considered their next opportunity behind the Wolfcamp Shale. In 2013, they tested 16 horizontal wells in Bone Spring sand intervals 1st-3rd. With positive results, they plan 97 wells in 2014, with 50 horizontal (drilling about 30 hz wells in 2014).
In summary, in the Permian Basin, Oxy projects more than 2.5 billion boe in reserves and potential resources, making up 15-plus years of development and growth opportunities. Specifically, they have 1.4 billion net barrels of oil equivalent and reserves and potential resources remaining to be developed in the Permian EOR business. Leveraging their ownership of gas processing, gathering lines, storage and pipelines is seen as a competitive advantage to maximize price realizations. They have takeaway capacity to both Gulf Coast and Cushing via ownership of Centurion and BridgeTex pipelines, which provides market access for crude oil. Oxy said: "We are making heavier infrastructure investments like power, water handling and gas processing to pre-plan for field success." While Oxy has been a late-comer to the intensive unconventionals action in the Permian, the large, diversified independent has been using a studied, holistic approach to the Permian Basin with the cash to support their activities.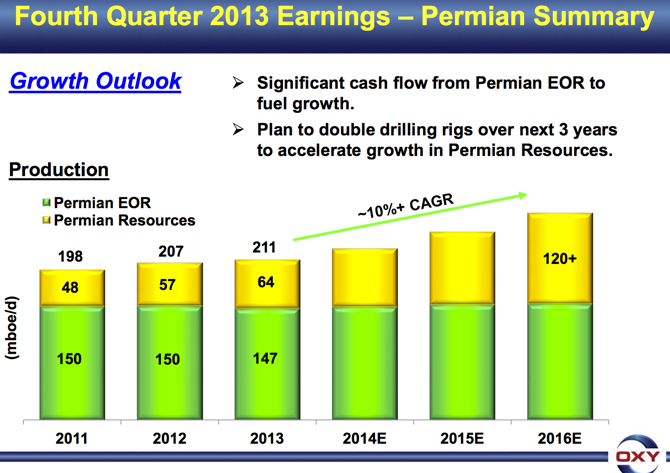 Disclosure: I am long CXO. I wrote this article myself, and it expresses my own opinions. I am not receiving compensation for it (other than from Seeking Alpha). I have no business relationship with any company whose stock is mentioned in this article.