In seeking alpha, one always looks for opportunities to maximize profits while limiting downside risk. I believe this is a play that could yield significant gains for the coming year.
Starbucks Corporation (NASDAQ:SBUX) is currently trading around 33x earnings. They have had a tremendous run over the last several years and are priced to perfection. That means there is no room for error. Here's the deal, coffee futures are at a low. While coffee prices have been on a steady decline; Starbucks' profit and stock price has been on a steady rise, over 1100% in 5 years.
In my previous article On January 2nd, I talked about the correlation between Coffee futures downfall and Starbucks record profits. Coffee prices appear to have bottomed, prices are on the rise, while Starbucks is in selloff mode.
The company's share price was trading around $78.60 when I placed a downside target of $56 on the stock, 29 days later it is down 10% at $71 25.
Starbucks is still wildly popular; there are far too many bullish shareholders. Yes they are a great company, they had a good earnings call. The market yawned; I believe the stock is going lower.
Look at this chart.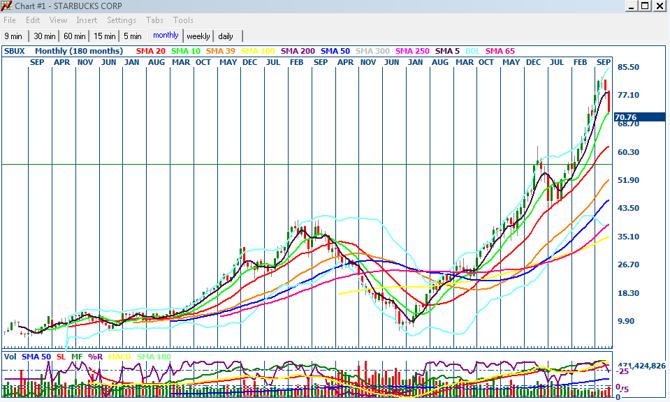 Click to enlarge
Does that look a little scary to you as an investor? It should, like it or not, I believe this will make a beeline to that first level of support on this monthly chart. This is how investors and fund managers get caught. The monthly chart holds the most merit for me as a chartist. When I hear fund managers and famous investors touting Starbucks after a 5 year 1100% run; I know it is time to take a pause and wait. There will be a much better entry point in the future for this great company.
I do not believe Starbucks deserves to trade anywhere close to the current multiple that the price reflects. With a market selloff, comes margin calls. There is nothing worse than getting a margin call at exactly the point where you want to be buying; but again and again it happens to individuals and institutions. An important note to remember here: there are investors sitting on huge profits that will continue to sell as this goes lower.
Below is a 250 day chart. You can see I drew four levels of light support, I expect the stock price to drop down and touch those lines, then bounce around a little before going lower Why? Because this is how the market works. Testing and retesting like an out of control teenager. There are far too many believers and way too much bullish sentiment around this stock. Mr. Market wants your money.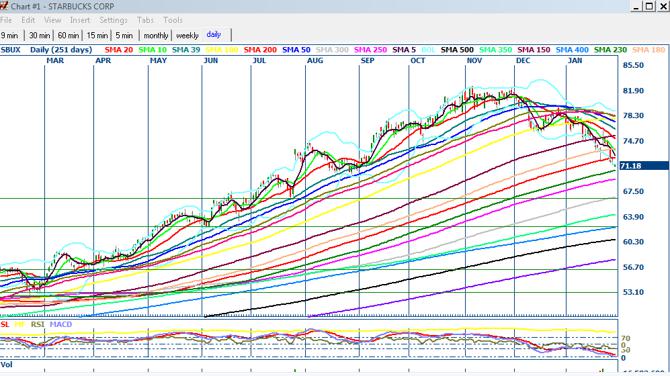 Click to enlarge
Let's take a look at the coffee futures chart. Here it is a month later and it does indeed look like a correlation exists between the price of coffee futures and the share price of Starbucks. Investors will have to wait and see if this trend continues. Recent storms in Central and South America have damaged crops and prices for Arabica beans are expected to rise.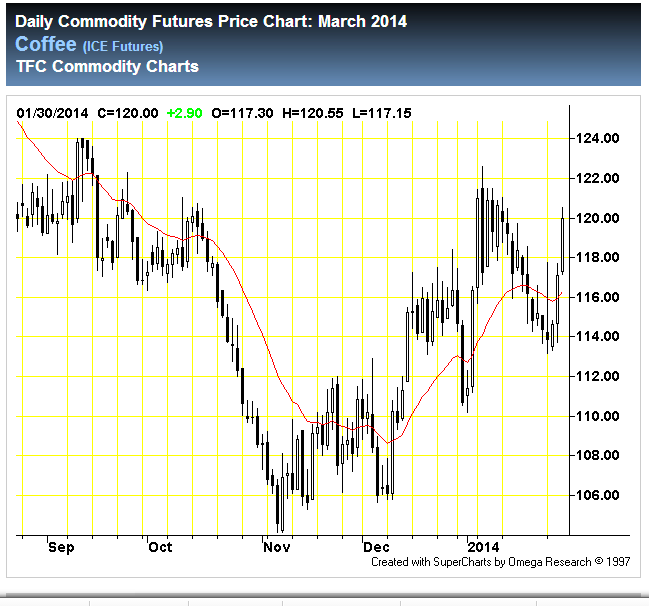 I like Starbucks; they have been a Wall Street favorite for a long while. I would advise extreme caution at this point and time. I reiterate my $56 price target. Will investors want to buy it there? Mr. Market can be so fickle, around that time the downgrades will come and it becomes a crap shoot from there. Anyone watching stocks can see that good solid companies are getting picked off one at a time, while Google Inc. (NASDAQ:GOOG), Twitter Inc. (NYSE:TWTR) and Facebook Inc. (NASDAQ:FB) rule the world.
Bottom Line
There is still time to take profits in Starbucks, while it is a good solid company; a multiple of 17X earnings would be a much better entry point. Sell into strength.
Buy Quicksilver Resources INC. (NYSE:KWK), it looks ready to break out with huge upside potential.
Quicksilver Resources Inc. is an exploration and production company engaged in the development and production of long-lived natural gas and oil properties onshore North America. Based in Fort Worth, Texas, the company is widely recognized as a leader in the development and production from unconventional reservoirs including shale gas and coal bed methane.
Quicksilver is a turnaround company in the process of deleveraging their balance sheet. While painful; it's the right thing to do for shareholders and long-term growth. Quicksilver was a private company for 30 years before going public in 1999 on the NYSE. They have experienced management and are committed to responsibly growing the company and believe that a lower debt load and strategic partnerships with various joint ventures will bring windfall profits soon.
I first recommended this stock on December 23rd 2013. At the time the stock was trading at $2.91, you can read that report here. I talked about the rising price of natural gas, and cold weather on the horizon. That scenario has played out as expected; the price of Natural gas is spiking and has true potential for a massive breakout.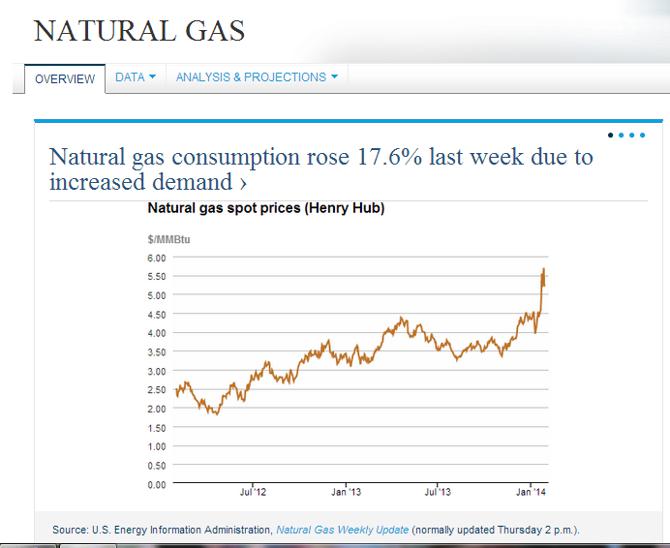 Click to enlarge
The month of January is setting records and the draw from natural gas reserves is significant. According to the EIA Natural gas consumption rose 17.6% last week. Natural gas futures are all over the board, up 10% down 10% margin calls, shorts getting squeezed, it's enough to give a seasoned trader a migraine headache.
Companies like Quicksilver Resources Inc, and Chesapeake Energy Corp (NYSE:CHK) are in position to capitalize after years of pain. Every cycle has a beginning and an end; it may be possible that we are seeing an end to depressed natural gas prices for the foreseeable future.
Insider selling
On January 4, and 22nd 2014, there were several Form 4's filed with the SEC. This caused pause for me, as the stock price spiked to $3.55 on the 3rd of January. The insiders were selling in the $3.35 range; I am not a fan of insider selling; however it is a necessary and regular occurrence in the market. I wanted to know what exactly was going on, so I emailed the company. I asked them why insiders were selling when the stock appeared to be in a breakout. Here is the response I received, I have cut and pasted it exactly from my email.
Company response
The sales on the dates you mention are the shares being surrendered to satisfy the tax related to the vesting of stock grants issued in previous years. No member of executive management is selling shares at this time. Toby Darden, our non-executive chairman who retired last year as chairman, is selling a small amount of shares via a 10b5-1 plan, which he filed with his announced retirement.
Here is a recent graph from yahoo finance.

Ok, so what I am hearing is no member of executive management is selling shares at this time. That is pleasant news to me. I am sure other investors and institutions saw the Form 4's filed and therefore have set that price as a short term profit taking target. The stock has been trading in the $2.85 range to the $3.28 range for the last 10 days, slowly coiling like a tightly wound spring. I believe investors will see a dramatic rise in the stock in the near future.
Look at this weekly chart. Below you will see a black line on a downward trend, at a level of support around the $5.50 range. I believe that the stock is being drawn to that line like a magnet.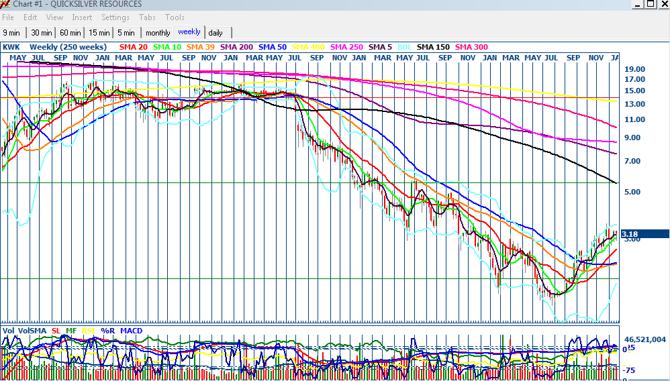 Click to enlarge
For more perspective, examine a monthly chart.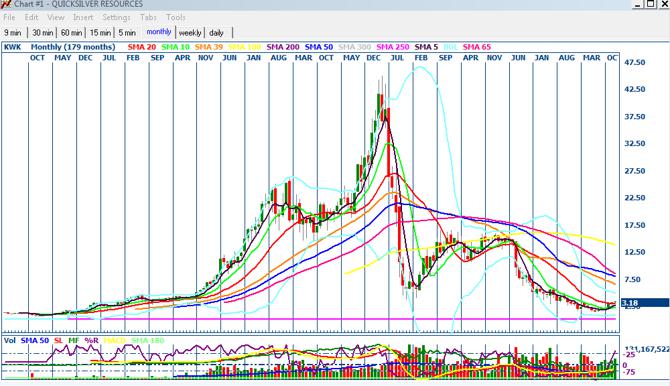 Click to enlarge
Short squeeze?
According to shortsqueeze.com, Starbucks is sitting with 6.8M shares short, or .93% of the float with 1.4 days to cover. You can view this information by clicking here
Quicksilver's short interest sits at 30.6M shares or 33.16% of the float, with 6.6 days to cover. Compare that to 32.8% short interest, representing 28.3M shares with 8.4 days to cover in the previous month. The amount of average volume is rising, which is why the days to cover are less. Shortsqueeze.com data shows insiders own 30.39% of the float which only leaves 36% shares remaining to trade. With continuing cold weather, exports and rising gas prices, shorts could feel massive pain.
Any positive developments or news stories and this stock could double overnight. Short interest can act as a major catalyst for an upside move to any stock. Investors that are short often get "caught" and have to cover at much higher prices. The continuing and now dramatic rise for price of natural gas is a good catalyst. The development with Tokyo Gas is a very positive, as this is its first foray into the natural gas business in America. An expected announcement from the CEO about their new JV partner in regards to the Horn River Project, as well as being a potential buyout candidate could all send this stock screaming higher.
Conclusion
In my opinion Starbucks is a sell or avoid, wait until you see a panic washout before entering the stock. I see $56 before $86. There are too many people in love with the stock. The multiple needs to come down to the 17X earnings level before a buy should be considered.
Had an investor taken my trade recommendation, they would have around a 10% return over the last 28 days. As I write this report, Quicksilver is trading at 3.20, and Starbucks is trading at $71.55.
Future performance is what drives stock value, and I believe the future is bright for Quicksilver Resources Inc. Natural gas prices are on the rise, inventory is down, and more cold weather is expected in the near future. There is a large short interest and in my opinion, that will help propel the stock much higher in the near future. Near term price target $5.50.
As always, I encourage investors to do their own research, make your own decisions, and blindly follow no investment guru. Always have an exit strategy in place before making any investment.
Disclosure: I am long PBR, KWK. I wrote this article myself, and it expresses my own opinions. I am not receiving compensation for it (other than from Seeking Alpha). I have no business relationship with any company whose stock is mentioned in this article. I am shorting SBUX when and where I see fit.