The National Federation of Independent Business (NFIB) said its monthly index of small business optimism fell again in March; in fact, the measure has fallen for 18 straight months, as the U.S. indexes keep hitting 18-month highs.
Yet small businesses represent about 2/3 of the hiring power in the U.S. Does this suggest that Wall Street is a bit too enthusiastic about the "recovery?"
Indeed, there are plenty of rosy reports related to the restoration of jobs in America. And yet, the NFIB survey's "Plan to Hire" component dropped. Does this mean that new jobs will only be coming from the largest companies and/or the U.S. government?
Moreover, as we wait for Intel's guidance on the exceptionally critical semiconductor sector, the NFIB survey had still more troublesome news; that is, plans to increase capital spending fell, suggesting that small companies may not be ready to upgrade their technological infrastructure.
Yet so far, the stock market itself seems blissfully unconcerned by the challenges of small businesses. On the contrary. Notice that iShares Microcap (NYSEARCA:IWC) has overtaken the S&P 500 over the last 6 months.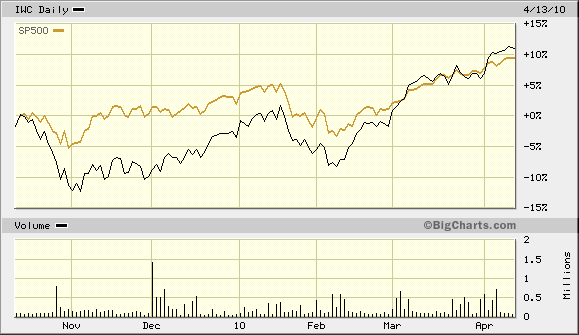 Is there a disconnect between what the business owners on "Main Street" feel, in spite of a melt-up in shares of micro-cap companies? It appears that way. Not only are they finding it difficult to obtain credit, but they intend to reduce planned capital expenditures and delay/reduce planned hiring.
Maybe the smart money from around the world sees the U.S. strengthening; maybe riskier stock assets are feeding on themselves as rising rates crush a bond market alternative.
Disclosure Statement: Gary Gordon, MS, CFP is the president of Pacific Park Financial, Inc., a Registered Investment Adviser with the SEC. The company and/or its clients may hold positions in the ETFs, mutual funds and/or index funds mentioned above. The company receives advertising compensation at the ETF Expert web site from Invesco PowerShares Capital Management, LLC. The commentary does not constitute individualized investment advice. The opinions offered herein are not personalized recommendations to buy, sell or hold securities.