Investors in Las Vegas Sands (NYSE:LVS) had a few great years in the aftermath of the recession as shares recovered from lows of $2 at the start of 2009.
Ever since, expansion and increased spending resulted in an aggressive recovery to levels around $80 per share in recent months. This recovery has mostly been driven by growth of the operations in Macao.
Yet I believe that the market might becoming a bit too optimistic again, especially with warnings signs coming from China while the company is still valued at premium multiples.
I will try to be conservative and therefore stay on the sidelines.
Fourth Quarter Headlines
Revenues for the final quarter of the past year came in at $3.66 billion which is up by 18.8% compared to the year before.
GAAP earnings rose by 32.8% to $577.5 million, with diluted earnings per share showing similar percentage growth to $0.70 per share.
Highlights Of The Final Quarter
Reported revenue growth of 18.8% in the final quarter of the past year was much slower than the reported 23.7% growth rate reported for the year.
As always, the Chinese operations in Macao drive the results. Revenues in the area were up by 28.4% to $2.53 billion, generating nearly 70% of total revenues.
Total revenues of the Venetian Macao rose by 36.3% to $1.15 billion driven by casino revenues which were up by 40%. Adjusted EBITDA margins fell by 180 basis points to 37.7% of revenues.
The Sands Cotai performance was very solid as it increased revenues by 61.1% to $790.7 million. Adjusted EBITDA improved by 8.1 percent to 30.1% of revenues.
The Four Seasons hotel and Plaza Casino operation's performance was disappointing, reporting a revenue decline of 19.6% to $238.1 million. Despite the drop, adjusted EBITDA margins improved by 190 basis points to 32.2% of revenues.
To illustrate the importance of China, the Las Vegas Sands operations in Las Vegas itself generated revenues of just $385.7 million. While this is up by 25.1% on the year before, revenues make up slightly more than a tenth of total revenues. EBITDA margins of 22.9% are lagging profitability in China as well. This is largely due to very strong casino results in Asia.
Full Year Review
2013 has been a good year, with revenues increasing by 23.7% to $13.77 billion. GAAP earnings growth has been spectacular, with earnings increasing by 51.3% to $2.31 billion.
Note that the company generates roughly 83% of annual revenues from casinos while revenues from hotel rooms, food and beverage and mall operations make up the remainder of revenues.
The very strong results are a boost to operating cash flows. This results in $3.6 billion in cash and equivalents being available to the firm. Large past investments in real estate do result in a net debt position of roughly $6 billion. This is very much manageable given the strong cash flow generation of the firm.
Growth And Payouts
Las Vegas Sands continues to please investors both by growth and the return of capital. The most prominent project is the $2.7 billion development of the Parisian Macao plan, targeted to be completed late in 2015. The property should contain 3,000 hotel rooms and suites as well as 450 gaming tables.
Other future growth targets include Vietnam, South Korea and Japan, among others. In general, growth remains targeted in the wider Asian region.
The company has increased its payouts to investors. A recent dividend hike $0.50 per share on a quarterly basis provides investors with a 2.6% yield at $77 per share. On top of this comes the minimum commitment to spend $75 million in repurchases on a monthly basis, returning cash at a rate of 1.4% per annum on top of the dividends. This could be accommodated by special dividends, so the company can remain flexible with its payouts to some degree.
Note that organic growth and new developments have been the major drivers behind growth in recent years. Between 2009 and 2013, these developments resulted in revenues which roughly tripled.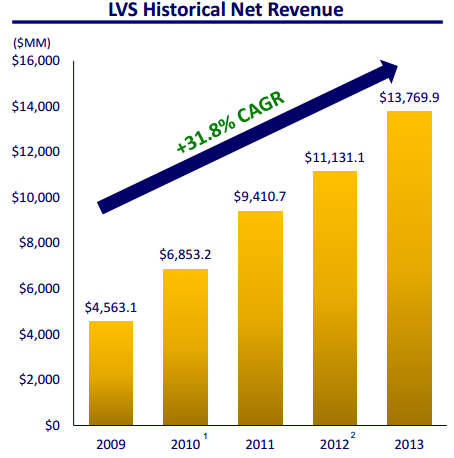 China Remains The Growth Story
As mentioned before, Las Vegas Sands could better change its name into Macao Sands. The vast majority of revenues and earnings are being generated in that small geographical area.
While Macao has been a driver for all large casino operators, Las Vegas Sands fared very well as can be seen below. This is especially the case as it operates at the high-end of the gaming spectrum. To further accommodate expected growth, a $10 billion bridge connection between Macao and Hong Kong is under construction.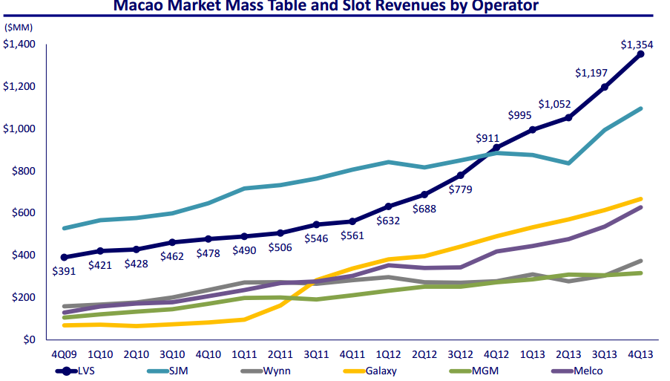 Click to enlarge
What's Ahead?
Halfway through November, I checked out the prospects for the company.
I noted that growth was very healthy and profitable, notably for the operations in Macao. Lower future capital expenditures, following the completion of the Parisian Macao operations in 2015, combined with solid operating cash flows, allow for a rapid deleveraging of the balance sheet. This allows for high shareholder payouts as well.
The current price values the company at $63 billion, the equivalent of 4.6 times 2013's annual revenues and 27 times annual earnings. On an EBITDA basis, the valuation of the firm is 14-15 times EBITDA when factoring in the net debt position.
These are very steep valuations, supported by historical growth and the continued prospects for Macao. Yet, growth is showing signs of a slowdown, although growth rates remain healthy, at least for now. Combined with cautiousness for the Chinese financial sector and the economy at large, I am hesitant to pick up shares at these valuation multiples.
As such I don't believe current levels do represent a great entrance point based on the risk-reward, and therefore I stay on the sidelines.
Disclosure: I have no positions in any stocks mentioned, and no plans to initiate any positions within the next 72 hours. I wrote this article myself, and it expresses my own opinions. I am not receiving compensation for it (other than from Seeking Alpha). I have no business relationship with any company whose stock is mentioned in this article.