In order to meet the corporate average fuel economy, or CAFE, standards of 54.5 miles per gallon by 2025, automobile manufacturers are focusing on reducing vehicle weight. Compared to 2012 levels, the amount of aluminum content used in North American vehicles is expected to quadruple by 2015 and increase tenfold by 2025. This looks promising for aluminum producers, and I believe Alcoa (NYSE:AA) is well positioned to capitalize on it. The company recently completed the $300 million expansion of its Davenport facility in order to meet the growing demand for aluminum sheets from automobile manufacturers. It has already secured long-term supply agreements for the expanded facility, and I foresee an upside potential in the company's revenue in the near future. Apart from the Davenport facility, Alcoa is also adding a dedicated automotive capacity to its Tennessee plant, which is expected to be completed by mid-2015.
Furthermore, the company's joint venture rolling mill in Saudi Arabia will be completed by the end of this year, and it will produce aluminum sheets for automobiles. Once fully operational, the capacity will produce 380,000 metric tons per year, and can become a major supplier to Jaguar Land Rover's upcoming $1.2 billion assembling unit in Yanbu, Saudi Arabia. JLR's parent company Tata Motors (NYSE:TTM) is currently evaluating the unit's feasibility, which is expected to become operational by the start of 2017. The then chairman of Tata Motors, Mr. Ratan Tata, had earlier commented on using locally produced aluminum in cars that will be assembled by the new unit. Moreover, JLR's assembling unit and Alcoa's rolling mill would be connected by a rail link by 2017, which could be used to ship aluminum sheets to the JLR plant. I believe this has further improved Alcoa's chances of providing aluminum sheets to JLR in the coming years, which will help in boosting its aluminum sheets top-line growth.
The investments made by Alcoa will benefit the company in the long term as other automobile manufacturers increase the use of aluminum in their vehicles. The U.S. aluminum sheet market is expected to reach 1 billion lbs. this year compared to less than 200 million lbs. in 2012. Recently, Ford Motor (NYSE:F) unveiled its "2015 F-150" truck, making it the first big pickup made of aluminum. The new model's body consists of 97% aluminum, making it 700 pounds lighter than the typical model. The F-150 is part of the company's highly successful F-series trucks, with over 700,000 trucks sold last year. Ford's move to build an aluminum model for one of its most successful vehicles reflects the company's optimism about the use of aluminum in vehicles. The new F-150 will help Ford improve its CAFE, as the new truck is expected to increase fuel efficiency from 23 mpg to 30 mpg. The new model will be on sale later this year, and being one of Ford's aluminum sheet suppliers, Alcoa will definitely benefit.
Further, I think other car manufacturers will follow Ford's example by increasing the use of aluminum in their vehicles sooner rather than later. Aluminum sheet providers stand to gain in such an environment, and considering Alcoa's on going expansions, I believe the company will be able to capitalize on this opportunity. The company is also quite positive about the growing demand for aluminum and expects its aluminum sheet sales to reach $580 million in 2015, compared to $160 million in 2012.
What about steel?
As manufacturers aim to make lighter-weight vehicles, the use of conventional steel or mild steel is on the downside, with advanced high strength steel, or AHSS, and aluminum replacing it.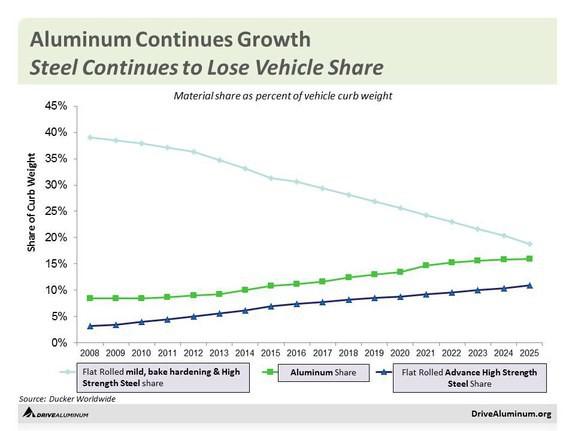 U.S. Steel (NYSE:X) is banking on the growing demand for AHSS as it replaces conventional steel. Last year, the company's $400 million joint venture with Kobe Steel (OTCPK:KBSTY) initiated commercial production of AHSS from its continuous annealing line. The annual production capacity of 500,000 short tons will meet the demand from various car makers in the North American region. AHSS is a lighter option than mild steel and helps reduce car weight by almost 25%-30%, without impacting collision safety. On the other hand, the use of aluminum helps reduce weight in excess of 30%, but it is costlier than using AHSS. Therefore, automobile manufacturers will have to choose between weight benefits provided by aluminum and cost benefits provided by the use of AHSS. However, I think stricter fuel efficiency regulations could force automobile companies to opt for aluminum, which will result in minimizing the vehicle's weight to improve fuel efficiency. Apart from weight-reduction benefits, the use of aluminum offers environmental benefits as it helps reduce emissions. Compared to a typical vehicle, the use of aluminum in place of high-strength steels could help reduce carbon dioxide emissions by up to 29%.
Going forward, the decision of leading automakers to use AHSS or aluminum in car bodies will impact the revenue of both U.S. Steel and Alcoa. With Ford initiating use of aluminum for its high-selling F-series trucks, the future seems to be bright for both aluminum and Alcoa.
Conclusion
I think Alcoa's investments to expand its automotive capacity were well timed; these expansions will help meet the increasing demand for aluminum sheets from automobile makers. Even though the battle between aluminum and AHSS will continue, I believe the stringent CAFE standards will force automobile manufacturers to prefer aluminum over steel. With a long-term perspective, Alcoa seems to be an attractive buy.
Disclosure: I have no positions in any stocks mentioned, and no plans to initiate any positions within the next 72 hours. I wrote this article myself, and it expresses my own opinions. I am not receiving compensation for it (other than from Seeking Alpha). I have no business relationship with any company whose stock is mentioned in this article.