WebMD Health Corporation (NASDAQ:WBMD) has been seeing increased site traffic and double digit revenue growth. After growing earnings by the triple digits in 2013, this Zacks Rank #1 (Strong Buy) is expected to do it again in 2014.
WebMD Health provides health information to consumers, physicians, healthcare professionals, employers and health plans through both public and private online portals and mobile platforms.
Its websites include WebMD Health, Medscape, MedicineNet, eMedicineHealth, RxList, theheart.org, and Medscape Education.
Double Digit Revenue Growth in Q3
On Oct 29, WebMD reported its third quarter results and beat the Zacks Consensus by a penny. Earnings were $0.10 compared to the Zacks Consensus of $0.09.
Revenue jumped 11% to $130.9 million from $117.5 million in the year ago quarter as gains in public portal advertising and sponsorship revenue boosted the quarter.
Traffic to the WebMD Health Network grew 29% to 138 million unique users per month. Total traffic to the site was 2.95 billion page views, an increase of 15% from the year ago period.
It also announced it had acquired Avado, Inc, a developer of cloud-based patient relationship management (PRM) tools and technologies. Terms of the deal were not announced.
Another Year of Triple Digit Earnings Growth Expected
WebMD is expected to report fourth quarter results on Feb 20.
Analysts expect earnings growth for 2013 of 216%. They're not projecting much of a slowdown in 2014.
The Zacks Consensus Estimate is calling for 61 cents in 2014, or 147% higher than the 25 cents forecast for 2013.
Shares Soar
No value investor is buying WebMD right now. Shares have jumped to 52-week highs over the past few months and now trade with a forward P/E of 77.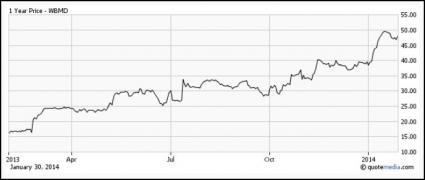 But if you're looking for growth in the Internet space, then WebMD is one you should keep on your short list.