AGCO Corporation (NYSE:AGCO) makes a wide range of farming equipment, which includes products like tractors, tillage and forage equipment, combines, and more. This company markets these products under a number of well-known brand names such as "Challenger" (tractors, combines, harvesters), "Fendt" (high-tech tractors and harvesting machines), "Massey Ferguson" (one of the best-known tractor brands), and "Valtra" (A European-based tractor maker).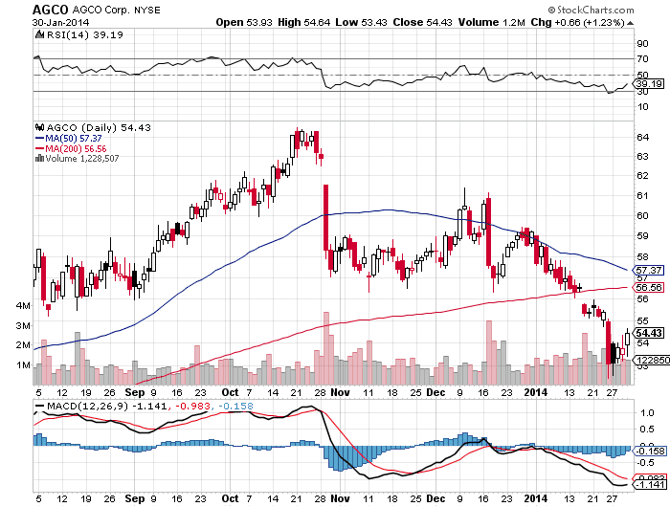 Click to enlarge
This stock was trading for about $58 per share in early January, but in recent days it has declined with the markets and now trades for around $53. On Friday, January 24th, (the day the Dow Index fell 318 points), AGCO shares lost $2.32 on that day alone. The stock is cheap now and clearly in oversold territory which is creating a solid buying opportunity.
AGCO reported solid profits last quarter. In the third quarter of 2013, it had revenues of about $2.5 billion, which was an increase of roughly 8%, when compared to revenues of $2.3 billion for the same quarter in 2012. Earnings for the third quarter came in at $1.27 per share, which was significantly more than the 96 cents per share it earned in the third quarter of 2012. Analysts expect the company to earn nearly $6 per share in 2014, which puts the price to earnings ratio at just around 9 times earnings.
A global recession and management execution could be two potential downside risks to consider, but these issues do not seem to be of great concern as the global economy is growing and management is performing. In fact, it appears that management believes this stock is too cheap at current levels. Just a few weeks ago (on December 17, 2013), the board of directors announced it authorized a share buyback worth up to $500 million. The current market capitalization is just over $5 billion, which means the share buyback could be equivalent to about 10% of the entire company. Share buybacks reduce the number of shares outstanding, which can lead to higher earnings per share in the future. In another sign of confidence, the board of directors announced (On January 24, 2014), that it would increase the dividend by 10%, to 11 cents per share on a quarterly basis. This works out to an annual dividend of 44 cents per share, and a yield of just under 1%. This is not an exciting yield, but what is significant is the potential for dividend growth. With earnings of about $6 per share, and the dividend payout ratio at just around 8%, there is plenty of room for more increases in the future.
AGCO has a solid balance sheet with about $620 million and around $1.29 billion in debt. This financial strength gives it flexibility and reduces risks for shareholders. There are many positive factors for investors to consider with this stock and the recent pullback seems to be more about the market, rather than about company specific issues. Analysts are getting bullish and a recent Barron's article points out that Morgan Stanley (NYSE:MS) has an outperform rating on this stock. Analysts at Barclays are also bullish and have set a $64 price target, which would offer investors gains of about 20% from current levels. For these reasons, AGCO shares are worth considering thanks to the recent market pullback. For another undervalued stock pick in the truck manufacturing sector, read this recent article.
Here are some key points for AGCO Corporation:
Current share price: $54.43
The 52-week range is $47.29 to $64.60
Earnings estimates for 2013: $5.95 per share
Earnings estimates for 2014: $5.76 per share
Annual dividend: 44 cents per share, which yields .8%
Data is sourced from Yahoo Finance. No guarantees or representations are made. Hawkinvest is not a registered investment advisor and does not provide specific investment advice. The information is for informational purposes only. You should always consult a financial advisor.
Disclosure: I am long AGCO. I wrote this article myself, and it expresses my own opinions. I am not receiving compensation for it (other than from Seeking Alpha). I have no business relationship with any company whose stock is mentioned in this article.