The legal woes for Matson, Inc. (NYSE:MATX) won't end soon. And neither will the financial hemorrhaging.
To bring new readers up to speed, I want to give a little bit of background information. On September 9, 2013, while transferring molasses to an Oakland-bound Matson container ship from Honolulu Harbor, a faulty transfer pipe leaked 223,000 gallons into Honolulu Harbor. This resulted in injuring or killing various species of coral, fish, and other marine species. Since then, Matson has come under heavy scrutiny from the State of Hawaii Department of Transportation (DOT), the Hawaii legislature, and the U.S. Environmental Protection Agency (EPA). The DOT and EPA have yet to issue a specific fine because the fine is accumulated by the day until the cleanup is completed! Therefore, the tab is still running on Matson.
As I predicted in this previous article, Matson's profits took a hit because of the expenses related to the cleanup. Share prices between the time of the incident until December has fluctuated downwards, picking up a little bit in January before dropping again.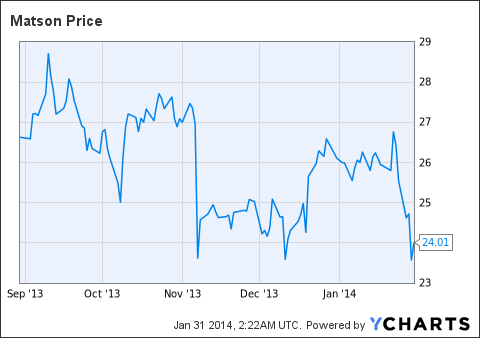 According to the Civil Beat, the State of Hawaii Attorney General is expecting the litigation against Matson to cost them approximately $1.69M over the next 18 months, of which, $900,000 in legal fees, $700,000 in experts' fees, and $90,000 for additional expenses. Typically, litigation from the State Department of the Attorney General doesn't run nearly as expensive as that, which means that they're getting ready for a messy fight. To up the ante, they have retained Bingham, a law firm based in San Francisco, to assist in the case.
What does this mean for Matson's profit margins? Although there is no way to tell how long a cleanup could take, three things are definite in regards to their financial outlays: (1) there's been no estimate at this time of how much the cleanup would cost, (2) there's no way to tell right now how much the fines from the EPA will amount to, and (3) that a fight from the State of Hawaii could make matters worse for them.
There's a Play Here
I preface this part of my commentary by stating that I speak in terms of long-term investment horizon and not for short-term trader. That being said, this impending financial dilemma poses a play for investors who want to go long and those who want to go short.
If you're interested in going long, it appears that the best time to get in is when the investigations and litigation get cleared up and you see definite price tags placed on how much Matson would lose. This would be a good buying opportunity because as bad news piles on, people will feel fear and dump the shares. Keep in mind that Matson is not necessarily a broken company, they've just hit a rough time (I won't get into an analysis of Matson because you can find that from other writers here on Seeking Alpha). The benefit comes that by timing it as the share prices drop, you can buy in and eventually the price will normalize.
If you're interested in going short, your time could be anytime between now and the quarterly reports. I don't know if the management will provide an update on the molasses spill on their February 25th earnings conference call, but any update from either Matson directly or in the news media will affect the share price.
Disclosure: I have no positions in any stocks mentioned, but may initiate a short position in MATX over the next 72 hours. I wrote this article myself, and it expresses my own opinions. I am not receiving compensation for it (other than from Seeking Alpha). I have no business relationship with any company whose stock is mentioned in this article.