The airline industry has shifted so dramatically that an airline combination with one airline exiting bankruptcy and the merger facing Department Of Justice pressures can still generate solid earnings during the historically weak Q4. In this case, American Airlines Group (NASDAQ:AAL) reported solid earnings and execution suggesting that the future of this combination is very promising. American Airlines is now the largest airline exceeding Delta Air Lines (NYSE:DAL) and United Airlines (NYSE:UAL) and offers an attractive valuation compared to these other legacy airlines.
Only two months ago, US Airways and AMR were still finalizing the merger after working out an agreement with the DOJ and wrapping up the bankruptcy court issues. Considering the solid execution in a tough quarter with management teams theoretically focused on non-operational issues, the stock offers a compelling valuation even after surging over $10 since the deal closed on December 9.
With the industry profit driver, the major concern surrounds whether unions decide they want a larger portion of the sizeable profits of the industry or if job security has turned into a priority of union members. Wages provide the biggest wildcard of future prosperity with fuel providing a probable tailwind that may eventually offset each other.
Q413 Highlights
The company provided the following highlights for the fourth quarter:
Fourth quarter 2013 combined net profit was $436 million representing a $478 million improvement versus a net loss in the prior year period.
Fourth quarter earnings were $0.59 versus analyst estimates of $0.55.
Fourth quarter consolidated revenues of $10.0 billion, up 8.7% versus the year-earlier period.
Available seat miles (ASMs) increased 3.4%.
Consolidated passenger revenue per ASM (PRASM) was 13.64 cents, up 5.0% versus the fourth quarter of 2012.
Excluding fuel and profit sharing, combined mainland cost per ASM (NASDAQ:CASM) was flat compared to last year, at 8.49 cents.
The company ended the year with $10.3 billion in total cash and investments. Since the merger, the company has used more than $300 million of cash to reduce its diluted shares by approximately 14 million.
The new American Airlines made a huge stride forward in generating solid profits in the face of a difficult environment. Though the company has made interesting progress in a short time, it is interesting to compare its results to Delta Air Lines.
For the fourth quarter, Delta generated net income of $558 million on revenue of only $9 billion. Remember that the larger American Airlines had $436 million of earnings on revenue of $10 billion. Delta had a profit margin of 6.2% compared to the 4.4% of American. American would need to produce $620 million of net income to match the margins of Delta.
Attractive Valuation
A key part of American Airlines reporting the first combined numbers is too provide investors a clearer picture of the combined operations. For example, the company listed diluted shares at 742 million providing for a market valuation of around $25 billion based on the current share price. Delta Air Lines sits at only $26 billion providing American the ability to quickly pass Delta.
Another point is that the ability to beat analyst estimates places the estimates in better focus as being accurate. A big concern with mega mergers is that the numbers get calculated incorrectly due to the complexity of merging the financials. According to updated analyst estimates, the average analyst expects American Airlines to earn nearly $5 in 2015 with some estimates topping $6. A prime example of the valuation proposition still left in the stock, United Airlines trades over $46 with estimates of earning $5.40 in 2015. American Airlines trades at only $33 with estimates that appear to be merging with those of the struggling United Airlines for the forward year. The below chart highlights the forward PEs for the major airlines: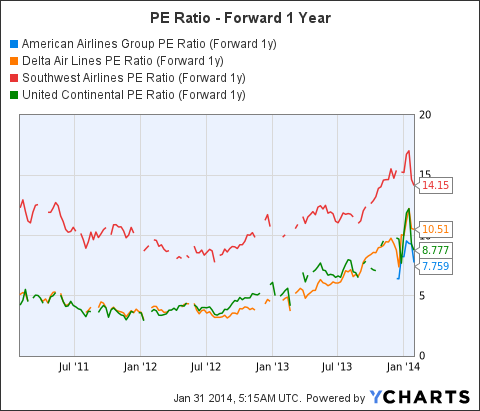 AAL PE Ratio (Forward 1y) data by YCharts
Now that investors are more confident in the analyst estimates, the stock is likely to quickly grab a larger PE ratio. Not to mention, in general the airlines as an industry could see higher PE multiples consistent with other industries in the S&P 500 that trade at multiples around 15 or 16.
Costs Are A Major Wildcard
While solid operations and reduced pricing pressure are huge positives going into 2014, costs will be the major wildcard for the next couple of years. The majority of expenses fall into the categories of aircraft fuel and wages. These two numbers are huge wildcards because jet fuel prices have remained stubbornly high and could in the future provide a tailwind with the potential for costs to decline. Wages though might see some pressure. Historically, wages and benefits for labor unions were a killer for airlines. Over the last decade, unions have been held in check with all of the major airlines filing for bankruptcy forcing the mega mergers and huge job cuts. The big wildcard is whether unions start wanting a larger piece of the airline profit pie.
A recent small example of problems creeping up are the requests from the Port Authority of New York and New Jersey to immediately give employees a $1 an hour raise that make less than $9 an hour. The goal of the group is for airport contract workers to make over $10 an hour. It might appear to be a small problem, but investors need to keep an eye out for union issues.
CEO Doug Parker made an interesting statement on Mad Money that unions were more interested in job security and a career these days rather than higher wages and benefits that place the airlines back into a tough financial position.
Watching this development over the next couple of quarters will be key. The new American Airlines spent $2.7 billion on aircraft fuel and $2 billion on wages for the mainline operations that generated about $7.1 billion in revenues. Those costs accounted for 66% of mainline revenue and the numbers could go either way providing a tailwind or headwind to profits.
Conclusion
The night and day difference with the airline industry make the sector sill very attractive after huge gains. After reporting solid earnings in the fourth quarter, American Airlines has the most attractive earnings multiple in one of the most appealing industries assuming the costs stay under control.
Disclosure: I am long AAL. I wrote this article myself, and it expresses my own opinions. I am not receiving compensation for it (other than from Seeking Alpha). I have no business relationship with any company whose stock is mentioned in this article.
Additional disclosure: The information contained herein is for informational purposes only. Nothing in this article should be taken as a solicitation to purchase or sell securities. Before buying or selling any stock you should do your own research and reach your own conclusion or consult a financial advisor. Investing includes risks, including loss of principal.