Jeff Bogue, CFP is an independent fee-only financial planner and owner of Bogue Asset Management LLC, based in Wells, Maine. Jeff specializes in developing portfolios designed for retirement cash flow needs and comprehensive planning strategies for clients in mid-life.
Seeking Alpha recently had the opportunity to ask Jeff about his current investment outlook and strategy.
In your portfolios currently, how are you allocating among different asset classes?
Our moderate risk portfolios currently are allocated 50% towards equity strategies with a 60%/40% split with this between domestic and international stocks. We tend to place 65% of our stock allocation in larger stocks, with the remaining 35% in mid-cap and small cap stocks with a lean towards value stocks over growth.
The remaining balance has a 25% allocation toward traditional bonds, with the remaining 25% allocated towards alternative asset strategies. Alternative assets are investments that have strategies where performance doesn't correlate highly with traditional asset classes such as stocks, bonds and cash. These strategies include but aren't limited to tactical asset allocation, merger arbitrage, managed futures, long short, absolute return, commodities and other hedging strategies.
Where do believe we are in the market cycle right now?
We believe that we are still within a secular bear market. Thus, with the recent run-up over the past year, we are slightly more defensive in our portfolios than our normal targeted percentages.
Which single asset class do you think will perform best moving forward?
At this time, we feel "Mega-cap" stocks have the highest return potential. These are the largest companies in the world as measured by market capitalization. They are global competitors with facilities, employees and revenues all over the world, have solid balance sheets, possess wide competitive moats and often sport a decent dividend yield. They typically are leaders in their respective markets and their sheer mass makes it very difficult for competition to make inroads on their business models.
Mega-cap stocks have languished relative to other asset classes over the last ten years as it has taken a long time to filter out the excess valuations these stocks held prior to the bursting of the tech bubble. Although mega-cap stocks rebounded over the past year along with the overall market, they still continued to be the laggard, outpaced by riskier smaller cap and emerging market stocks.
As a result, for the first time in quite a long time, stocks of big multi-national companies look attractively valued when all other stocks sub-classes look fairly or overvalued, and I expect this asset class to return around 6-8% annually over the next five years. Not sexy at first glance, but awfully good if we continue to have a muddle through global economy and a general low return environment as a result.
What if the market re-tests lows? With higher dividend yields and a stronger competitive position, I see larger cap stocks holding up a lot better than riskier alternatives.
What ETF do you choose to capture Mega-caps?
At the beginning of this year, we've began using the iShares S&P Global 100 Index ETF (NYSEARCA:IOO). This exchange traded fund tracks the S&P Global 100 Index, which represents multinational companies with a minimum market capitalization of $5 billion and meeting certain underlying financial/liquidity requirements.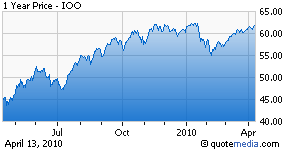 A majority of the companies are household names, have wide competitive moats and perfectly fit the area of the stock market we find attractive.
The current dividend yield on IOO is around 2.75%. It has a very low expense ratio of .40% and is extremely tax efficient, as it hasn't made a capital distribution since its inception in December 2006. If there was one investment that fit the mega-cap global stock category, this is it.
What instruments do you generally use to capture particular asset classes?
For stock exposure, we gravitate toward passive strategies, where we use mutual funds managed by Dimensional Fund Advisors as the core of the stock exposure, coupled with exchange traded funds. For bond exposure, we use actively managed bond funds. For alternatives, we use mutual funds and exchange traded funds and/or exchange traded notes to garner this exposure.
Have any new instruments emerged in the past few years that you've adopted in your portfolio construction?
We've begun using the iPath VIX Short-Term Futures Exchange Traded Notes (NYSEARCA:VXX) in select portfolios. This ETN tracks the S&P 500 VIX Short Term Futures Total Return Index. Otherwise known as the fear index, it measures market volatility and often this index spikes when the stock market craters. Thus we see this as a great diversifier to offset the risk of a stock portfolio.
There are some caveats to this investment. First it doesn't produce anything by itself; it floats around and reverts to the mean. Although this may seem unattractive, this instrument will hold up better in climbing markets compared to other bear market alternatives such as short funds or inverse ETFs. Second, there is an implied roll yield on this instrument, so even if volatility remains steady, the fund can still have negative returns. Finally this is an exchange traded note issued by Barclays. If Barclays goes bankrupt, this note will not be fully repaid.
Although we are currently in a bull cycle, we believe that we still remain in a secular bear market and choppy market environment is to be expected. So we've been using this for sophisticated investors who want to hedge their portfolio against possible downturns. This would remain attractive as long as the VIX stays down towards the low end of its historical range. We limit the target allocation to 1-2% of a portfolio as a small amount of this can go a long way.
Thank you very much, Jeff.
Disclosure: Bogue Asset Management LLC is long IOO and VXX in some client accounts.
Read more High Conviction Picks »
If you are a fund manager and interested in doing an interview with us on your highest conviction stock holding, please email Rebecca Barnett.