I was informed last week by Apu Kumar, SVP for Global Sales & Business Development of privately-held BlueStacks, that his company is working on a custom version of their Android Emulation software for Advanced Micro Devices (NYSE:AMD). He gave me this heads-up information because I was very skeptical of virtual emulation for a dual-OS strategy.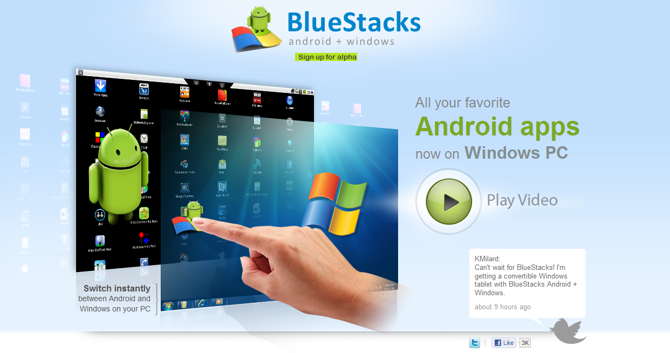 I thought that only a hardware-based solution like what Intel (NASDAQ:INTC) and Asus have is feasible. Software emulation, in my opinion, comes with bugs. However, Kumar pointed out that the negative feedbacks which BlueStacks received from users are all from the generic beta version of the software. I myself have unpleasant encounters with the PC and Mac versions of the BlueStacks Android App player. I tested it several times before on AMD and Intel-equipped computers and I still got the same buggy performance and incompatibility issues.
BlueStacks is a brilliant idea but the ad-supported public versions released by the company have yet to receive a sizeable amount of satisfying reviews from ordinary users. The PC version of this Android emulator has achieved more than 1.15 million downloads from CNET and yet only received 11 user reviews, giving the app an average of 2.5 star rating. The Mac version on CNET was downloaded 25,014 times but BlueStacks again received 9 user reviews that gave the software a 2 star rating.
Technical reviewers also gave BlueStacks a poor review and they echoed the same complaints that users experienced with the software.
BlueStacks fails to launch or repeatedly crashes
Eats up a lot of computer resources, even high-end computers have difficulty achieving decent performance
Incompatibility with most Android games and apps
Annoying ads
No Google Play store installed, installing it is not easy
Security and privacy issues over credit card information when using Google Play accounts
These serious issues are something I am hoping that the custom version of BlueStacks for AMD-powered laptops, tablets, and computers will eliminate.
Special Version of BlueStacks
Apu Kumar emailed me yesterday that BlueStacks and AMD will make more information available this coming MWC event at Barcelona this month. The special custom version may just prove to be what AMD needs to win more industry support. I failed to convince Kumar to give me a time-limited working copy of the said custom Android emulator. On the other hand, I encourage SA readers to watch the video presentation by Apu Kumar on YouTube.
On that particular video, Kumar demonstrated that BlueStacks can play the Android 3D game Riptide. I tried repeating Kumar's feat on my brother's AMD Kabini-powered MSI S12T notebook but I failed to replicate his success with Riptide GP…It won't even let me run the game after I installed the APK using the latest Windows version of BlueStacks.
My inability to duplicate Kumar's Riptide demonstration convinced me that his company has a real high-performance special version of BlueStacks for AMD's dual-OS implementation. I only hope that the AMD-exclusive version will not come with ads and will maximize the power of the new Kaveri APU for lag-free HD Android 3D games.
Genymotion seems to offer better 3D gaming experience while BlueStacks excels in 2D games. This has to be resolved - Android 3D gaming experience should be at par with BlueStacks alternatives. Furthermore, the AMD version should also patch the security issue when buying apps using Google Play.
Dual-OS Is Important
A superior custom version of BlueStacks is very important for the successful implementation of AMD's dual-OS strategy. AMD is in a very precarious situation right now. It is saddled with debt and any misstep will be an excuse for the market to punish it again. AMD has no chance of matching Intel's 40 million tablets campaign this year.
The company needs a winning formula for dual-OS tablets and 2-in-1 notebooks to attract bigger OEM support. At CES 2014, only Indian manufacturer Xolo came up with a new tablet with an AMD APU. AMD offers more cost-efficient APU for Windows 8 mobile products and yet HP, Samsung, Dell, and other big OEM companies failed to announce their support this year for AMD's Kaveri, Mullins, or Beema. A cheaper version of the Intel Core i5- equipped Asus Transformer Duet can be done using AMD's much cheaper APU solutions.
The dual-OS concept on a tablet or a touchscreen notebook is very appealing to cost-conscious consumers. A tablet with Windows 8.1 and Android OS 4.2 is ideal for productivity and gaming/entertainment. AMD's wallet-friendly line of APUs can help OEM firms produce sub-$300 dual-OS tablet and 2-in-1 notebooks.
Conclusion
There's a heavy cloud of pessimism over AMD right now. The stock may drop some more next week due to an impending legal problem for the company. It will not be prudent for me to call for a buy for AMD. A hold recommendation is more reasonable. The stock had a bad start this 2014, down 11.37%, but I made a nice profit from Facebook so I have some extra money for contrarian gambling.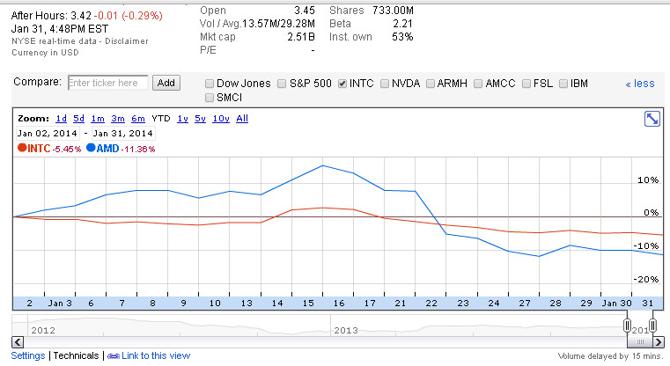 AMD is on the top of my list of possible long-term buys next week. I like Kumar's revelation about a better custom version of BlueStacks for AMD's dual-OS implementation. AMD was good to me last year so I am thinking of making a contrarian bet for 200 shares. I like how AMD's previous five quarters showed a steady climb for revenue and net income.

I also like AMD's low Price/Sales ratio. Again, I'm NOT an analyst, just a poor poker grinder from the Philippines who also now gambles on U.S. stocks. I am recommending a HOLD to the public and I'm considering a long-term gambler's buy for MYSELF for AMD next week.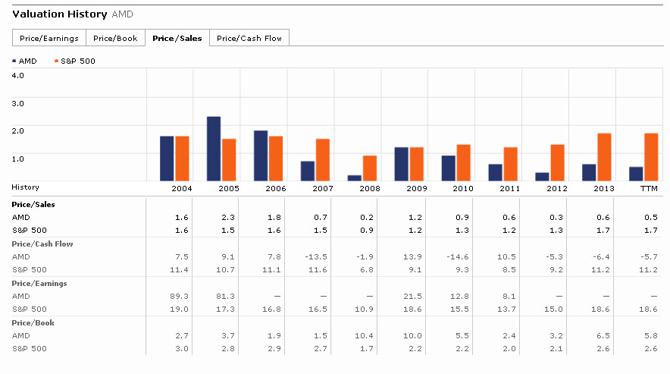 Disclosure: I am long INTC. I wrote this article myself, and it expresses my own opinions. I am not receiving compensation for it (other than from Seeking Alpha). I have no business relationship with any company whose stock is mentioned in this article.