Royal Dutch Shell (NYSE:RDS.A) already hinted at a serious backlash coming from its quarterly earnings report when the oil and gas major issued a profit warning on January 17, 2014. In its pre-release Royal Dutch Shell mentioned higher exploration expenses, lower volumes, higher maintenance costs and a weaker Australian dollar as reasons for its lower profitability. Add to that the ongoing security issues at its Nigerian operations. I have previously written that Royal Dutch Shell's results might offer an interesting entry point for long-term oriented investors since its earnings are likely to be only affected in the short term while the long-term fundamentals of the oil and gas business support investments in oil and gas majors.
Royal Dutch Shell lost 3% in Friday's trading session and other oil and gas exploration companies have been trading weakly as well. Royal Dutch Shell's weak earnings results released on January 30, 2014 had a lot to do with the weak performance of oil and gas companies many of whom are also feared to present weaker-than-anticipated results in the near term.
Royal Dutch Shell's quarterly results
Royal Dutch Shell's fourth quarter 2013 upstream earnings came in at $2.5 billion vs. $4.4 billion a year ago (down 44%) and Royal Dutch Shell's downstream earnings stood at $558 million vs. $1.2 billion in the fourth quarter of 2012 (a decrease of 53%). CCS net earnings excluding items decreased 48% to $2.9 billion vs. $5.6 billion in the year-ago quarter. CCS net earnings excluding items per share came in at $0.46 which compares against $0.90 in Q4 2012 (down 49%). Operating cash flow contracted 39% to $6.0 billion. Clearly those are nasty results and investors are likely to view Royal Dutch Shell as a work-in-progress which has to streamline its global operations and the company will probably need to sell some development assets out of its oil and gas portfolio to restructure its operations.
Royal Dutch Shell's full-year results
Royal Dutch Shell delivered 2013 upstream earnings of $15.1 billion which compares against $20.1 billion in 2012 (down 25%) while downstream earnings came in at $4.5 billion vs. $5.3 billion a year ago (down 15%). CCS net earnings excluding items decreased 23% to $19.5 billion compared to $25.3 billion in 2012. CCS net earnings excluding items per share similarly declined by 23% to $3.10. Cash flow from Royal Dutch Shell's operating activities took a 12% hit and were reported at $40.4 billion. Weak results were predominantly driven by Royal Dutch Shell's upstream activities: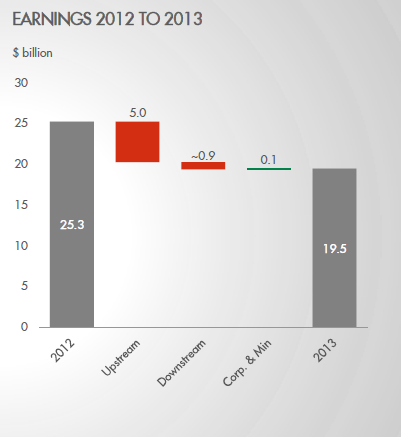 Results highlight the present challenges of the oil and gas industry: Flat oil prices, the need to develop portfolio assets and bring new supplies to market and reduce costs.
Long-term fundamentals supporting Royal Dutch Shell
Royal Dutch Shell is a global exploration company with a diversified operations footprint and access to strategic oil and gas reserves. China and India, which I think will be the primary fossil fuel demand drivers in the coming decades, are still going strong. Revived economic momentum and continued population growth in those countries will provide tailwinds for energy commodity prices. Urbanization, especially in China, also plays a major role for increasing oil and gas prices in the future. As the economy gains in prosperity, a greater proportion of the rural population will seek economic opportunities in metropolitan areas and migrate to cities to increase their living standards. This migration trend will require substantial investments in residential and commercial real estate, transportation networks and an expansion of the manufacturing base which will drive fossil fuel demand. Considering the absence of new, large discoveries of conventional fuels, oil and gas majors face an extremely favorable supply/demand picture in the coming years: Limited supply and accelerating demand growth driven by population growth in developing countries.
Twelve month trailing share performance
Royal Dutch Shell lost more than 3% in yesterday's trading session leaving behind a newly marked 52-week High from the beginning of the year. The recent sell-off might be a buying opportunity for investors who desire indirect commodity exposure and want to take advantage of lower share prices of a leading, large-cap exploration company.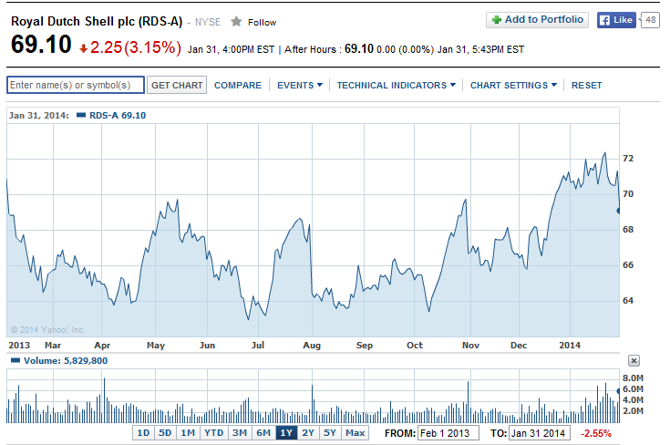 Royal Dutch Shell still an underdog - performance-wise
Royal Dutch Shell has the worst two-year performance of all large-cap exploration companies in the peer group and its return differential might even expand in the short term. The peer group consists of Exxon Mobil (NYSE:XOM), ConocoPhillips (NYSE:COP), Chevron (NYSE:CVX), BP (NYSE:BP) as well as Total (NYSE:TOT). It often pays to consider the underdogs in any given sector, the company most beaten and scolded because these companies have the largest rebound potential and are most likely to exhibit pricing inefficiencies. BP and Royal Dutch Shell clearly are the underdogs in the oil and gas sector.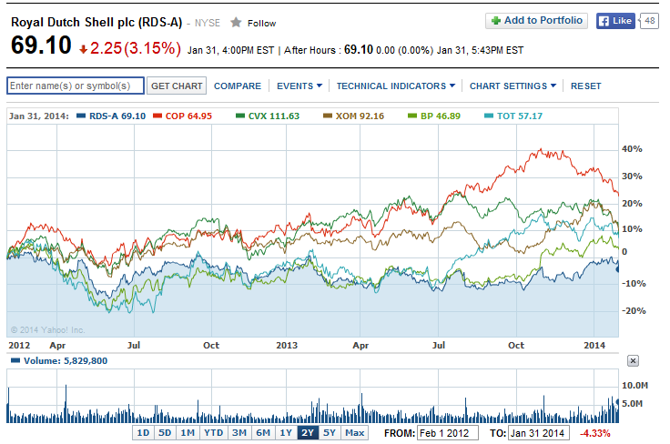 Conclusion
Royal Dutch Shell is a great long-term investment for investors who desire exposure to an oil and gas major with global operations and a leadership position in LNG. Given the long-term fossil fuel demand drivers in developing countries (population growth, increasing prosperity and living standards, higher per capita fuel consumption, infrastructure investments and -upgrades, urbanization trends) I think the recent turmoil offers a great buying opportunity. The long-term supply/demand picture looks very attractive for companies that operate in fossil fuel theaters around the world and I believe that the current sell-off in oil and gas companies is unwarranted.
A large-scale adoption of clean energy fuels in developed countries is still a vision of the future and it is unlikely that Western economies would or could abandon fossil fuel based technologies. The world needs energy derived from fossil fuels and energy demand is going to increase. With no substitute fuel or technology in place, the world will continue to depend on oil and gas majors like Royal Dutch Shell for the foreseeable future. Long-term BUY.
Disclosure: I am long RDS.A, BP, XOM. I wrote this article myself, and it expresses my own opinions. I am not receiving compensation for it (other than from Seeking Alpha). I have no business relationship with any company whose stock is mentioned in this article.