Seeking Alpha readers know that I prefer to listen to the voice of markets, rather than pundits. The former is the collective voice of millions of information seeking individuals, all of whom have a financial incentive to analyze data in a meaningful way. The latter have no such incentive and tend to focus on biases such as bullishness or disdain for this and that economic policy or political leader.
Still, I will confess to readers that I find it easier to listen to markets when they are saying what I want to hear. And over the past few quarters they have been:
stock prices, especially growth sectors like tech and medical care, have been leaders, going from strength to strength.
bonds and gold, "fear factor" investments for those seeking shelter from Armageddon, have been in downtrends for months.
So what do we make of this chart? I compare the SPDR Select Utilities ETF (NYSEARCA:XLU) to iShares 20+ Tbond ETF (NYSEARCA:TLT). I throw in the SPDR Gold Trust (NYSEARCA:GLD) as well.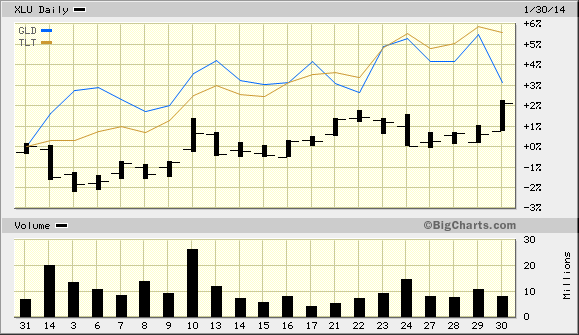 source: www.bigcharts.com
No matter how much I sit here and smile over my morning coffee, the fact remains that in numerous articles, I have suggested the economy is getting stronger because utilities have been outperforming treasury bonds.
Hmmm...which is easier to change? The markets, or my opinion of their verdict rendering capability? Do I really need to answer that for readers?
Shhhhh! For now I am going to doubt what markets are saying. But only for now. In my opinion this strength in government bonds, especially relative to utility stocks, is only a short-term phenomenon related more to some currency upheavals in Turkey and elsewhere as our Federal Reserve stays committed to the taper.
As Scott McGrannis makes clear here, the recent GDP data confirm that our economy is gaining strength because of, not in spite of, fiscal tightening. The Fed's decision to stick with their guns even in the face of pressure from overseas central bankers to "coordinate policy" was a surprising bit of gumption and independence on their part: exactly the role the central bank is supposed to play.
It may take a while for the currency snafu to subside. And the market may continue to correct, given the huge surge over the last year and increase in trailing PEs. But I expect markets soon to resume speaking with the voice they have all year.
Treasury bonds are headed lower as interest rates rise.
Utilities will perform better than fixed income investments; their earnings and dividend payments will grow as the economy does.
The markets are wrong and I am right? We'll see about that. If the trends shown in the above chart persist, I'll be eating some crow in the next few months.
Disclosure: I am long XLK, XLV, IHI. I wrote this article myself, and it expresses my own opinions. I am not receiving compensation for it (other than from Seeking Alpha). I have no business relationship with any company whose stock is mentioned in this article.