Exxon Mobil (NYSE:XOM) delivered Q4 2013 results on Thursday and investors quickly decided to sell their shares in the largest oil and gas company in the world. Despite booming domestic oil and gas production, Exxon Mobil reported a 1.8% decrease in upstream volumes. Exxon Mobil reported fourth quarter 2013 earnings of $8.4 billion vs. $7.9 billion in the third quarter of 2013. Diluted EPS came in at $1.91 compared to $1.79 in the previous quarter. Cash flow from operations before asset sales stood at $10.2 billion which compares against $13.4 billion in the third quarter of 2013.
Year-on-year upstream and downstream earnings decreased due to unfavorable volume mixes, higher costs and lower refinery margins. Compressed refinery margins are an ongoing theme over the last few quarters both for large-cap oil players like Exxon Mobil as well as for independent refinery players.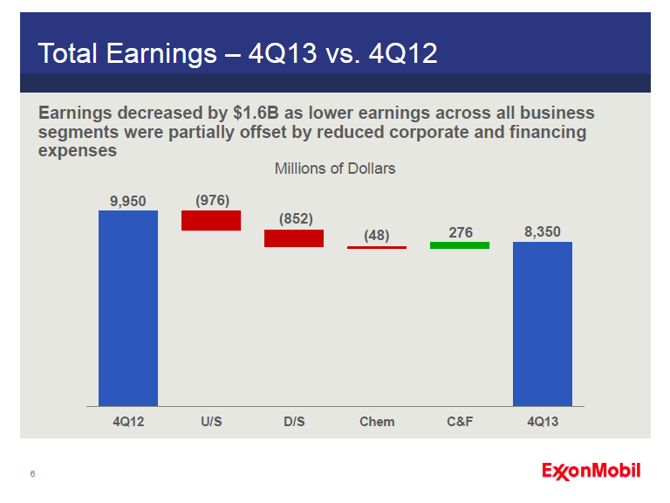 Exxon Mobil's weak results can be explained by lower refinery margins in its downstream business and lower realized market prices for oil in its upstream business. In the long-term I expect those themes to correct themselves. Higher global growth, especially in Latin America, Asia and Africa will drive oil and gas demand which should benefit large-scale players like Exxon Mobil. I also expect refinery margins to be less of an earnings drag in coming years as refineries progress toward higher utilization rates. I am also optimistic that robust global growth over the next five years will affect oil prices and the profitability of the oil sector positively.
Trailing twelve month share performance
Exxon Mobil marked a new 52-week High at the end of 2013 and has sold off sharply in the last four weeks. Shares of the oil and gas giant are now trading nearly 10% lower than they did at the end of December. Weak results from Royal Dutch Shell and a still sluggish global economy with flat oil prices have caused a minor sell-off in the oil and gas sector in recent days.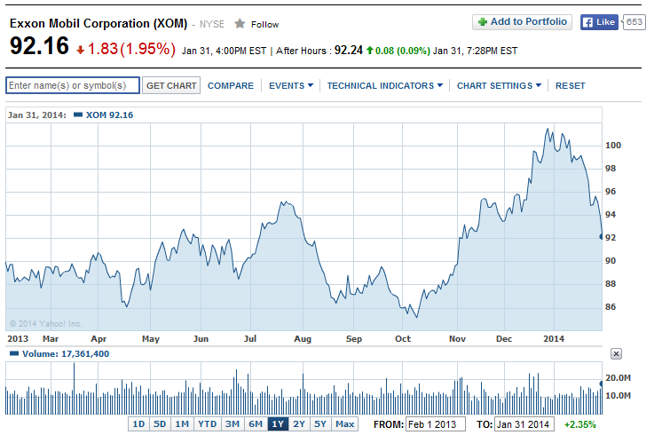 Large-cap oil and gas exploration companies have largely disappointed over the most recent five-year measurement period. While ConocoPhillips (NYSE:COP) gained 78% and Chevron (NYSE:CVX) 49%. Exxon Mobil shares increased 15% while BP (NYSE:BP), dragged down by its own litigation and settlement mess, edged up only 3% higher.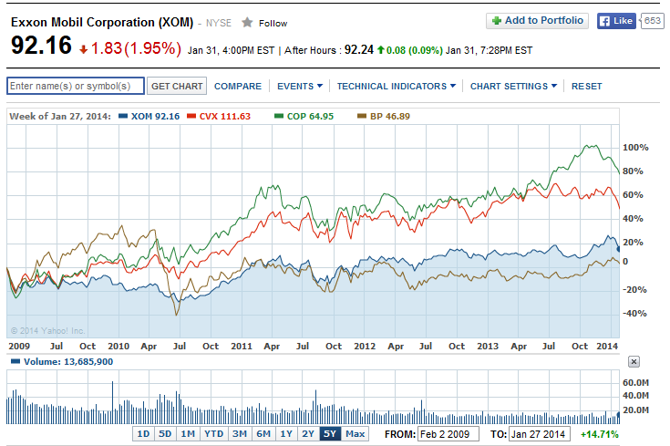 Market valuation
I have repeatedly written about the low valuation of large-cap oil and gas companies and the recent sell-off in the sector only makes those companies cheaper. The reality is this: For many more decades we will depend on fossil fuels. Alternative energy sources such as solar and wind will only play minor, complementary roles in our energy mix.
The peer group of large-cap exploration companies exhibits an average forward P/E ratio of only 10.31 which reflects an initial earnings yield of nearly 10%. Exxon Mobil trades at a low multiple of 11.76 forward earnings (an earnings yield of 8.5%). The entire oil and gas sector is tremendously cheap and falling share prices only add to the appeal of the sector.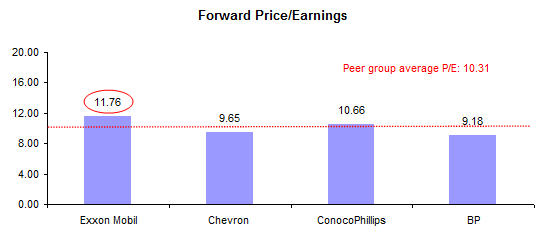 Exxon Mobil presently pays a dividend of $0.63 per quarter which translates into annualized dividend payments of $2.52 (a forward annual dividend yield of 2.73%). Exxon Mobil has a long shareholder remuneration record and the oil giant has increased its dividends by an annual rate of more than 6% over the last thirty years. Exxon Mobil's dividend yield is not the highest in the sector, but investors clearly have reason to expect that their dividend stream will increase over time.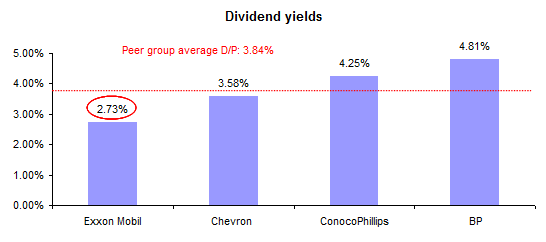 The summary table below includes valuation metrics for Exxon Mobil and its peers as well as discount/premiums to the peer group average ratios P/E, P/S and D/P.

Conclusion
I generally like to look for long-term investments in sectors where short-term challenges cloud the long-term company- or industry outlook. oil and gas majors make for very attractive investments over the next decades for two main reasons: First, new oil and gas field discoveries are almost nonexistent which limits future supply. Second, demand for fossil fuels like oil and gas will increase in the coming decades and incremental demand growth will likely be driven by developing countries. Exxon Mobil is the largest publicly-listed oil and gas exploration company with portfolio- and development assets around the world. It is a highly profitable and diversified commodity player that will benefit from long-term fossil fuel demand growth. In fact, the size of Exxon Mobil (market capitalization of over $400 billion) makes an investment in the company of comparatively low risk. Investors who desire exposure to a leading exploration company with a near 3% dividend yield, a low valuation and which is facing attractive long-term supply/demand dynamics should consider Exxon Mobil. Long-term BUY.
Disclosure: I am long BP. I wrote this article myself, and it expresses my own opinions. I am not receiving compensation for it (other than from Seeking Alpha). I have no business relationship with any company whose stock is mentioned in this article.