Northern Trust Corp. (NASDAQ:NTRS) is scheduled to release its first quarter 2010 earnings on April 20, 2010, before the opening bell. Management has not provided any financial guidance for the quarter.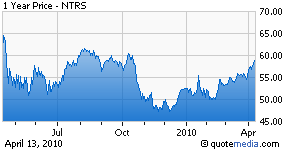 Interest rates are resting at historic lows, where they appear they will stay for much of 2010. This adversely impacts the company's net interest income, securities lending and money market mutual fund fees. Market volatility is lower than it was a year ago, impacting foreign exchange trading income, which is expected to decline by mid-single-digits.

Credit quality is a major concern for Northern Trust at this point. The company continues to suffer from the weakness in the broader economic environment. Credit metrics such as non-accrual loans, nonperforming assets and net charge-offs have increased over the prior-year levels. Northern Trust's provision for credit losses has also increased for the past four years, a trend that is expected to remain in place for the upcoming quarters, given the continued economic weakness.

However, Northern Trust's highly focused client-centric business model coupled with strong financial condition positions it very well for growth in the years ahead.

Estimate Revision Trend

Northern Trust is expected to earn 72 cents per share in the quarter as per the Zacks Consensus Estimate. The company had a reported profit of 61 cents per share in the first quarter of 2009 and 82 cents in the last quarter of 2009. For full-year 2010, Northern Trust is expected to record net earnings of $3.21 per share, in contrast to a net profit of $3.11 reported in 2009.

Over the last 7 days, the stock has seen a single upgrade as well as downgrade from the 19 analysts covering the stock. Over the last 30 days, 2 analysts have revised their first quarter estimates upwards while 3 analysts have revised their estimates downwards. The higher number of downward estimate revisions for the first quarter indicates a likelihood of downward pressure on the performance of the stock in the near term.

With respect to earnings surprises, Northern Trust has missed the Zacks Consensus Estimate twice in the trailing four quarters. This is reflected in the average negative earnings surprise of 1.53%. This implies that the company has lagged the Zacks Consensus Estimate by 1.53% over that period.