Recently, Aetna Inc (NYSE:AET) announced that it has been informed by the Centers for Medicare & Medicaid Services (CMS) of its intention to suspend the enrollment of new members into Aetna's Medicare Advantage and Standalone Prescription Drug Plan Contracts.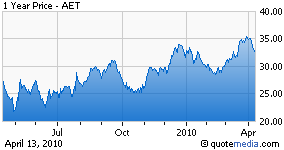 The suspension also stops Aetna from marketing the plans to new members. The action against the health insurer was taken due to the non-compliance of certain Medicare Part D requirements. The suspension is effective from April 21, 2010.

The suspension affects Aetna's Medicare Advantage and Standalone Prescription Drug Plans. However, it has no bearing on the company's current Medicare enrollees. Medicare Advantage plans are privately run versions of the government's Medicare program, under which the elderly and disabled are provided with health coverage.

According to the CMS, Aetna did not comply with requirements that would ensure that seniors could continue with their medications during changes to certain plans offered by the health insurer from 2009 to 2010. Medicare rules call for plans that continue to cover the drugs during a transition period.

The CMS is a federal agency that administers the Medicare and Medicaid programs, which provide health care coverage to millions of people in the U.S. For the year 2009, Aetna received about 20% of its premiums from Medicare plans.

The company stated that it is extending full cooperation to the CMS on the matter and is working to resolve the objections raised by the agency as soon as possible.

Aetna, based in Hartford, Connecticut, is a provider of healthcare, dental, pharmacy, group life, disability and long-term care benefits to approximately 36.1 million people in the U.S. The company's customer profile includes employer groups, individuals, college students, part-time and hourly workers, health plans, governmental units, government-sponsored plans, labor groups and expatriates.

Aetna operates in a highly competitive healthcare industry. It competes with players such as Cigna Corp. (NYSE:CI), UnitedHealth Group, Inc. (NYSE:UNH) and WellPoint Inc. (WLP).