My weekly post is a break from my daily analysis of the economic data that streams from the various government agencies and private industries. I use this space to expand upon what I have seen or comment on an economic misconception or even explore a new topic. I believe everything is just words unless we can apply the data to forecasting the economy, and using this knowledge to one day being able to control the economy
Economic theories are not explaining this recovery - although many are bending the theories saying we have done too much of this, and too little of that. There is enough conflicting data out there to prove (or disprove) any theory. I gravitate more to looking at all the hard evidence, and analyzing the conflicts. The data tells me that applying each theory is a double edged sword - improving the economy in one way, but degrading the economy in other ways.
I have my own beliefs why this recovery sucks - and the causes stem from decisions made two decades or more ago. But economic beliefs are not facts, and are good conversation stuffers at cocktail hour.
Forecasting the economy is an art. Econintersect does our own economic forecast monthly (February 2014 forecast released this week) based generally on non-monetary indicators mostly not subject to backward revision. This index is designed to model Main Street (and not GDP). Strangely, in the last six months, the elements we quantify have settled down into a tight and moderately good growth range. The roller coaster of this index has subsided - is it a coincidence that this is happening just as the stimulus effects have subsided?
Econintersect Economic Index (EEI) with a 3 Month Moving Average (red line)

Click to enlarge
I have been a curious observer of a new economic forecast produced by the American Chemistry Council.
Chemical Activity Barometer (CAB) is a leading economic indicator derived from a composite index of chemical industry activity. The chemical industry has been found to consistently lead the U.S. economy's business cycle given its early position in the supply chain, and this barometer can be used to determine turning points and likely trends in the wider economy. Month-to-month movements can be volatile so a three-month moving average of the barometer is provided. This provides a more consistent and illustrative picture of national economic trends.

Applying the CAB back to 1919, it has been shown to provide a longer lead (or perform better) than the National Bureau of Economic Research, by two to 14 months, with an average lead of eight months at cycle peaks. The median lead was also eight months. At business cycle troughs, the CAB leads by one to seven months, with an average lead of four months. The median lead was three months. The CAB is rebased to the average lead (in months) of an average 100 in the base year (the year 2007 was used) of a reference time series. The latter is the Federal Reserve's Industrial Production Index.
This index is a mixture of monetary / non-monetary elements with an analysis methodology which is not transparent - and does include some non-chemical industry elements such as the ISM manufacturing index and residential building permits. As this is a relatively new leading index, my biggest concern is backward revision (which degrades real time accuracy). Thankfully (providently?) backward revisions have been relatively small to date.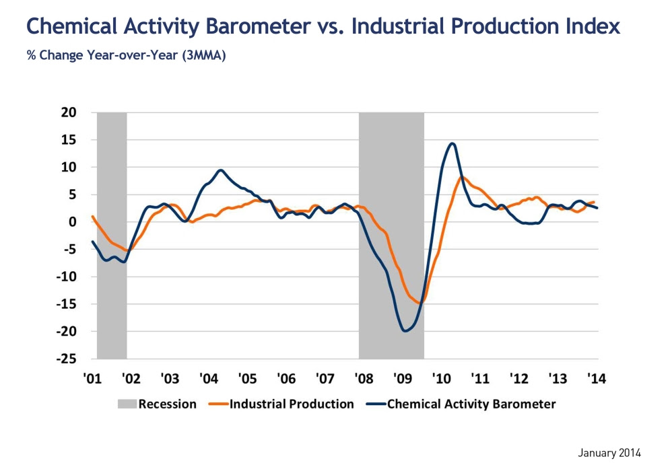 Click to enlarge
For now I think that no single economic forecasting index has proven to have all the answers, as the reason the economy recesses is a combination of changing dynamics.
My normal review of the economic releases this week is in my instablog.
Disclosure: I have no positions in any stocks mentioned, and no plans to initiate any positions within the next 72 hours. I wrote this article myself, and it expresses my own opinions. I am not receiving compensation for it. I have no business relationship with any company whose stock is mentioned in this article.