Kingold Jewelry (NASDAQ:KGJI) is one of the leading professional designers and manufacturers of gold jewelry and was founded in 2002. The company is located in Wuhan City, one of China's largest cities, and manufactures 24-karat gold jewelry, ornaments, and investment-oriented products. It sells its products both directly to retailers and through major distributors across China.
Now that panic is spreading among stock markets, a refreshed look at Kingold could pay off in the near term. There are many questions surrounding the actual health of the Chinese economy and worries about a potential credit and real estate bubble. Because of this uncertainty, Chinese consumers have been large buyers of physical gold for the last few quarters. In 2013, through the third quarter (the most recent data available, see below), Chinese consumer demand far outpaced any other country in the world, according to Casey Research and the World Gold Council.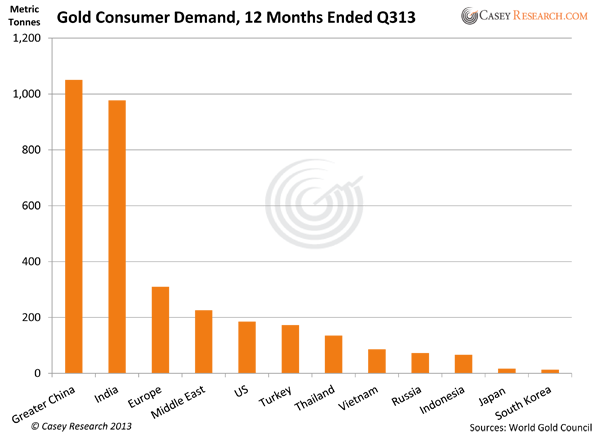 Dynamics unfolding in China could potentially help increase the already high levels of gold demand. The fact that China is accumulating gold will only support the gold price in the future.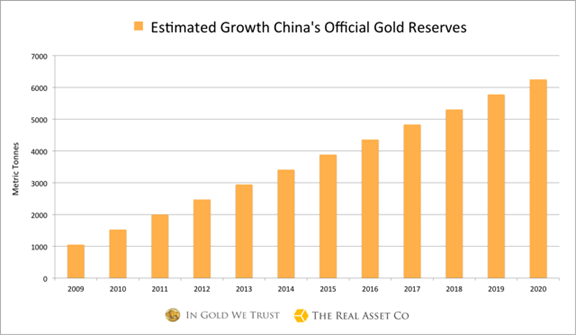 One company that could profit from the uncertainties unfolding worldwide, especially in China, is Kingold Jewelry. Not only from a potentially higher gold price, but also from the fact that it could become an acquisition target for competitors such as Chow Tai Fook.
When you look to five characteristics of takeover targets, then you can say they have some things in common.
Company Size
Small and mid cap companies make the best targets for buyouts or going private proposals. In the case of Kingold Jewelry, we are looking to a company with a market capitalization of $122.88 million. It is much more difficult to take over large caps, because there are fewer companies that can afford it. Large caps' "too big to be bought" syndrome.
Cash
The best targets could have large cash reserves. In the case of Kingold, we can conclude that they have a cash position of $0.36 per share.
Ownership
Chinese small and mid cap companies have usually a lot of inside ownership. This ownership can help facilitate buyouts more easily, because management has an incentive to sell. In the case of Kingold Jewelry, we are talking about 45.18% insiders. With such high inside ownership, getting the voting majorities needed to approve the transaction becomes much easier.
Performance
Kingold's margins are not the greatest. The company's profit margin, for example, is 2.60%. You almost would think it is a badly run firm. The Chinese gold retail market including the Chinese jewelry market is a commodity driven market and not run like a consumer discretionary business. Because Chinese consumers typically buy gold jewelry for weight as opposed to craftsmanship, the sales prices of finished gold pretty closely mirrors the cost of sales. Despite that, Kingold Jewelry has to find a way to improve their margins; a new management team could bring the solution.
Valuation
Kingold Jewelry now trades at $1.91, a fraction of the company's book value of $3.18. When a company's stock is priced below its book value, it becomes much more attractive to potential acquirers. Kingold has a P/B value of 0.60, so it is easier for an acquisition candidate to break up and sell off parts at a profit if needed. A low price-to-earnings (P/E) ratio is also a good indicator that a company is selling for less than its worth. Kingold currently trades at P/E ratio of 4.24.
Of course the company bears some risk, which I will describe below.
Risks
In my view the main risk of the company is that it operates under VIE Agreements, as shown below: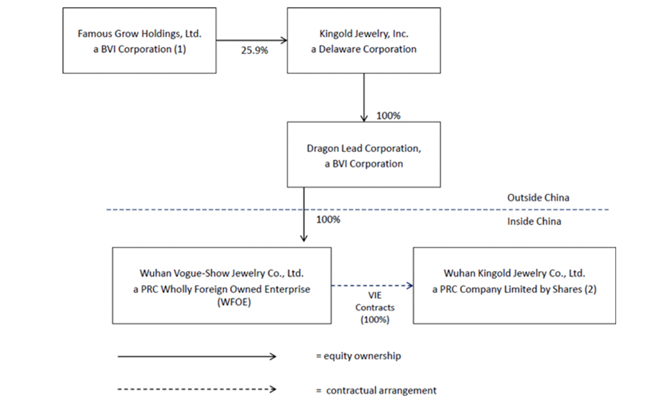 As you can read in the company's 10-K, the relationship with Wuhan Kingold is managed by VIE Agreements that are established to have effective control over the business operations of Wuhan Kingold. The big risk is that the VIE Agreements may not be effective in providing control over the application for and maintenance of the licenses required for business operations. Wuhan Kingold could violate the VIE Agreements, go bankrupt, suffer from difficulties in its business or otherwise become unable to perform its obligations under the VIE Agreements. This is the biggest risk of investing in US-listed China companies with a VIE-structure.
Another risk is of course the commodity risk. The jewelry industry is affected by sometimes wild swings in the price and supply of diamonds, gold and, to a lesser extent, other precious and semi-precious metals and stones.
The stock seems to be a less volatile play than straight gold-miners, because the company provides a value-added service that allows the company to demand a little premium, providing some downside protection against volatility in the gold price.
Final Note
Kingold Jewelry could be a golden opportunity going forward. Investors can still jump on the bandwagon before the stock price really takes off. The year of the horse can bring good fortune to investors in Kingold.
Disclosure: I am long KGJI. I wrote this article myself, and it expresses my own opinions. I am not receiving compensation for it (other than from Seeking Alpha). I have no business relationship with any company whose stock is mentioned in this article.