Tobacco companies were sold off sharply at the end of the last trading week. Similar to other sectors many investors in tobacco companies took profits which isn't too surprising because most companies in the sector have returned triple-digit returns to shareholders over the last five years. In any case, the current market consolidation makes a lot of companies, many of them dividend champions, even cheaper which allows investors to secure even higher entry dividend yields. Market sell-offs are a good thing for investors as quality companies trade at lower prices and the opportunity set of bargain-priced companies becomes much larger.
Tobacco companies such as Altria Group (NYSE:MO) also have disseminated results last week:
Altria's reported diluted EPS for the fourth quarter 2013 declined 56.4% to $0.24
Altria's adjusted (excluding special items) diluted EPS in Q4 2013 came in at $0.57 (an increase of 3.6%)
Full-year reported diluted EPS increased 9.7% to $2.26
Full-year adjusted diluted EPS rose 7.7% to $2.38.
Altria also issued 2014 earnings per share guidance and now expects reported diluted EPS of $2.51-2.58 (up 11-14% y-o-y) and adjusted diluted EPS of $2.52-2.59 (up 6-9% y-o-y).
Twelve month trailing share performance
Altria has corrected about 9% since shares reached a new 52-week High at $38.57 on December 20, 2013. Altria's share price drop has accelerated in the last two trading days even though the tobacco company delivered underlying results that weren't too bad.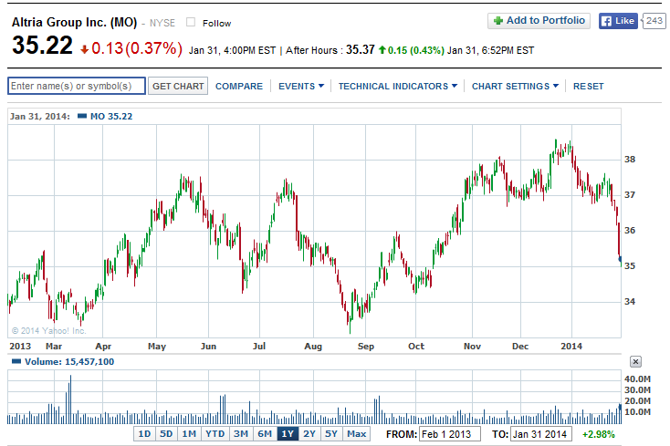 Compared to other tobacco companies, Altria has the lowest five-year return of 108% while Philip Morris (NYSE:PM) gained 112%, Lorillard (NYSE:LO) 137% and Reynolds American (NYSE:RAI) 147%. Tobacco companies belong to the best performing companies in the stock market over the last five years. A combination of high dividend yields, high payout ratios and additional share repurchases has driven share prices of tobacco companies consistently higher.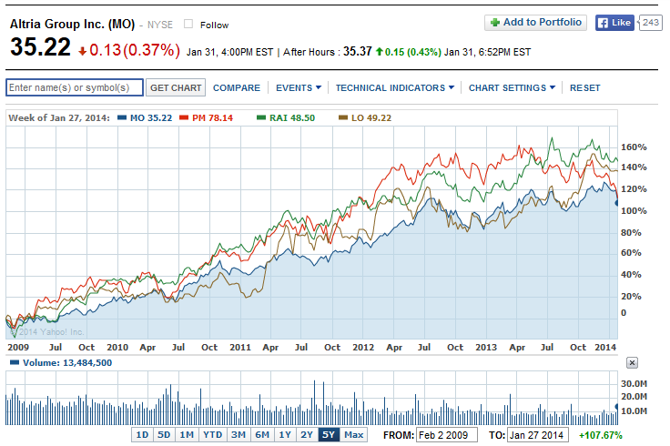 Market valuation
The recent retreat in equity valuations has made Altria and other tobacco companies even more attractive. This is particularly true for those investors whose primary purchase criterion is the dividend yield. Altria currently trades at only 13.67 times forward earnings which is about in line with other tobacco firms. The average peer group P/E ratio of the four large-cap companies in the sector stands at 13.97.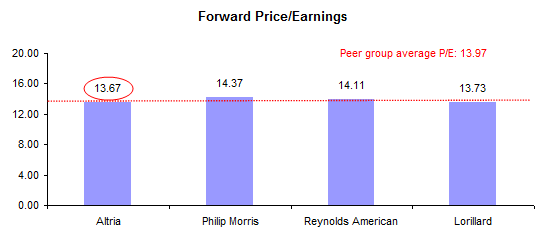 More importantly, the recent sell-off in the stock market has driven Altria's dividend yield up to almost five and a half percent. Altria pays investors $0.48 per quarter which translates into an annual forward dividend yield (not considering prospective dividend increases) of 5.45% and which rivals the yields of real estate investment trusts and even some master limited partnerships which are predominantly sought out by income-driven investors.
Altria has the highest dividend yield in the peer group at 5.45%. Reynolds American comes in second with a dividend yield of 5.20% while Philip Morris shells out 4.81% and Lorillard 4.47%. Altria, as well as Philip Morris, has a long-standing shareholder remuneration record. In fact, I believe US tobacco companies have adopted one of the most shareholder-friendly remuneration policies of any sector. Altria, for instance, aims to pay out about 80% of its adjusted diluted EPS.
In addition to a growing dividend stream, investors are looking at more or less regular share repurchases which complement the regular cash dividends. In the fourth quarter 2013 Altria bought back 6.8 million of common shares worth about $252 million. Total share repurchases in 2013 stood at 16.7 million common shares worth approximately $600 million.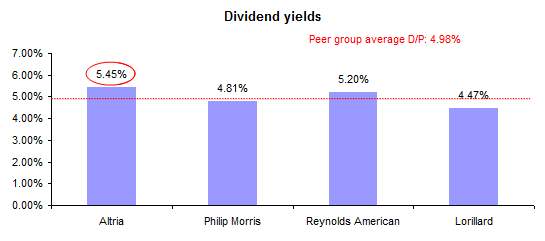 Conclusion
The sell-off in tobacco companies has pushed Altria into oversold territory in the short-term which could mark a great entry point for yield hunters. Investors who have a long-term time horizon and want to get exposure to a very shareholder-friendly company, could consider Altria Group. The company has posted consistent dividend growth over many years and currently offers investors an initial dividend yield of almost 5.5% - the highest yield in the sector. Also, Altria remains committed to supplementing the dividend with share repurchases which provide crucial support for the share price. A reliable stream of recurring cash during times of uncertainty and times of a low-yield environment goes a long way. In addition, shareholders look at the very real possibility of increasing dividends which could push the dividend yield in the neighborhood of 6%. Long-term BUY.
Disclosure: I have no positions in any stocks mentioned, and no plans to initiate any positions within the next 72 hours. I wrote this article myself, and it expresses my own opinions. I am not receiving compensation for it (other than from Seeking Alpha). I have no business relationship with any company whose stock is mentioned in this article.