The Nutshell
Clean fresh water is considered by a growing number of market visionaries to be the next great commodity. Without water we cannot survive more than a day or two. The importance of water in human life is one of the most obvious reasons why water utilities should enjoy increasingly strong economic fundamentals in the years to come. Water will be used and needed whether the economy is in good shape or not. This underlying demand makes water companies very stable businesses. Water utility companies as an alternative sub-industry within the utility sector provide an excellent diversification opportunity.
As record droughts continue to increase in intensity and frequency, well managed water utilities will have the freedom to raise prices under the simple supply and demand principle. Secondly, as the green movement continues to take foothold, companies with a core strategy of acquiring and integrating new technologies and businesses will be the big winners.
The global energy market has been completely transformed in recent years as a result of the new possibilities in drilling that hydraulic fracturing, commonly known as fracking, has offered. The use of the fracking technique to drill gas and oil has expanded at an astonishingly rapid pace and that is no surprise as it is extremely cost-efficient. Essentially it involves pressuring millions of gallons of water in order to extract natural gas. After the water has been used, it requires proper disposal due to the high amounts of chemicals and contaminants it is exposed to during the process. And that is exactly where the wastewater services come into play.
Aqua America (NYSE:WTR) is a water and wastewater company that provides water to homes, offices, and industrial customers across 14 state boundaries. With a market capitalization of $4.17 billion, Aqua America is a company of moderate size, however as far as water utilities go, its size is gigantic. But, as you will see below, the larger Aqua has grown, the easier and faster it's been able to pursue new ventures and to turn the increased sales into higher earnings. Its aggressive growth-through-acquisition strategy has resulted in nearly 200 acquisitions and growth ventures in the last ten years. This exceptional growth strategy has allowed Aqua America to achieve its growth goals and has had a favorable impact on its financial performance.
Valuation
A direct result of this success was the increase of its Net Income Growth by an impressive 40.4%. Moreover, the Net Margin in the latest quarter came in at 29.1%, while the Return on Equity (ROE) was an astonishing 16.4% and the Return on Assets (ROA) was also very high at 6.4%.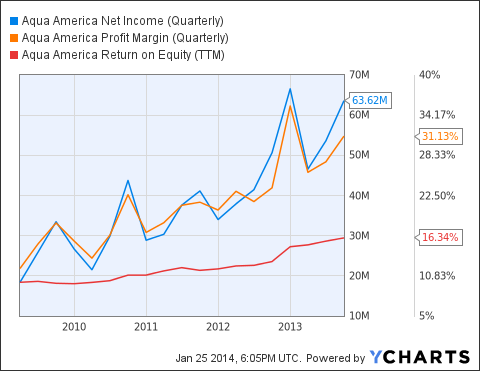 Since 2009, Aqua's EPS has been steadily growing which is of course not unexpected but it is very much positive. Similarly, its dividend has been growing consistently over the last two decades. With $0.61 dividend per share and 2.6% dividend yield it is measurably outpacing inflation as well as its peers. There is no reason for this impressively steady trend to end anytime soon.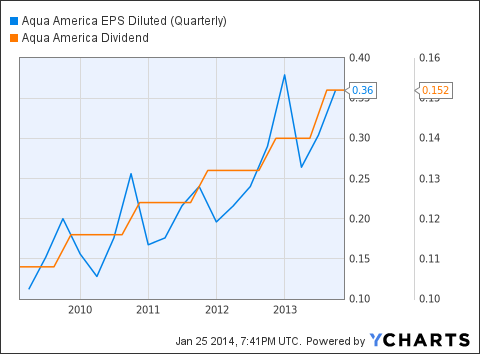 Furthermore, the company has successfully maintained an edge over its main competitors. The steady pace of its revenue growth is a very encouraging sign and illustrates the way it is dominating in its field.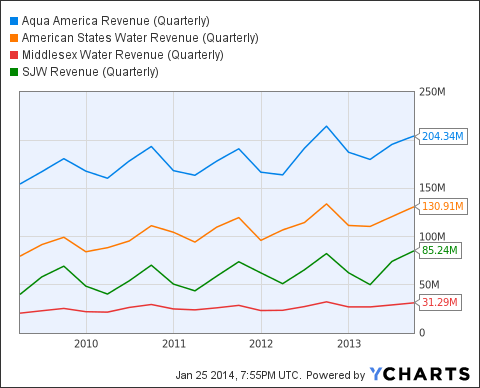 Furthermore, its free cash flow has been growing at an impressive speed. This is usually a highly bullish sign as the cash that it generates allows the company to actively pursue opportunities that enhance shareholder value.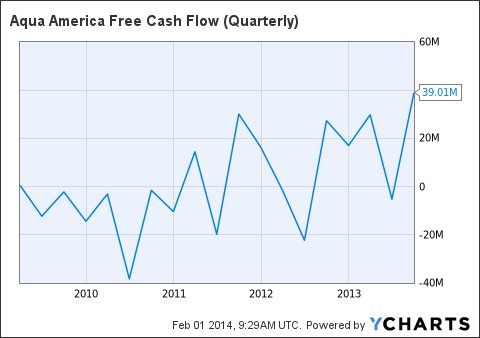 Aqua America has been actively looking for opportunities to enhance its renewable energy infrastructure in order to boost its efficiency and simultaneously to become more environmentally friendly. Last October the company received an Energy Solutions Center Partnership Award for Innovative Energy Solutions. The Partnership Award is an honor reserved for those energy users that have worked with their energy utility system to implement an innovative, energy-efficient technology or solution.
We already saw that Aqua America has dramatically expanded its acquisitions. One of its latest investments, its Marcellus shale position, requires attention, being in the renewable energy sector. The Marcellus Shale is a rock formation that underlies much of Pennsylvania and portions of New York and West Virginia. According to the Pennsylvania Department of Environmental Protection, the Marcellus Shale is believed to hold trillions of cubic feet of natural gas. This is a project matters as it will allow the company to expand its reach to a different industry and strategically diversify its assets.
One of the most crucial factors that support my views on Aqua America is its solid management. The consistent profitability is a direct result of the efficient way its resources are used. This is extremely important for the future of the company and is reflected on the key investment ratios shown below, which far exceed the industry average.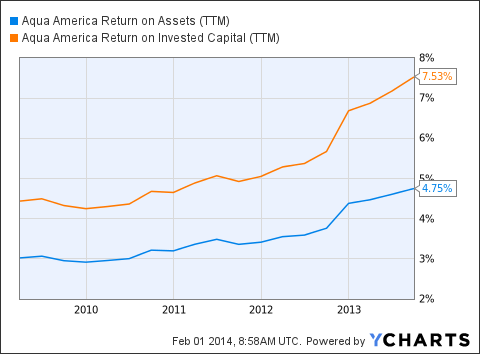 Another fact that gives me confidence when approaching this particular stock is the way it has behaved in the last 10 years. Despite the market turbulence and the great swings we saw, the share price of Aqua America has seen a steady rise with little volatility. In that sense, it's an investment that can also fit perfectly as a defensive play in a period of uncertainty. Knowing that a defensive stock has simultaneously the potential to greatly outperform the broad market is an added bonus.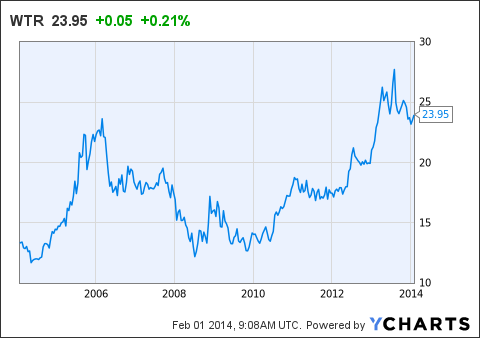 Risks
The main risk that could put Aqua America's plans and operations in jeopardy, aside from possible government regulations concerning prices and rates, is the extreme weather phenomena that have started to appear with heightened intensity and frequency as of late. Even though the company's infrastructure is modern and robust there is still an element of uncertainty about the possible consequences of this ongoing climate change.
On the other hand, the overhanging macroeconomic pressures instead of posing risks for the future of the company, hold opportunities. As the struggling municipalities need to sell their water assets in order to find capital to fund their mounting liabilities, Aqua will be able to boost its profitable acquisitions and expand its portfolio of assets. In return this will translate into even greater increases in profits and revenues.
Conclusion
It is clear that the combination of great numbers, the sophisticated and aggressive growth strategy, the safety of the water utility industry and its exceptional management make Aqua America a rare investment opportunity. For all this reasons, i firmly believe that Aqua America can be an investment with great value, a high degree of safety and upside potential that could surprise us all.
Disclosure: I have no positions in any stocks mentioned, and no plans to initiate any positions within the next 72 hours. I wrote this article myself, and it expresses my own opinions. I am not receiving compensation for it (other than from Seeking Alpha). I have no business relationship with any company whose stock is mentioned in this article.