Altria released earnings January 30th and the price rose from $34.50 to today's price of $35.50. Now that the quarter has been reported is Altria a buy and is now the time to buy? Altria manufactures and markets tobacco products as well as wine. With a current yield of 5.27% Altria has proven to be an important company to consider for a dividend portfolio. Rather then key on the business of selling tobacco and wine products, and their intrinsic hurdles, we are focused on Altria from a technical perspective. Our objective is to pinpoint both an entry price and best time to buy. There are multiple articles on Seeking Alpha dealing with the business and competitors, which all investors considering adding shares of Altria should read to gain a more rounded view of Altria.
Reviewing the one year chart demonstrates that today's pricing is near the support line of 35.20 In addition to this the RSI has fallen to 27.73 reflecting a general retreat from the stock. Importantly, retracement levels are where MO is trading now with the next leg up at $36.00. Using this as a backdrop it appears that now is a historically good time to buy.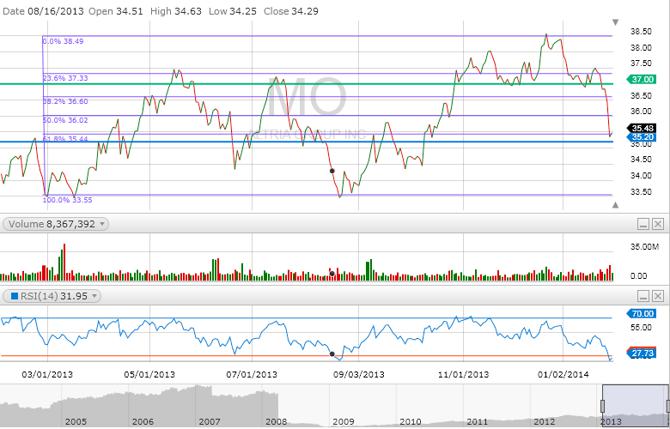 Dividends are the motivation for owning Altria. An additional level of confidence is the relationship of share price and dividends. As the chart below demonstrates the price of $35.40 is in the range of average historical value for the dividend paid. Pricing now is not expensive or cheap. We view it as normal or inline with expectations. What is extremely important to our confidence to purchase is the relative consistency of estimates to actual performance. In other stock this month we have seen wild swings in both punishment and reward. Look no further than AAPL, GOOG, AMZN to review what happens when a company exceeds or misses estimates. When doing an evaluation of a company we do look at estimates but do not rely on them for either accuracy or magnitude. They are simply estimates. What is of keen interest to us is that Altria has historically produced results that are extremely close to estimates. It is this proximity of expectation to performance that adds another level of confidence in purchasing Altria.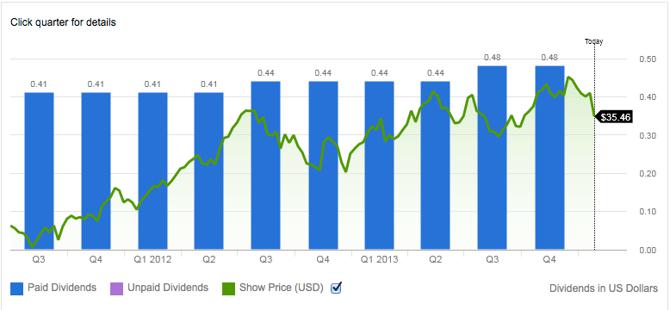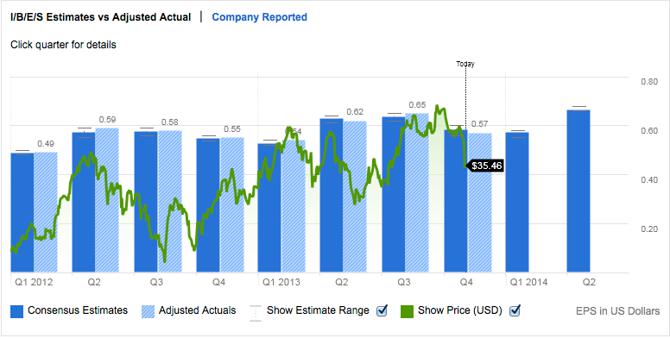 The last question that needs to be addressed is current pricing and expectations for future pricing. Understanding the underpinnings of Altria is important but so is its pricing performance over time. Management seems to be able to work through the challenges of running the business and continue to post solid results.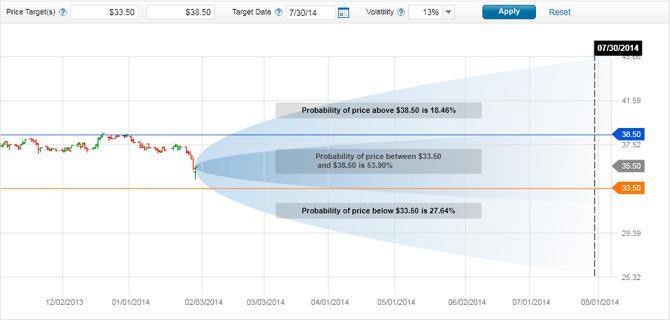 Using retracement levels and looking out until July 2014 probabilities are generated that represent acceptable levels of risk for purchasing now. Due to the 27.64% calculation we do not recommend taking a full position now. Current pricing represents a fair value and a good entry point but we will scale into a deeper position hedging that the price could dip to the next technical level down. If this does occur we anticipate adding shares at the decreased price. As the general market has posted declines Altria has followed. This creates a buying opportunity for investors targeting a solid dividend stock to a portfolio.
Disclosure: I am long MO. I wrote this article myself, and it expresses my own opinions. I am not receiving compensation for it (other than from Seeking Alpha). I have no business relationship with any company whose stock is mentioned in this article.