The chemical industry is one of the largest on the globe, growing at a phenomenally fast pace over the last several decades. This cyclical-natured industry has global market capitalization of $5 trillion, and the fastest growing businesses within the industry are those that manufacture synthetic organic polymers (fibers, plastics and elastomers). The biggest markets include North America, Japan, and Western Europe as well as emerging markets like Latin America and Asia. Therefore, the industry is integral in the global economy, as well as in the U.S. In fact, the U.S chemical industry is one of biggest industries in the nation, and the approximately $770 billion-enterprise produces more than 15% of values globally.
The global chemical industry has survived through a number of trends lately including the recent Great Depression, a time at which the industry sunk and even posted negative returns of more than 57% in 2008. Nevertheless, the industry has used those challenging trends as an opportunity to restructure its business processes and drive new opportunities for both organic and inorganic growth. Since the downturn, the industry has started to recover through mergers and acquisitions, capturing emerging markets, offering advanced materials systems, portfolio rearrangement, and cost management.
In 2013, the industry performed well. In the past year alone, the industry has posted total returns of more than 32%. Worldwide chemical production growth in 2014 is expected at approximately 2%-3%, despite problems in European countries. In 2014, the U.S. chemical industry will be the one to watch. In this article, I pick one of the best companies operating in the chemical industry: Dow Chemicals (NYSE:DOW). The company is one among the biggest players in the market and has strong business models, along with the ability to consistently deliver strong earnings. Dow Chemical is making smart strategic moves to enhance growth and an emerging market share. In fact, in the past year alone, Dow Chemical has posted total returns of 41%. The company is offering solid dividend growth with steady price appreciation. Let's dig into the company's business model, strategies, and financial situation to understand whether it is a good stock to buy now and whether it will have the ability to sustain returns.
Is Dow A Good Stock To Buy?
Dow Chemical is a manufacturer and provider of products used largely as raw materials in the manufacturing of different products. Dow is driving innovations that extract value from the intersection of physical, chemical, and biological sciences to address many of the globe's most difficult problems -- such as the need for clean energy generation, the need for clean water and conservation, and the problem of growing agricultural productivity. Dow serves industries including the automotive, appliance, and agricultural industries, and the construction and building industries, among others. In the unpredictable global business environment, Dow focused on organizing every part of its movement through cost-controlled actions, and liberating and deploying cash to enhance its capital structure and repay shareholders. To produce earnings momentum, Dow is focusing on growth investments in calculated sectors such as electronics, water, packaging, and agriculture and is de-emphasizing commoditizing and other non-strategic areas.
With its integrated value chains and the multiplicity of targeted end markets, Dow continues to exhibit strong performance, chiefly in emerging markets, and in key downstream businesses including electronics, coatings and infrastructure, and packaging. Over the past 2 years, the company has been downsizing non-strategic businesses. Recently, Dow announced divestiture of its polypropylene licensing and catalysts business and reduced its focus on low-growth commoditizing businesses, with announcements concerning the chlorine value chain. The company also made consistent strides against its aggressive portfolio targets, demonstrated by $850 million in proceeds from divestitures in 2013, together with the announced carve-out of $5 billion worth of commodity chemicals businesses. The company is looking to use this cash in the future for new growth opportunities.
Dow's focus in running an integrated strategy and managing its portfolio with targeted growth and productivity metrics by business and value chain has led the company to achieve massive growth both in top and bottom line. At the end of Q4, Dow has showed growth in its top line of 3% to $14.4 billion over the last year. This achievement was led mainly by agricultural sciences, coatings and infrastructure solutions, and performance plastics. With additional cost cutting measures, Dow has generated a considerable margin expansion, earnings growth, and return on capital improvement. Its EPS has gone up by 97% over the past year with gains in all operating segments. The company's fourth quarter and full-year performance demonstrates successful execution of its stated goals.
Dow's strategy and actions are generating record cash flows: In 2013, Dow generated record cash flow from operations of 7.8 billion. Moreover, the strong cash flow resulting from these strategic measures is allowing the company to fund organic growth and is providing additional cash for shareholders. The company recently announced a huge increase of 15% in its dividends which brings its quarterly dividend payment to $.37/share. These dividends look completely safe, and the company's free cash flows are providing full coverage for the dividends. The payout ratio of 58% remains at a manageable level. In 2013, Dow maintained its concentration on lowering debt and reported a gross-debt decline of $3 billion resulting in year-over-year interest expense decline of around $170 million. Thus, its quick and current ratio went high to 1.25 and 2.09, respectively.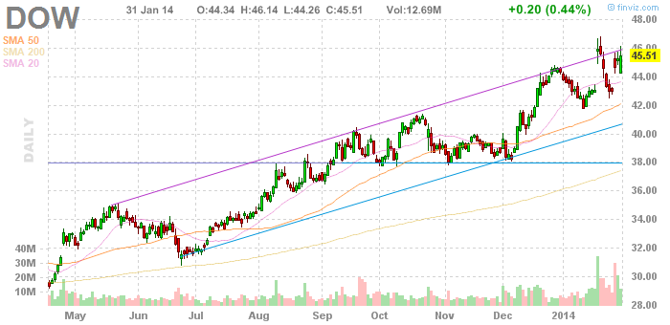 All of this positive news accelerated the stock's momentum over the year. At the moment, DOW stock is trading at 20.4 times-to-earnings with a forward price-to-earnings ratio of 16, which demonstrates a strong upside potential. Additionally, the company is working diligently on a share repurchase program, and recently, the company has announced an expanded buyback program to 4.5 billion by the end of 2014 -- which will also impact its stock price in a positive way. Further, the company has many catalysts in place that are fueling momentum and increasing return on capital. Dow's strategy of going narrower and deeper into emerging markets and profit pools, and that of deselecting portions of value chains that are no longer core to its business will generate big profits for the company.
In Conclusion
The chemical industry is gaining momentum with the stabilization of the economy. In an increasingly stable environment, Dow continues to control operating costs and smartly invests in its integrated business value chains. Consequently, Dow's financial performance is improving quarter over quarter, and the company is making significant progress in stabilizing its balance sheet, which gives it the flexibility and confidence to increase dividends and step up its share repurchase program. With all of these strategic moves, Dow Chemical is well set to generate big profits in the coming days.
Disclosure: I have no positions in any stocks mentioned, and no plans to initiate any positions within the next 72 hours. I wrote this article myself, and it expresses my own opinions. I am not receiving compensation for it (other than from Seeking Alpha). I have no business relationship with any company whose stock is mentioned in this article.