The purpose of this article is to estimate the fair value of Verizon's (NYSE:VZ) stock and to identify if the stock is undervalued or overvalued.
Industry Outlook
According to Infrastructure 2013, the projection of the global demand for future arrangements gives us an estimated global expenditure figure of $ 9.5 trillion in the telecom sector by the year 2030.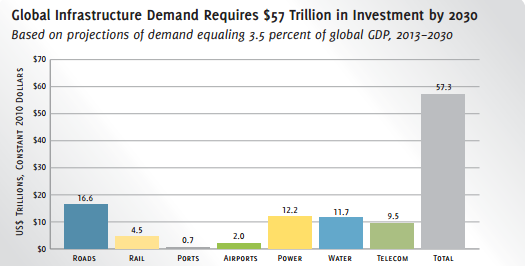 Source : EY/ Infrastructure 2013
According to the Global Mobile Data Traffic Forecast by 2017 the mobile data traffic is expected to grow to 11.2 exabytes per month reflecting a 13 fold increase compared to 2012's results. Growth at a CAGR of 66 percent is expected in mobile data traffic from 2012 to 2017. North America and the Asia Pacific will account for almost two thirds of global mobile traffic by 2017 while Africa and Middle East will undergo the highest CAGR of 77 percent reflecting a 17.3 fold increase over the projected period. Newer device categories like tablets, M2M nodes and smartphones will account for a major portion of data traffic by 2017.
One of the staple contributors to data traffic growth is the increasing number of wireless devices accessing mobile networks worldwide. Regionally, Western Europe and North America will most likely have the fastest growth in connections at a CAGR of 10% and devices at a CAGR of 13 percent from 2012 to 2017. Almost 8.6 billion personal mobiles and 1.7 billion M2M connections are estimated to be in the regions by 2017. M2M connections include asset tracking systems in manufacturing and shipping sectors, GPS systems in cars or medical apps for patient health records. Currently, non-smart phones are the largest portion of all connections and mobile devices but this ratio will start declining in 2015. All the regions will experience a decline in non-smartphone growth except the Middle East, Asia Pacific and Africa. These regions are expected to experience a low single digit growth in non-smartphones. North America and Western Europe will be experiencing the highest decline in non-smartphone growth with a CAGR of -37 percent and a CAGR of -17 percent, respectively.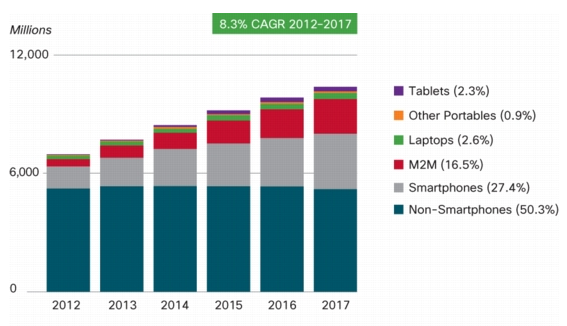 Source: Global Mobile Data Traffic Forecast
Between 2012 and 2017, mobile videos are expected to grow at a CAGR of 75 percent. By 2017, 7.4 exabytes out of a total 11.2 exabytes per month will be due to mobile video.
Globally, service providers are busy developing their 4G networks to be able to meet the growth in end-user demand for higher connectivity, more bandwidth and higher security. By 2015, 3G capable connections and devices are likely to gain a 50 percent share of all connections and devices, globally while 4G will probably get a 10 percent of all devices and connections by 2017. The growth in 4G connections is expected to grow at a CAGR of 75 percent and that will result in total 4G connections of 992 million in 2017 compared to 60 million in 2012.
Migration in M2M capabilities from 2G to 3G and 4G is increasing as well. Around 64 percent of global mobile M2M connections were using 2G while connectivity via 3G and 4G was 35 percent and 1 percent, respectively. By 2017 32% percent of M2M connections will be on 2G networks, 59% on 3G networks and 9% on 4G networks.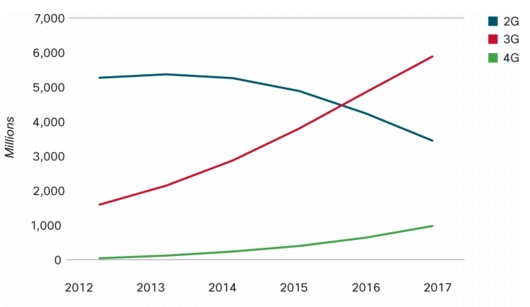 Source : Global Mobile Data Traffic Forecast
Around 73 percent of smartphones and tablets are expected to be capable of IPv6 by 2017. This ratio was 41 percent in 2012. This projection is based on the idea that a large percentage of devices will be capable via Android iOS, Windows Phone and next-gen RIM. The other thing to be considered is the mobile network that these phones connect to. Smartphones and tablets with IPv6 capability are likely to reach 2.2 billion by 2017reflecting growth at a CAGR of 36 percent from 2012 to 2017. Mobile devices with IPv6 capability will reach 4.2 billion by 2017.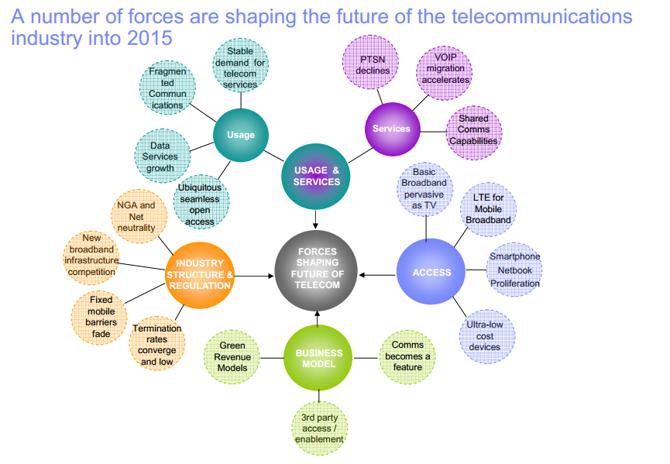 The major forces that are shaping the future of the telecommunication industry are industry structure and regulations, business models, ways of access to communication, services available and their usage. Arranging next-generation telecommunication necessitates the greater service handiness and the ability to use and exchange the information easily. With the increasing number of portable devices and mobiles there is a forthcoming need for networks to seamless connectivity. These devices need networks that support improved real-time video and multimedia and provide high-performance computing. Although the net neutrality regulatory procedure is progressing there is an increasing unmet demand from customers for highest speed and quality connectivity. Wireless technology providers are aiming at providing an experience that was once only available through wired networks so the upcoming years will be very precarious for service providers and operators who are planning future network developments.
Current Foothold
Verizon's 4G network is the only 100 percent LTE network. Covering 97 percent of Americans, Verizon is the largest 4G LTE network in the US.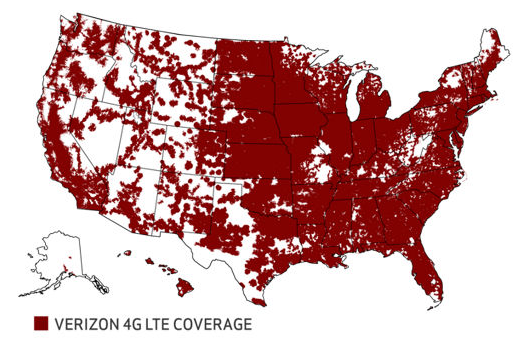 The company has announced its performance for the fourth quarter of 2013. It recorded a positive EPS of $1.76 compared to the loss of $1.48 in EPS during the fourth quarter of 2012. CFOs and FCFs endured YoY growth of 23.3 percent and 45.1 percent, respectively.
Wireless
The company documented an 8 percent YoY increase in service revenues, 7.5 percent YoY increase in retail services, 29.5 percent operating margin and a 47 percent segment EBITDA margin on service revenue.
Retail postpaid and retail connections underwent YoY growth rates of 7.1 percent and 4.7%, respectively. The 4G LTE segment, as a percentage of retail postpaid connections, increased to 44.1 percent compared to 23.3 percent during the fourth quarter of 2012.
Wireline
Consumer revenue exhibited a YoY APRU growth rate of 10.8 percent while copper migrations exhibited a YoY growth of 10.2 percent. Total revenues went down by 1.5 percent but segment EBITDA was able to grow by a YoY rate of 22.5 percent.
Valuation
I have also analyzed the company's PEG ratio compared to its competitors' PEG ratios as an average of industry. I have used the PEG ratios of T-Mobile US Inc. and AT&T, Inc. along with Verizon's PEG ratio to calculate the industry average.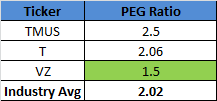 VZ is currently undervalued compared to the industry and my recommendation is buy.
Disclosure: I have no positions in any stocks mentioned, and no plans to initiate any positions within the next 72 hours.
Business relationship disclosure: The article has been written by a Blackstone Equity Research research analyst. Blackstone Equity Research is not receiving compensation for it (other than from Seeking Alpha). Blackstone Equity Research has no business relationship with any company whose stock is mentioned in this article