Lloyds Banking Group (NYSE:LYG) plans to initially sell 30-50% of its TSB unit in a $2.5B+ IPO as part of the conditions of its bailout during the financial crisis.
LYG is one of the largest financial institutions in the United Kingdom where the government still holds a shareholder position of 33%. Briefly, let's take a look at the bank's situation. Back in September 2008, the completion of a takeover of HBOS by Lloyds TSB has led to a poor deal that has brought tens of billions of dollars in losses to LYG. Meanwhile, new management that took office in 2011 has been able to put in place a strategic plan that has dramatically strengthened the bank.
LYG had been due to sell the TSB business to the Co-operative Group, but the mutual withdrew in April after problems related to "the increasing regulatory requirements on the financial services sector in general".
Soon after, Antonio Horta-Osorio, Lloyds chief executive, has decided that floating TSB business would be a much better deal than selling it. In fact, risk may be higher but TSB as a clean and sound operation will surely get robust demand and a reasonable price.
The branches and accounts that are now TSB were chosen as a representative cross section of Lloyds Banking Groups' business, to form a separate UK bank in line with the European Commission's aim of increasing competition and customer choice.
After rejecting a deal with a group of institutional investors, TSB's management has begun last week a pre-roadshow . This process will lead to TSB being listed on the London Stock Exchange (probably in May) separately from Lloyds Banking Group. JP Morgan and Citigroup are the consultant banks.
TSB split from Lloyds TSB in September 2013 in order to make a market flotation this year. It is now a stand-alone bank with 631 branches, but this is really a new beginning. Indeed, Trustee Savings Bank was launched in the early 1800s and merged with Lloyds in 1995. Now, 4.5 million customers of Lloyds TSB will become legally customers of an independent TSB. Lloyds will proceed as a separate bank, but Lloyds Banking Group will remain the owner of both - until the sale and float in the IPO, and the additional subsequent sale of a majority stake of TSB.
TSB will become the eighth largest high street bank. With very strong capital ratios, it is a bank which has no toxic assets, and no legacy issues.
I think that this IPO has everything to become a great success for the following reasons:
1) It is the first big IPO this year, and it represents the entry of a new bank under a favorable investor sentiment.
2) TSB most probably will be a worthwhile investment that may appreciate greatly over time.
3) Valuation is now in the region of £1.5B to £2.0B ($2.5B to $3.3B), but with a strong demand it will tend to reach higher figures.
4) As the seller, LYG certainly will receive much more cash than anticipated last year, and profits from the sale will boost its value.
In my last article on LYG at July, 11, I have admitted a price share rise to $6 after the earnings report of the last quarter of 2013 (each bank's ADR has four common shares).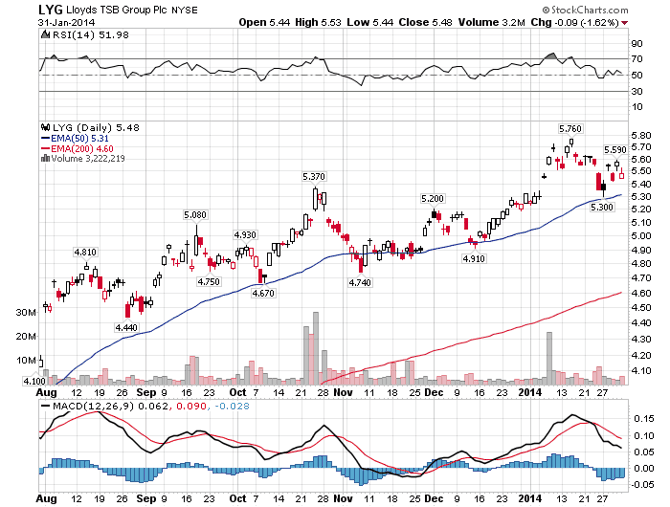 Chart courtesy of StockCharts.com
As the current price is $5.48, I think it represents a reasonable level. It's essential to remember that at the end of May 2012 the price has touched $1.52, and has climbed consistently since then. From early January, stocks have been trading within a consolidation area that could certainly support a continued rise.
Conclusion
The bank continues to show significant upside potential due to some good catalysts, a progressive increase in financial strength, and the overall improvement of its indicators. When LYG has the chance to finally settle all the financial problems of the past, it will surely be a strong and reliable bank that will take advantage of future opportunities for adequate growth. In all likelihood, its share price will continue to rise accordingly.
Sources: In addition to other research, the data collected by the author was obtained through the bank's site and related documents.
Disclaimer: The author of this article gives only his personal view and opinion, never making any investment advice to buy or sell specific securities. The information presented is from sources believed to be reliable, but its accuracy cannot be guaranteed. Before investing in financial assets, investors should do their own research, and consult a professional investment adviser.
Disclosure: I have no positions in any stocks mentioned, and no plans to initiate any positions within the next 72 hours. I wrote this article myself, and it expresses my own opinions. I am not receiving compensation for it (other than from Seeking Alpha). I have no business relationship with any company whose stock is mentioned in this article.