My daily stock research process includes the running of several techno-fundamental hybrid scans aimed at finding great investing and/or trading candidates that are also poised technically to make strong moves in price over the short-term (see my Market-Neutral Trading for the exact parameters of these scans). One company that keeps making regular appearances on my short-list of candidates is Questcor (QCOR).

Questcor is a biopharmaceutical company focused on treating patients with serious auto-immune and inflammatory disorders. These disorders include multiple sclerosis (specifically, the flare ups associated with that condition), spasms in infants with epilepsy, and a rare kidney disorder called nephrotic syndrome. Last year, the company moved into the rheumatology space, treating sufferers of arthritis and lupus. In more recent weeks, the company has added a focus on certain hard-to-treat inflammatory conditions among pulmonary disorders.
Believe it or not, the company produces 1 drug for all of these conditions -- that's right, 1 drug -- and it has nothing -- that's right, nothing -- in the pipeline. But hey, who needs a pipeline when your one drug is Acthar! Acthar is a multi-application, symptom-reducing, cash-cow-milking miracle of a drug! And Questcor's real genius as a company is in how it markets Acthar to the world. But more on that in a bit...
I want to lay out here a detailed case for why QCOR is a company you should keep on your list of potential long-side trades. I'll outline the risks, too. Any stock that carries as many short-sellers as this one comes with some baggage. But I'm convinced that the potential reward to risk profile of the company is a reasonable one.
Please note that as of this writing, we do not have shares of QCOR in our personal portfolio or in The 8:18 Fund. We were long QCOR through Jan. 23rd, but sold our most recent position to bank a +23%, 2-week gain. In our "Trend Trade Letter," we've been in and out of QCOR shares several times over the past 18 months, and we plan to be a buyer of shares again on the next technical setup.
Let me be clear on one thing: I do not like QCOR as a long-term investment, at least not until the company clears the air on some of the "risk" issues described below. Until then, I prefer to play shares of QCOR only for the short-term, on the long side of the market. Here are my reasons why:
First, let's do the numbers:
Point #1: Excellent EPS Growth. Questcor sports some of the best growth metrics in the industry. EPS is up +160% year on year, +121% over the past 3 years, +64% over the past 3 quarters, and +73% quarter on quarter. Forward estimates for the current quarter were revised upward 52%. Last quarter the company beat EPS estimates by +30%. The company has grown earnings each year over the past 4 years.
Point #1a: Powerful Projected EPS Growth. EPS are set to grow at a +31% clip over the next 5 years. This compares favorably to the industry average of 18%, and even to a couple of the industry's best, like JAZZ Pharmaceuticals (NASDAQ:JAZZ) and Salix Pharmaceuticals (NASDAQ:SLXP) which peg their 5-year growth rates at 23.5% and 22.6% respectively.
But don't take my word for it. Check out these numbers from Zacks Investment Research (updated 1/2/14):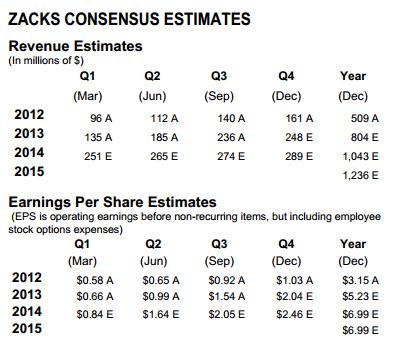 Here is the history of QCOR's EPS announcement surprises, as per Zacks: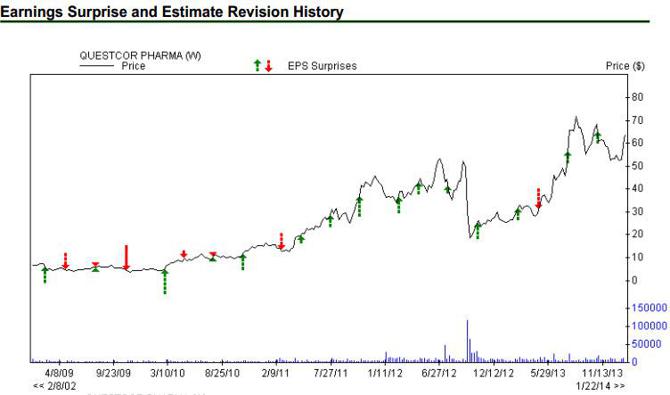 Point #2: Solid Sales Growth. If you "google" something like "Acthar monthly sales," you will see several pages of headlines claiming estimate-beating sales numbers (there are several exceptions, of course). Sales grew +68% quarter on quarter, and have grown +59% annually over the past 5 years. The annual growth rate in sales over the past 3 years stands at +100%.
Point #2a: Powerful Projected Sales Growth. Acthar has 19 FDA-approved applications, one of which is for the treatment of rheumatic disorders. Questcor has recently targeted sales of Acthar to the 65,000 sufferers of rheumatoid arthritis who haven't been able to find adequate treatment. Sales in this stream alone are estimated at over $130M for 2013 (they hit $100M by the end of September). Analyst Jim Malloy estimates that rheumatological sales of Acthar could reach $500M by the end of 2015.
Point #3: Massive Margins. When Don Bailey took over as CEO of Questcor in 2007, vials of Acthar were selling for $1,650. That in itself was fair bit higher than the original $50 you could buy it for back in the 1950's -- it's made from pig parts -- when it was used at the Mayo Clinic as a substitute for cortisone treatments. Within a few weeks of Bailey's tenure, however, the price jumped to $23,000. Today it sells for closer to $30,000. A course of treatment can run close to $250,000, truly remarkable considering that QCOR only paid $100k to the rights. I won't speculate on the reasons for such an enormous increase -- let's just call it "pricing power" -- but apparently demand for the drug compared to cheaper treatments, or to non-treatment, warrants the 1,800% raise.
Point #4: Cash Flow is King. For a developmental biotech, QCOR is sitting on an unusually large mountain of cash, all thanks to Acthar. All things being equal, QCOR's free cash flow yield makes even AAPL's numbers look sheepish. Compare QCOR to its same-size rivals in the biotech space -- NPS Pharmaceuticals (NASDAQ:NPSP) and Theravance (THRX) -- and you'll get a sense of just how unique QCOR is in this regard. QCOR has a Price/FCF multiple under 15 along with nearly zero short-term and long-term debt. NPSP and THRX don't even have a P/FCF multiple, and both companies carry debt levels in the red zone.
Here is a recent weekly price chart of QCOR showing a potential upside breakout forming: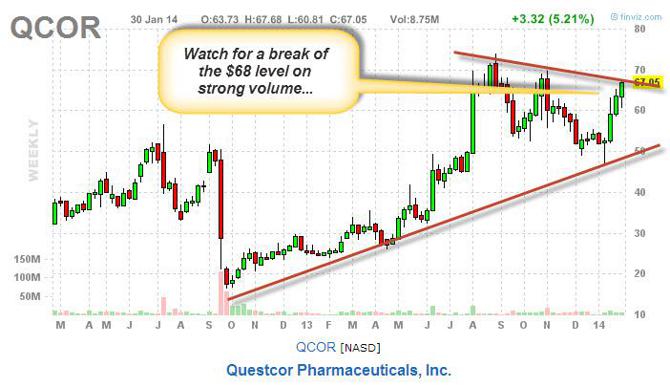 If that is not enough for you to put in a bid for QCOR shares, consider also the following:
Ssshhhh: QCOR Has 'Trade Secrets'. So if Acthar is such a cash-cow (it is), and if it has been around for 60 years (it has), and if no one owns the patent to it (not even QCOR), why are there no generics out there? Very simple: although made from pig parts, no one other than Questcor engineers knows how to make the drug. Oppenheimer & Co. analyst, Akiva Felt, reasons that it is "the complexity of the manufacturing process" that has kept rivals from developing their own version. As CEO Bailey notes, the manufacturing of Acthar is "protected by trade secrets," which can offer "stronger protection than patents." I'm not sure what constitutes a "trade secret" when it comes to turn pig stomachs into $30k vials, but it does seem like the process, for whatever, reason has to date posed too big a moat for rivals to jump over.
Hello, Synacthen. Yes, Questcor is a one-trick pony of a company with its Acthar. But Acthar is not the only game the company is playing right now. Back in June of 2013, QCOR acquired the development and commercialization rights of Synacthen and Synacthen Depot from Novartis. Synacthen is approved in multiple countries outside the U.S. for certain hard-to-treat autoimmune and inflammatory conditions (QCOR's niche). This acquisition should further expand Questcor's market share.
It's All About Marketing. This is the true genius of the company: it's targeted, aggressive, multi-pronged marketing of Acthar. How else could they have taken a drug, once given up for dead for lack of revenue, and turned it into nearly $1B (yes, that's a "B" as in "Billion") in sales? In fact, the price of QCOR's shares have been on a tear this month (up over 24%!) on news that, among other things, the company is expanding its marketing program! This is not the first time Questcor has beefed up their sales team. Back in July, 2013, QCOR announced its intent to initiate a pilot commercialization effort to market Acthar for the treatment of symptomatic sarcoidosis, a potentially serious, difficult-to-treat disorder. Sarcoidosis is on the list of 19 FDA-approved indications for Acthar. The company has now hired and trained a sales force of ten reps who began making sales calls late last year.
Now for the Bad News.
Simply put, Questcor has "issues." Quite serious issues, in fact. With 32% of the float held by shorts (one of the highest numbers I've seen), it would seem that none of this is unknown. I won't go into detail here, but let me briefly list the main concerns.
Unethical Marketing: Complaints have been made against the company that the sales reps are "too aggressive," and using unethical practices. Last year the company announced that the Feds and the SEC were investigating their marketing practices. "Rubbish," says QCOR's management. Here is their rebuttal to these charges.
Unsubstantiated Claims: Charges have been made that Questcor has made unsubstantiated claims for Acthar's effectiveness and/or covered-up actual medical evidence. See more on this story here.
Downplayed Insurance Risk: The company was investigated back in 2012, for downplaying the loss of insurance coverage for certain uses of Acthar. The risk of continued investigation remains; several investor lawsuits against the company are pending. For discussion of this and other risks, see here.
Possible Selling on Insider Info: Some point to the fact that key insiders sold substantial numbers of shares at the September, 2012, top just before news of the SEC investigation hit the wires. On October 30th, last year, the SEC announced it was expanding its investigation on the promotional concerns; some speculate that this insider trading may be the cause of the expansion. For more on this, see here and here.
So, for all these reasons, I cannot be an investor in QCOR's shares. To "invest," as the term implies, is to "clothe yourself" in the company's business ethos, including the way that business is conducted. Until these risk issues get cleared up, and I certainly hope for all concerned that they can, I cannot support the long-term purchase of QCOR shares. But for now, I consider it one of my primary trading vehicles on the long side of the market.
All comments are welcome! Blessings, TC
Disclosure: I have no positions in any stocks mentioned, but may initiate a long position in QCOR over the next 72 hours. I wrote this article myself, and it expresses my own opinions. I am not receiving compensation for it (other than from Seeking Alpha). I have no business relationship with any company whose stock is mentioned in this article.