In contrast to the start of the year, safe haven buying failed to lift the gold price last week as international stock markets and precious metals both moved lower for the first time in 2014. Gold snapped a five-week string of gains and it now appears that the recent rally has run out of steam.
The prospect that China, the world's number one gold buyer, is now basically shut down for the next week in observance of the Lunar New Year also hurt precious metals, however, the latest gold demand data from China continues to be very impressive.
The latest tapering announcement by the Federal Reserve pressured gold and silver too, in part because the central bank action led to a stronger trade-weighted dollar, a trend that was strengthened somewhat when U.S. economic growth met elevated expectations on Thursday.
For the week, the gold price fell 1.8 percent, from $1,269.00 an ounce to $1,245.90, and silver dropped 3.7 percent, from $19.91 an ounce to $19.17. The gold price is now up 3.4 percent for the year, still 35 percent below its all-time high of over $1,920 an ounce in late 2011, and silver moved from a year-to-date gain of 2.4 percent to a loss of 1.4 percent, now 61 percent below its record high near $50 an ounce almost three years ago.
The recently strong inverse correlation between gold and U.S. stocks as noted here previously was on display again last week after global share prices rebounded sharply on Thursday and precious metals plummeted. A reversal for stocks on Friday failed to provide enough impetus for gold to recover from losses the day before and, as a result, the metal finished lower on the week for the first time this year.
The absence of buyers in China in the week or so ahead was also a factor in souring gold market sentiment as Reuters reported that gold premiums in China tumbled from as high as $20 per ounce just a few weeks ago to just $4 per ounce last week.
To be sure, continued strong gold demand in China is key for an ongoing rebound in prices since investors in the U.S. remain largely uninterested in precious metals.
As shown below, it's been a spectacular run of buying in the Middle Kingdom over the last year as prices have fallen.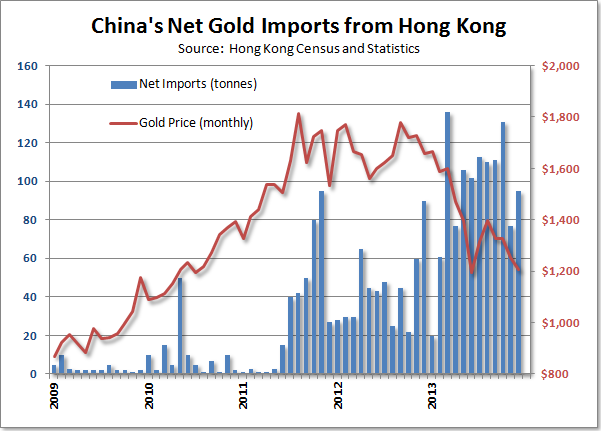 Net gold imports into mainland China via Hong Kong totaled 95 tonnes last month, up from 77 tonnes in November, but down from a near record high of 131 tonnes in October.
Year-end statistics show mainland China had net imports of 1,158 tonnes of gold last year, more than double the year before, and, once again, it's important to remember that this is just one source of gold flows into China, though it is clearly the largest one.
It is truly a sign of the times that there could be such a big disparity in gold demand between the East and the West. Recall that it was during 2009 and 2010 that U.S. investors were adding to their gold ETF holdings at a rapid pace as the gold price was rising, but imports from Hong Kong were minuscule during that time. Since prices began moving lower, however, U.S. investors have sold as China ramped up their buying.
Perhaps the best characterization of this situation comes from this item at Koos Jansen's blog:
On three separate occasions I met with Chinese men who told me with a big smile China is buying A LOT of physical gold with printed dollars, they don't understand why the rest of the world is just watching this happening.
Many in the West don't understand why the Chinese continue to buy gold, however, one thing is clear - one side has it wrong.
It will surely be interesting to see how gold imports to China hold up in 2014. So far, demand has been strong leading up to the Lunar New Year when sales usually slow dramatically. At some point, the off-take of physical gold bullion from Western vaults (via Switzerland where it is recast in forms in high demand in Asia) is sure to have a positive impact on the gold price, however, when and how much is anyone's guess.
Here in the U.S., investors could seem to care less about the yellow metal as, last week, the SPDR Gold Shares ETF (NYSEARCA:GLD) added a paltry 2.7 tonnes to its trust. This comes after a decline of 6.6 tonnes the week prior and puts the holdings at GLD down 5.1 tonnes so far this year. Holdings of the popular iShares Silver Trust ETF (NYSEARCA:SLV) were unchanged last week, still up about 70 tonnes in 2014.
Western investment banks feel largely the same way about precious metals as ETF investors as Goldman Sachs again reiterated its bearish outlook for gold while Credit Suisse predicted the price could drop as low as $1,000 an ounce. Bullish price forecasts have been few and far between, but one notable positive outlook came from Jeffrey Christian at CPM Group who, in a video interview with Kitco, said he sees the gold price ending the first quarter at over $1,300 an ounce with an eventual return to over $1,900 an ounce.
Disclosure: I am long GLD. I also own gold and silver coins and bars. I wrote this article myself, and it expresses my own opinions. I am not receiving compensation for it (other than from Seeking Alpha). I have no business relationship with any company whose stock is mentioned in this article.