Intel (NASDAQ:INTC), like the rest of the market, hasn't had a great start to 2014. The company is trading off 5.4% year to date on the heels of lackluster earnings, waning confidence in the PC market, and questions about the company not showing up with mobile and tablets.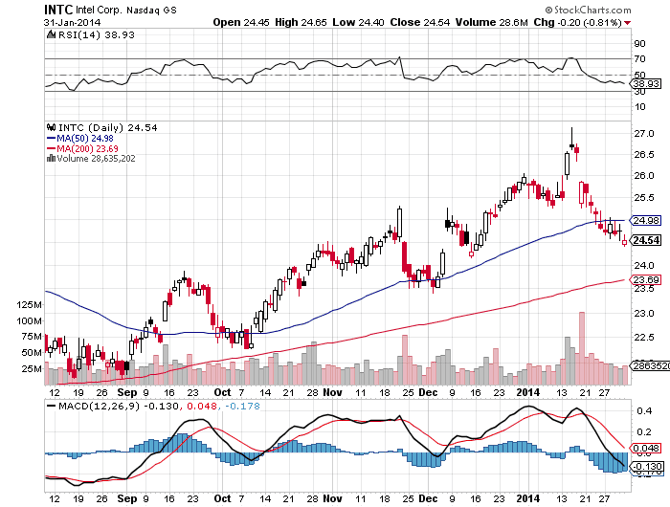 Two weeks ago Intel reported less than stellar earnings - EPS of $0.51/share that missed by a penny and revenues of $13.8 billion that exceeded expectations. The company reported basically what analysts were predicting - a less than stellar quarter.
With the way things have been going for Intel of late, there really has been one focus and one focus only for the chipmaker - making up for lost ground with mobile and tablets, an area where Intel hasn't quite caught up to the rest of the world. The company has basically set 2014 to be a year of refocusing the business, reframing their business model, and betting big for the future beyond this year.
Speaking of missing the boat, it was announced at the end of last week that Intel was closing its "AppUp" - which was the company's app store for Windows-based PC apps. The company announced that it was going to shut down on March 11th of this year.
Intel's website said:
At Intel, we're always thinking about the future, which often means making changes today. That's why, on March 11th, 2014, Intel AppUp® center will come to a close as we focus on developing new and exciting PC innovations that will continue to shape your world.
I know what you're thinking: Intel had an app store?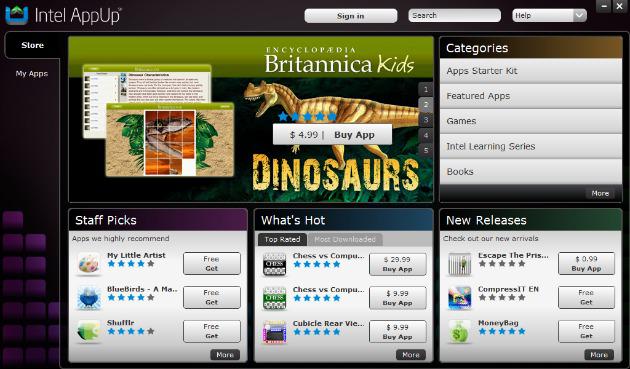 Exactly. You've never heard of it, and neither has a majority of the rest of the world. AppUp was started with the hopes of creating an app store that was going to work hand and hand with the Netbook fad, which briefly preceded tablets coming in and knocking them out.
AppUp, launched in 2010, was doing great business and bringing in new users before Microsoft (NASDAQ:MSFT) launched its own app store. Most of the apps through AppUp are going to continue to work heading into 2015, at the least.
Regardless of whether or not this shutdown comes as a product of AppUp simply not performing, or whether it's part of a broader-based company streamlining to continue focus on chips, it's good news for Intel. While Intel continues to try and streamline its business moving into 2014, items like AppUp are just getting in the company's way.
The company is going to be focusing, moving forward in 2014, on wearables and day-to-day devices, as they announced at CES.
The only other focuses for Intel moving into 2014 should be:
Monetizing a push into mobile and tablet
Preparing to monetize a recovery in the PC market
This move represents some progress - albeit just a small nod - that the company is shedding what doesn't work to focus on what does work. If this is a microcosm of how Intel is going to approach 2014, longs like myself should have a good year.
With a P/E of 13 and a decent dividend yield, I still contend that it's a good time to buy Intel. The company has staying power - with $8.4 billion cash on hand and a price/book ratio of 2.29 - Intel isn't going anywhere anytime soon. I'm betting on the company to continue to improve efficiency heading through 2014 and into 2015.
I remain long Intel and will continue to add on dips accordingly.
Disclosure: I am long INTC. I wrote this article myself, and it expresses my own opinions. I am not receiving compensation for it (other than from Seeking Alpha). I have no business relationship with any company whose stock is mentioned in this article.