Apple (NASDAQ:AAPL) dropped -8.24% after the bell on Monday, as sales of the company's flagship iPhone and Q2 guidance both fell short of analyst consensus expectations. The elevator pitch is that growth of Apple's iPhone and iPad, which when taken together constitute 76.25% of the company's revenue base, has stalled and that unit sales growth rates are declining at a precipitous rate. Taken in isolation, unit sales growth is a useless gauge of performance and represents a fundamental misunderstanding of Cupertino's business model.
Figure 1 below gives a sequential breakdown of Apple's unit sales by product from Q1 99 to Q1 14.
Fig. 1: Sequential Sales Growth by % (Q1/99-Q1/14)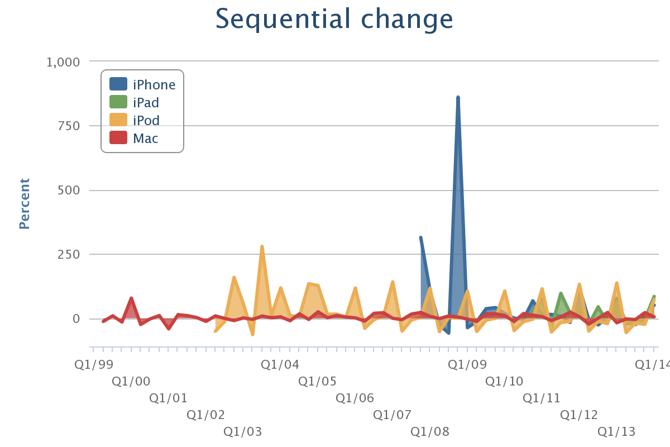 This chart above tells us more about why the share price is stuck in neutral than a mile high stack of opinion pieces and Sell side notes ever could. Mr. Market wants a new disruptive product that will result in a sharp spike like the one that accompanied the iPhone in Q1/09.
Analysts Are Misreading History
The 800lb gorilla in the room is the fear that such growth is simply not possible anymore and that this is somehow a bad omen for Apple's future earnings potential. But when we express the same data in terms of YOY % growth, a less flattering picture of the Miracle of 2009 emerges. In fact, the iPod's unit sales in Q2 2004 resulted in a much bigger pop than the iPhone did in Q3 2009 (+908.75% to +626.36%, respectively).
Fig. 2: YOY Unit Sales Growth by % (Q1/99-Q1/14)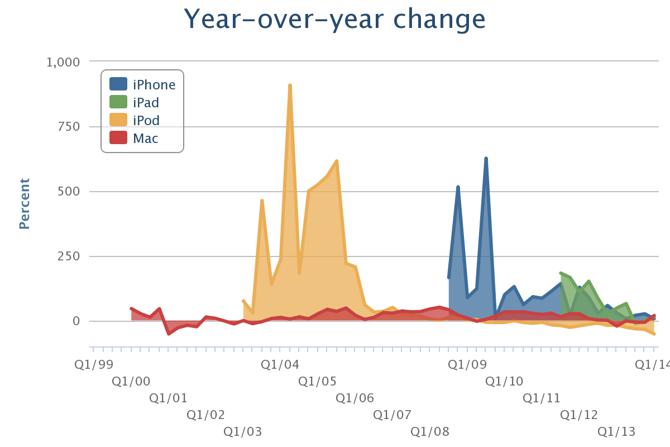 Finally, we can see what all the consternation is about. Not only has unit sales growth stalled out, but each new product line "pops" noticeably less than the one before it. However, the problem with selecting nominal unit sales over EPS and Revenue as the sine qua non benchmark for future growth is that every one of those products had significantly larger audience than its predecessor.
Ask yourself the following two questions: 1) Which "incarnation" of Apple - the iMac/iPod centered Apple of 2004, the iPod/iPhone centered Apple 2009, or the iPhone/iPad centered Apple 2013 - was the more successful business? 2) Which incarnation constituted the better investment? The answer to either question is not immediately obvious.
For example, the pop in iPod sales in Q2 2004 represents a nominal sales increase from 80,000 units in Q2 2003 to 807,000 units in Q2 2004, about par with the current growth trajectory of the Pebble Smartwatch. Likewise, the spike in iPhone sales that Wall Street is demanding a repeat performance of represents a nominal increase from 1.119 million units in Q4 2007 to 6.892 million units in Q4 2008.
Today, those product release figures would be deemed an unmitigated disaster. By way of comparison, the "precipitously declining" iPhone and iPad growth figures reflect an increase from 47.789 million iPhone units and 22.86 million iPad units sold in Q1 2013 to 51.025 million iPhones and 26.035 million iPads sold in Q1 2014. If the definition of "better business" is synonymous with "shipping the most units at the highest margin," then today's Apple is undoubtedly the better business.
In the same vein, if "better investment" is defined as "paying the right price for risk," then today's Apple undeniably constitutes the better investment. Certainly, buying into AAPL in 2009 would have resulted in greater short-term investment returns than buying in 2013, but it's easy to forget that an investment in 2009 was a considerably riskier proposition than it is today (especially at these valuation levels), and the same holds true for 2004 vis-a-vis 2009.
Conclusion
Punishing a star performing mega cap for not achieving small cap growth rates is like punishing a champion weight lifter for not adding muscle mass "the way he used to." If the benefits of being Mr. Universe or winning an Olympic gold medal weren't attractive, people wouldn't train their whole lives just for a chance to compete for the prize.
It makes no sense for Apple to trade at such a sharp discount to the S&P simply because it derives the lion's share of sales from a single product line. Fortune 500 companies like Coca-Cola (NYSE:KO), Visa (NYSE:V), Alcoa (NYSE:AA), Nike (NYSE:NKE), Microsoft (NASDAQ:MSFT), Comcast (NASDAQ:CMCSA), DirecTV (DTV), and Cisco (NASDAQ:CSCO) all derive the majority of their revenue from a small handful of products or services, and as of this writing, those companies are trading at an average 72% premium to Apple in terms of price-to-earnings. Given Cupertino's historical determination to defend the share price at around $425, the current dip offers an attractive entry point for going long on Apple's 2014 product cycle.
Disclosure: I have no positions in any stocks mentioned, and no plans to initiate any positions within the next 72 hours. I wrote this article myself, and it expresses my own opinions. I am not receiving compensation for it (other than from Seeking Alpha). I have no business relationship with any company whose stock is mentioned in this article.