By David Russell
DeVry (NYSE:DV) ran to new all-time highs yesterday, and option traders are apparently confident that it will hold the gains.
optionMONSTER's tracking systems detected heavy selling of the April 70 puts for $0.35 to $0.50. Volume surged to 3,950 contracts, more than 19 times existing open interest in the strike.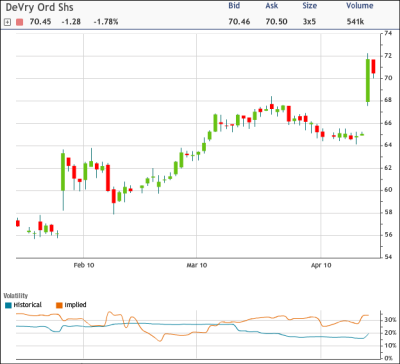 DV fell 1.78 percent to $70.45 in midday trading. The education company rallied 10 percent yesterday to close above $70 for the first time ever after Credit Suisse upgraded the industry group, citing an improved regulatory environment.
The next scheduled event that could serve as a potential catalyst for the shares is the release of fiscal third-quarter earnings after the bell on April 22nd.
Today's put sellers are looking to earn income from the belief that DV will stay above $70 through expiration. The trade is timed to benefit from the increasingly quick pace of time decay that will erase the value of the options as expiration approaches on Friday.
If DV closes below $70, they'll be forced to buy the shares for that level.
Other investors bought 880 April 75 calls for $0.15 shortly after the open, apparently betting on further upside this week.The activity pushed overall options volume in DV to 10 times greater than average.

Disclosure: No positions