Dropping $44 (-11%) in one day Friday, Amazon.com, Inc. (NASDAQ:AMZN) gave its shareholders their biggest fright in several years. That adjustment trimmed the stock's Price/Earnings ratio [ttm] to only 1300. The forward P/E is but 84.
What, me worry? Jeff Bezos, Amazon's prez and largest shareholder, has kept the institutional investor community mesmerized by an impenetrable revenue growth legerdemain and bookkeeping profits enigma. Some analysts have speculated that the company never needs to show a profit if its revenues can continue to grow.
Ordinary individual investors have long maintained that this "house of cards" will, must, ultimately collapse. Yet it hasn't had a pullback this large in a decade, perhaps because individual investors are not any real factors in its ownership. Instead, 954 institutional investors and insiders own 87% of the stock.
So when it comes to the stock's price, what matters most is what those institutional owners think. And the folks who know that best are the market-makers [MMs] who help them shuffle the assets in their portfolios. Fortunately, the way market logistics work lets us keep tabs daily on the ebb and flow of their enthusiasms.
Here is their take on their clients' attitudes toward AMZN's price over the past half-year: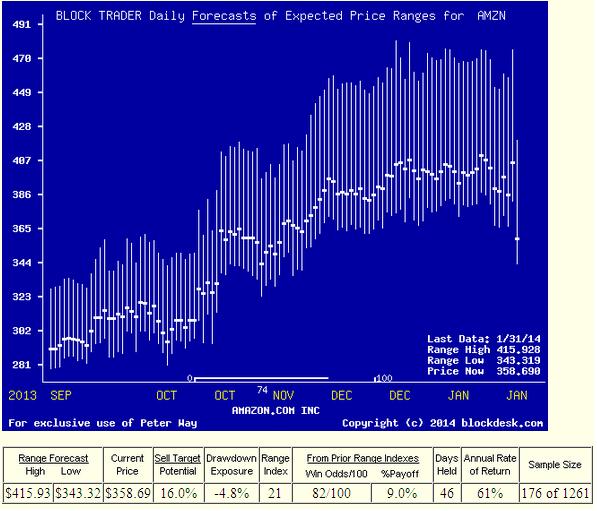 (used with permission)
Friday's jolt from the Thursday financial report for the fourth quarter of 2013 took both price and expectations for future prices down almost equal amounts. The prior day outlook had market-makers hedging their at-risk capital exposures, while helping big-money fund clients buy and sell the stock, protecting themselves against declines of only 4%. So Friday was not exactly a TGIF.
On the other hand, neither was it a "run screaming in terror" reaction. Thursday's upside expectations were +16.4%, and Friday's held at +16.0%. Just from a considerably lower base.
Previous price range expectations of four times as much upside as downside have been a common occurrence for AMZN, happening in 176 market days of the past five years' 1261. Following those forecasts, the next 3 months experienced gains averaging +9%.
A time-efficient sell discipline limited average holding periods to 46 market days, one day longer than 9 weeks. Compounding that over the course of a year produces a rate of gain of +61%. Profits were present in 82 out of every 100 of such forecast-induced holdings, and worst-case price drawdowns experienced average less than -5%.
One grown-up institutional attitude is "OK, we got hurt today; what do we do next?" The apparent answer from that mind-set is "Hang-in and look to recover our -11% loss, and even more."
Monday, and the ensuing week, will tell whether that posture endures.
Disclosure: I have no positions in any stocks mentioned, and no plans to initiate any positions within the next 72 hours. I wrote this article myself, and it expresses my own opinions. I am not receiving compensation for it (other than from Seeking Alpha). I have no business relationship with any company whose stock is mentioned in this article.