Tianyin Pharmaceutical Co. (NYSEMKT:TPI) is a Chinese company offering traditional Chinese medicine as well as more modern and westernized types of medication.
This gives the company an advantage, as it increases their potential customer base - as does their mix of prescription/over the counter offerings. TPI is positioned to grow, with 39 drugs in their portfolio and 17 more in the pipeline. Further adding to TPI's strength is the fact that its founder grew a prior pharma company in China to a $1 billion market cap and the company has recently installed an impressive new CFO.
Prior to joining TPI, their new CFO, Dr. James Jiayuan Tong, was the Head of China Healthcare Investment Banking at Roth Capital Partners. Tong lead Roth's successful efforts growing deals in the Chinese healthcare sector. His responsibilities as CFO, CBDO, and board member will help fuel TPI's growth and development. The Chinese healthcare industry is being fueled by current economic growth and healthcare reform in China.
Similarly, founder Dr. Guoqing Jiang is a well-respected industry veteran with over 15 years of extensive experience and a proven track record. Prior to TPI, Dr. Jiang served senior management positions at several pharmaceutical companies including a post as the CEO at Kelun Pharmaceutical Group, which now has a $1B market cap.
Tianyin Pharmaceutical expects to have continued strong growth for the 2010 and 2011 fiscal years. Their revenues could potentially increase to $63.3 million and $113.3 million, respectively, for FY 2010 and 2011, representing an approximate revenue growth of 48% and 79%. During their FY 2010, the company anticipates producing a minimum net income of approximately $10.38 million, which is 30% net income growth, as compared to their FY 2009.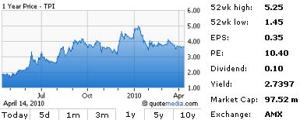 This stock is very alluring to us due to its low price-to-earnings ratio, and in our opinion it's undervalued with plenty of growth on the horizon. TPI is currently at a $98 million market cap, sitting on $12 million in cash, and is growing 10% quarter over quarter. For these reasons, I believe Tianyin Pharmaceutical is a good value investment and I bought shares at $3.63/$3.64.
Disclosure: Author long TPI