What separates ConocoPhillips (NYSE:COP) from many other oil majors is that its share price has already started to decline in October 2013 while shares of other exploration firms like Chevron (NYSE:CVX) or Exxon Mobil (NYSE:XOM) appear to have taken less heat over the last three months. I think this is quite unwarranted and ConocoPhillips deserves more credit for its operational and financial results.
The oil major delivered much better results than Royal Dutch Shell (NYSE:RDS.A), for instance, last month. ConocoPhillips reported a fourth quarter adjusted EPS of $1.40 compared to $1.47 in the previous quarter and $1.43 in the year-ago quarter (a slight 2% y-o-y decline) driven by weaker liquids prices. The average realized oil price declined to $65.41/BOE in the fourth quarter of 2013 compared to $69.68/BOE in Q3 2013 and $67.45/BOE in Q4 2012. Full-year average realized oil prices remained largely flat y-o-y at $67.62/BOE in 2013 vs. $67.68/BOE in 2012. ConocoPhillips' adjusted EPS for the full year increased to $5.70 from $5.37 in 2012 (an increase of 6%).
ConocoPhillips' y-o-y net production growth from 2012 to 2013 stood at 30 MBOED with US and Canadian liquids providing the largest chunk of growth. The Lower 48 produced the largest production increases with 49 MBOED while Canada came in second with 21 MBOED. Growth is being driven by higher-margin liquids products which will serve ConocoPhillips well over the next years as its shale investments play out.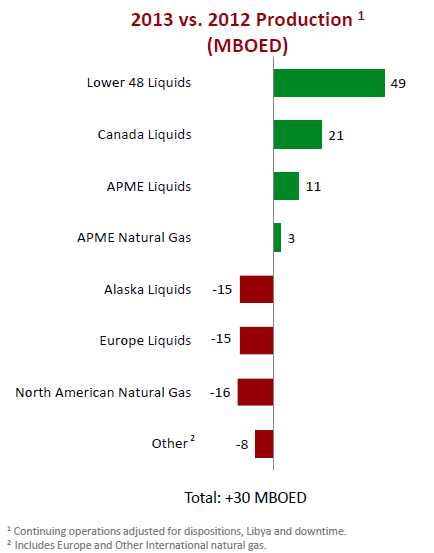 Concentrated shale player
One of the key reasons ConocoPhillips is such an attractive oil and gas play is because of its shale operations footprint in the United States. The ongoing shale oil and gas bonanza benefits companies with operations in high-impact drilling areas such as Eagle Ford, Bakken and Permian. Production growth as well as organic reserve additions will largely be driven by unconventional oil and gas plays in the future and ConocoPhillips is at the forefront to capitalize on those developments: In the fourth quarter 2013 ConocoPhillips reported record production of 141 MBOED in Eagle Ford and 43 MBOED in Bakken, and I expect above-average growth for ConocoPhillips' shale operations in the coming quarters.
Share performance
Last time I wrote about ConocoPhillips the stock was trading at $73 per share and I made the case for the oil major mainly because of its double-digit production growth rates from its Bakken and Eagle Ford operations. Shares have consolidated more than 11% since then even though ConocoPhillips' quarterly performance has been much better than the storm and uncertainty unleashed by Royal Dutch Shell in January.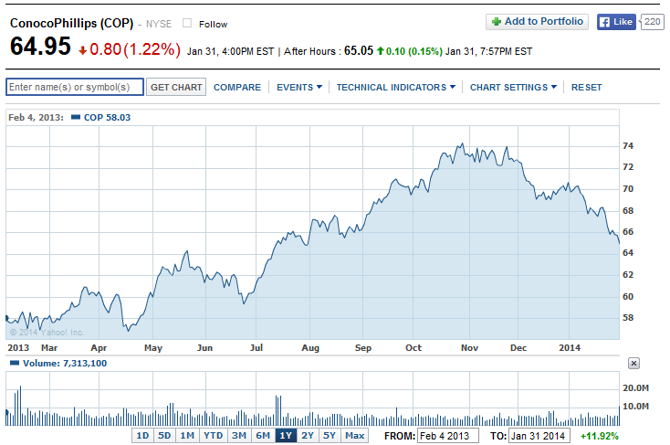 Valuation
ConocoPhillips is an exploration company with a diversified operations footprint, strong development pipeline and reserves of 8.9 BBOE. ConocoPhillips achieved a massive $15.8 billion in operating cash flow in 2013 which was supplemented by $10.2 billion from asset dispositions. Despite its cash flow strength ConocoPhillips trades at just 10.51 times forward earnings (earnings yield of 9.5%) which represents just a slight premium to the peer group average P/E ratio of 10.32. Given its cash flow strength, quality portfolio assets, strong positioning in the domestic shale landscape and shareholder orientation, I think ConocoPhillips is seriously undervalued.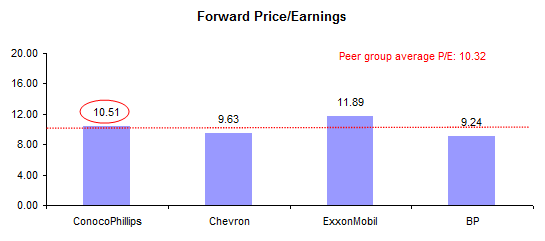 What really adds to the appeal of ConocoPhillips is its dividend yield. The company pays $0.69 per quarter which translates into annualized dividend payments of $2.76 (a forward dividend yield of 4.25%). At the same time, the company is growing cash flow, earnings and offers investors a low entry multiple. BP is also decent dividend value but investors need to consider settlement and litigation risk with respect to the 2010 Deepwater Horizon oil spill in the Gulf of Mexico which could impact the share price in the short term.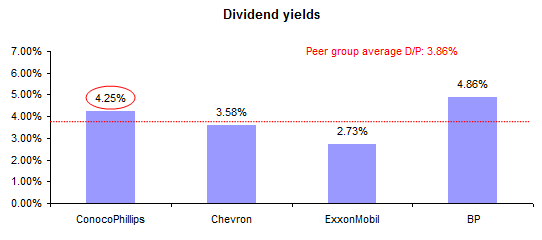 A summary table comparing ConocoPhillips to its US peers and BP is provided below.

Conclusion
I still think that ConocoPhillips is one of the best large-cap oil and gas companies in the sector. The company pursues an aggressive development program and its US shale operations will likely drive production and reserve growth. An improving pricing environment for oil will immediately improve ConocoPhillips' earnings picture and could be a major catalyst for ConocoPhillips' stock price. I believe the current decline in share values for both ConocoPhillips as well as for its large-cap peers is undeserved especially considering that ConocoPhillips delivered substantially better results than Exxon Mobil and Royal Dutch Shell. Investors who desire exposure to a well-run, cash flow-strong company with a best-in-class development portfolio should consider ConocoPhillips. The company trades at an earnings yield of almost 10% and pays investors a healthy dividend yield of 4.25%. Long-term BUY.
Disclosure: I am long BP. I wrote this article myself, and it expresses my own opinions. I am not receiving compensation for it (other than from Seeking Alpha). I have no business relationship with any company whose stock is mentioned in this article.