McDonald's (NYSE:MCD) was a fast growing fast food giant that is currently facing growing pains. The company's revenue growth has slowed in recent years but EPS growth maintained a torrid pace thanks to improving margins. However, the company cannot depend on increasing margins forever and will need to figure out how to grow revenue again. At a current valuation of 17x earnings vs. an industry average of 27 and given MCD's strong cash flow generation, investors may find MCD to be an interesting investment opportunity.
Background
McDonald's is the world's largest fast food restaurant by revenue. As of September 2013, MCD has 34,900 locations in 120 countries, including 28,300 franchisee/affiliate units and 6,600 company units. The company makes money from rent, royalties, and fees paid by the franchisees, as well as sales in company-operated restaurants.
Some of MCD's prominent, publicly-traded competitors include Yum Brands (NYSE:YUM), Burger King Worldwide (BKW), Wendy's (NYSE:WEN), Chipotle Mexican Grill (NYSE:CMG), and Panera Bread (NASDAQ:PNRA).
Performance Review
Giant MCD is not the fastest-growing company in the industry, but the company clocked very stable revenue growth of 5% compounded over the past 10 years. It is important to note that MCD's revenue of $28 billion (TTM) is over 8 times larger than the combined revenue of PNRA and CMG, two fast-growing competitors profiled in the charts below.
MCD has grown earnings per share at an impressive 17% compounded over the past 10 years, just below the much smaller PNRA's 20.8% compounded growth.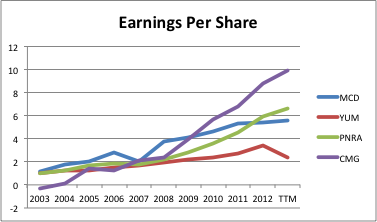 MCD's strength lies in its superior operations, which is currently generating operating margins of 31%. MCD's market leading margins are driven by its operational expertise, wide brand name recognition, strong franchise system, and overwhelming purchasing and advertising scale. Improving margins was a key EPS growth driver over the past decade since revenue growth been much more modest. Improving margins is not a sustainable EPS driver over the long run, especially since current margins are already very high.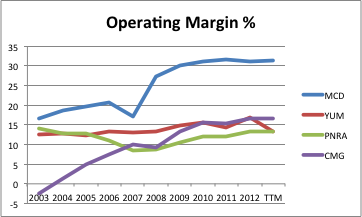 Unlike its faster growing rivals PNRA and CMG, MCD pays a dividend - a strong and consistently growing dividend. MCD's current dividend yield of 3.4%, superior to Yum's 2.2%, and is one of the strongest growing dividend companies in the entire market.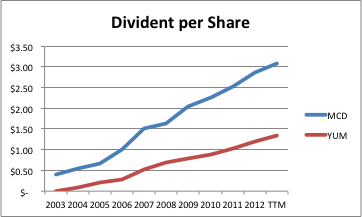 Going Forward: Challenges and Opportunities
It is difficult for elephants to gallop and MCD is an elephant. Market saturation is a problem in established markets like North America, where opportunities to increase restaurants is limited.
MCD's same store sales (SSS) growth has also been disappointing with Q4's global SSS down 0.1%, below analysts' estimate of 0.5% increase. MCD's disappointing growth can be attributed to a number of menus and marketing mistakes.
For McDonald's stock to grow again, the company will need to figure out how to grow sales and not just margins. Menu innovation will continue to play an important role in MCD's SSS growth. In particular, breakfast has significant growth potential as breakfast represents ~25% of U.S. sales, but only ~13% in Asia Pacific, Middle East, and Africa and ~5% in Europe. Store openings in underpenetrated emerging markets will increase MCD's global reach. MCD still has significant room to expand in emerging markets like China, one of the few key markets where MCD is not currently the market leader.
Disclosure: I have no positions in any stocks mentioned, and no plans to initiate any positions within the next 72 hours. I wrote this article myself, and it expresses my own opinions. I am not receiving compensation for it (other than from Seeking Alpha). I have no business relationship with any company whose stock is mentioned in this article.