Alliance Fiber Optic Products Inc. (AFOP), according to Google Finance, "designs, manufactures and markets a range of fiber optic components, and integrated modules incorporating these components, for communications equipment manufacturers and service providers." It is tough to provide a valuation on AFOP because in some ways the company is overpriced and in other ways the company is trading at a discount, but when you take everything into consideration I think that you will find AFOP's share price has room to appreciate especially in the short-term. I am confident in that hypothesis for a number of reasons that deal with the company's fundamentals and technicals. I am also cautious as there are some red flags that are important to note.
PE Vs. Price to Sales

The average PE ratio for semiconductor firms with a market cap greater than 100 million is about 30.4 while AFOP's PE is 16.7. In order to calculate a fair average I excluded all stocks with a PE above 100. The 16.7 PE represents 45% discount to the industry average. If we are only looking at PE then AFOP is significantly undervalued, when you bring the price to sales ratio into the equation it tells a different story. Alliance Fiber Optics currently has a price to sales of 4.3. The average price to sales for semiconductor firms with a market cap greater than 100 million and a price to sales less than 50 is 3.5. The 4.3 represents a 23% premium to the industry average. It is important to note that AFOP will be reporting earnings on Monday February 3, 2014. If AFOP meets it's guided revenue of around 22 million then their price to sales ratio will be in the range of 3.8 which is only a 9% premium to the industry average.

Trailing 12 months sales growth for AFOP is 48.9% while the annualized 3 year sales growth is 16.1%. I do not expect sales to continue growing at the rapid rate that they have been as of late, but I do believe sales will continue to grow at a fairly aggressive rate. I say that because AFOP is in an industry that is experiencing ever increasing demand. It can be explained better with this excerpt by CEO Peter Chang taken from an AFOP press release in September of 2013 "With increased demands for datacomm applications, customer orders have been stronger than expected, since the last conference call. We are excited with this development and the opportunity to deliver another record quarterly financial milestones the third quarter. We will continue our capacity expansion efforts to support our customers' growing requirements and to increase AFOP market share in this emerging industry growth cycle." After the company reports on February 3, 2014, their price to sales ratio will represent about 9% premium to the industry average which is completely understandable for a small cap company experiencing rapid growth like AFOP. On the other hand AFOP's PE will still represent about a 45% discount to the industry average. I find this an anomaly and for that I think AFOP's price has a lot of room to appreciate in the short-term.
Impressive Fundamentals
Only 6 companies out of 99 in the semiconductors industry pay a dividend. One of those companies is Alliance Fiber Optics. In 2013, they paid an annual dividend of .15/share which represents a 12.8% payout ratio. Income is expected to be close to double what it was in 2012 so look for AFOP to announce a dividend increase sometime in 2014. AFOP is able to pay a dividend despite it being such a small company because they have been profitable for 29 straight quarters and once they announce earnings on February 3, 2014, it will be 30 straight quarters. Only 12 companies out of 204 in the semiconductors industry have been profitable over the past 29 quarters like Alliance Fiber Optic Products.
In addition to paying a dividend, AFOP has become fundamentally stronger over the past year as highlighted by the assets and liabilities summary below: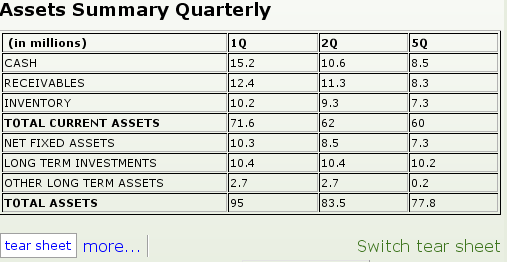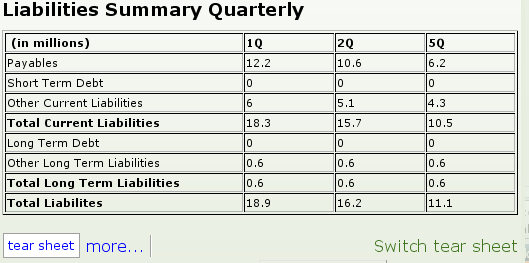 From 5 quarters ago to the current quarter AFOP has increased their cash balance 79% from $8.5 million to $15.2 million. We have also seen fixed assets increase 41% likely due to plant upgrades and additions to keep up with increased demand. On the liabilities side AFOP has an impressive 0 balance in long-term debt. The recent capital expenditures have been financed entirely with operational cash flow. The image below displays how AFOP has taken a non-dilution approach over the past 4 years which I personally love to see especially with a growing small cap technology company.

Alliance Fiber Optic Products currently has an Equities Lab Income Statement and Balance Sheet Score of 7 out of 10. The images below explain how the scores are calculated: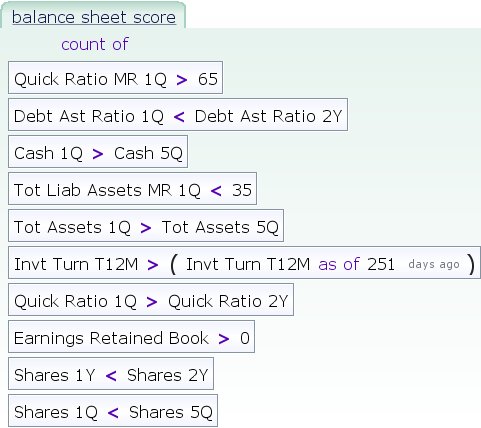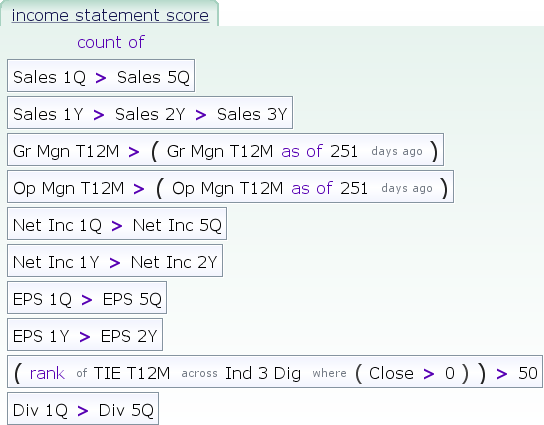 Stocks with Income Statement and Balance Sheet Scores of at least 7 out of 10 have outperformed stocks with lower scores on average over time. Only 56 of 1141(5%) technology stocks have an income statement and balance sheet score greater than 6.
Red Flags
It would be irresponsible of us not to mention the red flags currently surrounding Alliance Fiber Optics Products.
1. Insider Selling: Over the past 6 months, according to Yahoo Finance, insiders have sold 191,500 shares of AFOP. It is important to keep in mind that insiders own about 35% of the shares outstanding. It is also important to note that institutions have been accumulating shares of AFOP. The graph below plots institutional ownership along with price performance:

2. High Short Interest: According to Nasdaq.com, as of January 15, 2014 there are 1.56 million shares short on AFOP, which represents about %12.3 of the current floating shares. More importantly the image below displays the trend over the past couple of months: As you can see, individuals or institutions shorting this stock have been covering rapidly as of late. The amount of shares short has declined 40% from November 15, 2013 to January 15, 2014.

Technicals

AFOP is up 170% over the past year (Feb. 1, 2013 to Jan. 31, 2014). It topped out at 23.94 in late September of 2013 and is currently trading around $16. We love the way this chart looks because during November and December of 2012 AFOP formed a solid base in the $15 range and in January of 2014 we saw AFOP break out of that range and top $17.81. Over the next couple of months I expect AFOP to approach that high it made in September of 2013. For that to happen AFOP must report solid earnings and revenue on February 3rd, 2013.
Conclusion
Taking everything into consideration, I believe that AFOP has 30% upside in the short-term. If the company hits or beats their guided revenue in the upcoming release then I see no reason why Alliance Fiber Optic Products won't be trading for $20 within the next 6 months. I can confidently make that statement due to their extremely solid fundamentals that include no long-term debt and 29 consecutive profitable quarters, and their significantly low PE when compared to the industry average.
Disclosure: I am long AFOP. I wrote this article myself, and it expresses my own opinions. I am not receiving compensation for it (other than from Seeking Alpha). I have no business relationship with any company whose stock is mentioned in this article.