Stock price: €90.1 ($122.77)
Conclusion: We further upgrade our valuation range (€101-€105 ($138-$143) per share) to account for a strong start of the year. Low inventories, improved sell-out combined with positive forex lead us to expect 25%+growth in EPS this year.
Q1 sales: 4bn, up 11% reported, +13% organic. No guidance given for 2010.
Return to double digit growth in sales for the full year looks feasible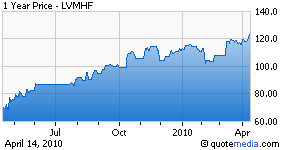 LVMH should benefit from the conjunction of the end of destocking combined with improved sell-out in wines and spirits, perfumes and watches, continuing momentum at Louis Vuitton and a positive forex impact.
Q1 benefited from easy comps (sales down 7% in Q1 last year), notably in wines and spirits (+20%), watches (+34%) and perfumes (+12%) which suffered from sharp destocking in the first six months of last year. Except for Japan (-7%), all regions returned to double digit growth (Asia +20%, US+20%, Europe +11%) in Q1. Sales growth for champagne (+33% in Q1) should not be extrapolated, as sell-in were above sell-out numbers implying restocking initiatives, notably in the US.
Comps will be less favourable in H2 and organic growth should come down to 9% for the full year, implying 7%+ growth for the next 9m vs -3% organic sales from April to Dec last year. Champagne shipments should resume growth by around 10% this year. Watches will also benefit from low inventories coupled with improved demand in Asia and the US. Innovation continues to drive cosmetics sales. Last, Louis Vuitton's return to double digit organic growth is driven by products, communication and store openings.
We project a positive swing in Forex from -2% in Q1 to +3% for the next 9m, based on current rates. As a result, full year sales will be further boosted by around +2% positive forex impact.
Margin could bounce back to 20.3% of sales vs.19.7% last year, helped by positive leverage coupled with tight cost control, including marketing spending. Margin recovery at Moet-Hennessy will be held back by lower yields in champagne combined with limited pricing. Dollar hedging rate for 2010 should be less favourable than in 2009.
We upgrade our estimates from €4.42 to €4.71 ($6.02- $6.41) (+6.5%) implying 27% EPS growth for 2010.
LVMH trades at 19.2xP/E and 9.8xEV/EBITDA based on our 2010 estimates. We continue to find the stock attractive notwithstanding its strong performance (+20%) since our last update (February 8th). Our revised DCF suggests a valuation around €105 per share. Q1 sales confirm that visibility has improved, both from an inventory and sell out standpoint. We expect a further 15% return in the coming months. We think Christian Dior, the main holding company of LVMH (42.4% of shares and 58% of voting rights) looks even more attractive, based on its 21% discount to adjusted net asset value.
Long Christian Dior at time of writing.