I wrote a post entitled Big Dogs, Small Dogs & Spy Dogs in late December. That got me thinking about how people spend much time on stock selection, while neglecting capital allocation and risk measurement, both equally important aspects of return generation in yet another post. Today I am presenting an update on how the dogs barked year-to-date January 2014.
It has been an ugly month with SPDR Dow Jones Industrial Average (NYSEARCA:DIA) down 5.19%, SPDR S&P 500 (NYSEARCA:SPY) down 3.52%, Guggenheim S&P 500 Equal Weight (NYSEARCA:RSP) down 2.96% and iShares Russell 2000 (NYSEARCA:IWM) down 2.77%. In many ways this sequence of performance is encouraging. Enduring bear markets normally start off with smaller companies such as those included on the iShares Russell 2000 getting battered the most, while larger caps tend to get beaten up less. Perhaps the world as we know it is not about to end and what we are seeing is merely a short correction! On the other hand, the decline is large cap companies is more likely a reflection of weaker global economic expectations. After all large U.S. companies have significant exposure to global growth, while smaller U.S. companies are more leveraged to U.S. growth.
The Dogs selection represents a stock selection strategy with a long established history of success. In this post I am presenting the same selection in three ways to establish whether out-performance, over and above that generated by stock selection can be generated through capital allocation. The first is the traditional equal-weighted strategy, which simply allocates capital equally to all Dogs. In the second capital allocation strategy, the Dogs are weighted by dividend yield and capital is allocated in a manner such that more capital is allocated to stocks with higher dividend yield: this strategy allocates capital with an emphasis on value, using dividend yield as the sole indicator of value. And finally, the third capital allocation strategy allocates capital using an equal weight adjusted for value methodology. You can read more about the equal weight adjusted for value method here.
During January, the SPDR Dow Jones Industrial Average closed down 5.19%, the equal weighted Dogs closed down 2.98%, the Dogs weighted by yield closed down 2.93%, and the Dogs weighted using the equal weight adjusted for value method closed down 2.89%. This pleases me immensely. Stock selection clearly added value as is evident from the significant outperformance of the Dogs over the Dow. But more pleasing is the outperformance added through capital allocation: the yield weighted and equal weight adjusted for value capital allocation methodology beat returns generated from the simple equal weighted stock selection strategy. A month is too short to get overly pleased, so I will continue to track the year-to-date performance of the various strategies over the course of the year.
Here is a snapshot displaying how the various strategies performed during January. Merck (NYSE:MRK) was the Dog that barked loudest, followed by Microsoft (NASDAQ:MSFT). And the Dogs that whimpered were Chevron (NYSE:CVX), followed by General Electric (NYSE:GE). Perhaps in February we will see these two stocks outperform.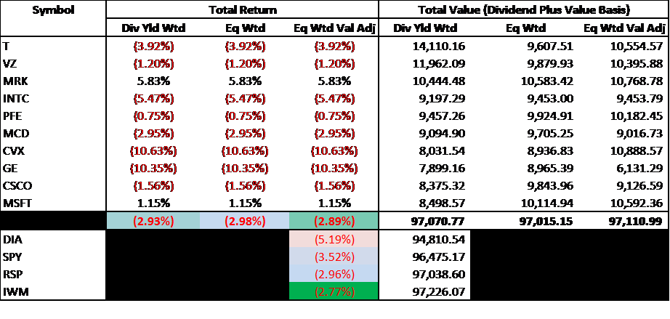 Click to enlarge The chart above displays value of the portfolio based on prices as at 01/31/14 plus the dividend received during the month of January 2014. It represents total return (including dividends) based performance.
Below you will find additional charts.
This chart displays the stock selection and capital allocated as at 12/31/2014.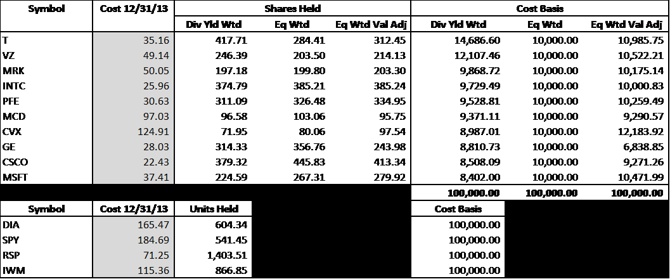 Click to enlarge
The following chart displays valuation (price only) as at 01/31/2014.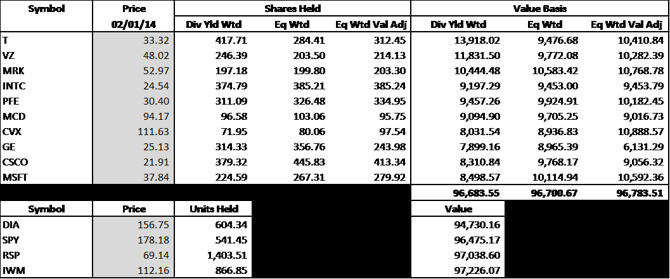 Click to enlarge
And this final chart displays the dividends received during January.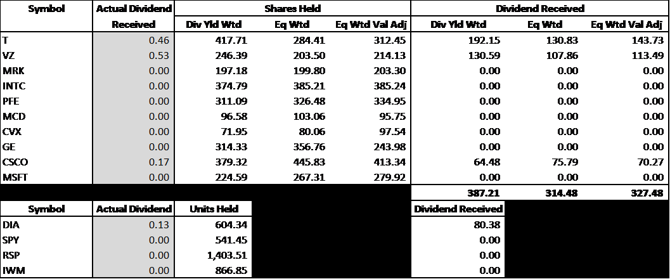 Click to enlarge
Disclosure: I am long MRK, INTC, PFE, CSCO, MSFT, GE. I wrote this article myself, and it expresses my own opinions. I am not receiving compensation for it (other than from Seeking Alpha). I have no business relationship with any company whose stock is mentioned in this article.