Since reporting quarterly earnings in November 2013 that were lower than the previous year, Seadrill (NYSE:SDRL) drifted lower. Closing at below $36 recently, its shares are 24% below its highs. High debt levels and the expectation for tougher market conditions are reasons investors are cautious on Seadrill. Conversely, shares offer a dividend yield in the double digits.
With shares dipping violently in such a short amount of time, should investors consider buying Seadrill at this time?
Downgrades hurt stocks
Seadrill dropped after the market perceived a weak quarter. The drop in stock markets in 2014, notably the S&P 500 (NYSEARCA:SPY), did not help matters: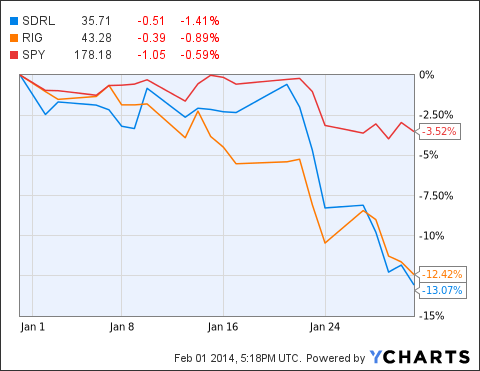 Seadrill was not alone in the selloff for drilling and exploration firms. Transocean (NYSE:RIG) fell too, but its shares offer a dividend half as generous as that of Seadrill, at 5.18%. Transocean is down because of ridiculous forecasts for deepwater drillers like this one, analyst downgrades from Wells Fargo on January 24, 2014, and a downgrade from Citi on December 20 2013.
Quarterly results weak for a reason
In the third quarter, revenue growth was flat, at $1,280M compared to $1,268M in the second quarter of 2013. EBITDA was $653M, while operating profits dropped to $471M, from $507M in the previous quarter. Expenses rose because Seadrill added new rigs to the fleet. Expenses related to the consolidation of Sevan Drilling also added to costs in the quarter.
Seadrill's total assets rose to $24,979M as of September 30, 2013.
Slower contract additions
On its conference call, Seadrill said that the pace of contracts slowed, but day rates for jackup units were stable. A recent check for the jackup rates confirms that rates actually rose slightly from November levels. Worldwide rig utilization is 82.0%, compared to 81.5% last month.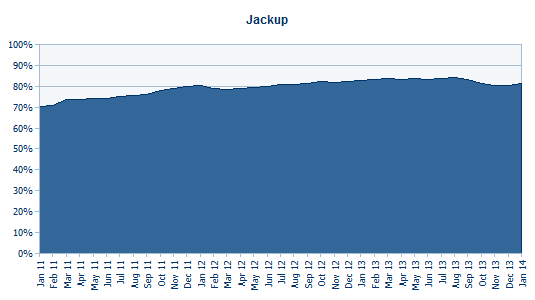 Source: Rigzone
Investors could expect more contract announcements this year, which will be a positive catalyst for Seadrill shares. Seadrill estimates it will deliver around 100 jackups between now and 2015.
Dividend increase
Management is confident in its ability to generate higher cash flow over the next few years: Seadrill raised its dividend by $0.04 in Q3 to $0.95 per share. Seadrill has nearly $20B in backlog, is 83% contracted for rigs in 2014, and 56% contracted for 2015. If Seadrill included activity in Mexico, these figures rise to 93% and 65%, respectively.
Headwinds
Some E&P companies reduced their spending plans in 2014, but this implies they will need to raise drilling activity in the future. The stock price for some E&P companies is also down in recent months. As shown below, Seadrill shares sold off harder than ConocoPhillips (NYSE:COP), Devon Energy (NYSE:DVN), and Talisman Energy (NYSE:TLM):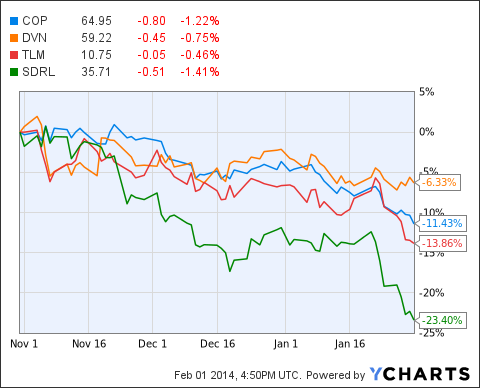 Debt
Seadrill has a debt/equity of 1.91. Debt levels appeared to grow over the last three quarters (below) but are still at levels consistent within the past three fiscal years:
| | | | |
| --- | --- | --- | --- |
| Quarter: | 3/31/13 | 6/30/13 | 9/30/13 |
| Long Term Debt | 8,818 | 9,151 | 10,717 |
In millions USD
Source: Kapitall
Long-term debt was 8.6B, 9.0B, and 9.6B in the year ending 2010, 2011, and 2012 respectively.
Upcoming catalysts and bottom line
Announcements for new jackup builds in China and in Mexico (with PEMEX) should re-establish the bullishness that was lost by the market for Seadrill. The company is also scheduled to report quarterly results on February 28, 2014. Seadrill expects EBITDA to grow by 15% over the last quarter.
At its current level, Seadrill shares yield 10.64%, thanks to higher expenses in the last quarter that will contribute to earnings for the next few years. Investors should accumulate a position in the company ahead of quarterly results and before the market reverses its unnecessary bearishness for drilling firms.
Disclosure: I have no positions in any stocks mentioned, but may initiate a long position in SDRL over the next 72 hours. I wrote this article myself, and it expresses my own opinions. I am not receiving compensation for it (other than from Seeking Alpha). I have no business relationship with any company whose stock is mentioned in this article.