Bonds have rallied at the start of 2014 just as the equity markets have faltered, with the yield on 10-year notes falling nearly 11.8 percent as of Friday's close. That has helped the ProShares Ultra 7-10 Year Treasury ETF (NYSEARCA:UST) and the iShares 20+ Year Treasury Bond (NYSEARCA:TLT) rise more than 6 percent this year. Simultaneously, the S&P 500 has declined nearly 4 percent, presenting a 10 percentage point performance gap between the two.
While equity markets may have further room to correct, I believe yields on longer-dated maturities are nearing their bottom, poised to rise as the Federal Reserve continues to adjust its rate of asset purchases after tapering an additional $10 billion this week. That makes securities such as the ProShares UltraShort Lehman 20+ Year ETF (NYSEARCA:TBT) attractive, while the UST and TLT could be positioning for a sell off.
U.S. Economy Continues to Grow, Despite International Uncertainty
Equities have seemingly been looking for a reason to take some profits for months and, after closing at record levels in December, found that reason in early January. And though the non-farms payrolls report accounts for predictable seasonal factors, the polar vortex that engulfed much of the country this winter could make the January non-farm payroll report, released this coming week, just as bleak.
Though the economy grew a solid 3.2 percent in the fourth quarter, more and more economists are starting to look at that as an anomaly rather than the new normal. Estimates show that the economy may advance just 2 percent in the first quarter. While this is a slower rate of growth than Q3 and Q4, it is noticeably above the 1.1 percent growth in Q1 2013.
So, in perspective, I believe this is just a temporary bump in the road to a more sustainable, robust economic recovery. In fact, in their most recent statement, the Federal Reserve noted: "growth in economic activity picked up in recent quarters. Labor market indicators were mixed but on balance showed further improvement."
And there are few who suspect that this recovery will not be accompanied by a steep rise in long-term yields, even as short-term bond yields may remain at lower levels.
Of course, the threat to this recovery is that from slower global growth, potentially as emerging markets, notably Argentina, Turkey, Venezuela and Ukraine, falter. Though these economies account for a sliver of U.S. growth, they could reverberate throughout the global economy - to Europe and beyond. That could mean a slower pace of growth than is even currently forecast.
Asset Rebalancing
Another reason that yields have moved lower and stocks have faltered may have to do with rebalancing of large mutual fund portfolios and accounts at the start of the year. As Barron's pointed out, a fund with a classic 60-40 asset allocation in stocks and bonds would have ended last year at a 67-33 percent allocation. Getting back towards the 60-40 would require liquidating stocks in favor of bonds.
Just two weeks ago, fixed-income funds and ETFs saw inflows of $3 billion, compared with outflows in equity funds of $1.9 billion. That rebalancing will have real impacts on the yield and price of bonds. But rebalancing is a passing trend, the brunt of which is largely over.
Federal Reserve Slowing Rate of Purchases
I am not alone in my feeling that the Federal Reserve's tapering is the start of policies that should lead yields, particularly on the long-end of the curve, to move steadily higher. The real question is how quickly this will happen. The 10-year yield closed at 2.65 percent on Friday, down 7 basis points for the week.
The chart below - of the CBOE's 10-Year Treasury Note (TNX) - shows yields over the past 13 months. As the chart indicates, there should be sufficient support for yields near 2.5 percent. That level corresponds to lows in the July-August timeframe, as well as with a 38.2 percent Fibonacci retracement from the rise from 1.6 percent in May 2013 to above 3 percent in December.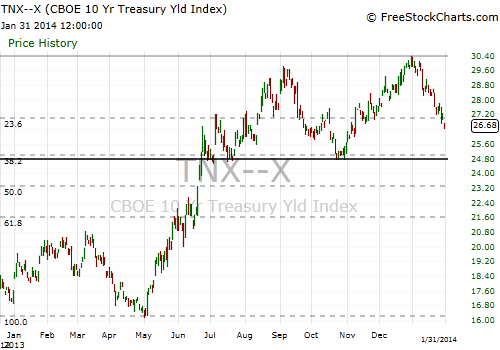 Various Options for the Higher Yield Play
With uncertainty in the market, I do see the potential for yields to move sideways for a bit, but I do not see an impetus for continued bond-buying. The long-term trend of tapering and, potentially, even tightening in the 18-month timeframe should lead yields higher. And, if the market becomes more comfortable with 10-year yields breaking the 3 percent mark, rates could continue to grind higher.
That steady rise could lead the short Treasury ETFs higher. My favorite play would be to buy the TBT, mentioned earlier, as prices could move to $80 from the current $69.93, gains of 14 percent. (In fact, I do currently own some shares of TBT in a long-dated account.)
If I were to make an options play, selling call spreads on the TLT could be a good option. Looking six months out, the June $110/111 call spread will bring in roughly $0.30 premium. That's 30 percent return if the price closes below $110 on expiration, with the break-even at $110.30 - 1.8 percent above Friday's closing price.
Disclosure: I am long TBT. I wrote this article myself, and it expresses my own opinions. I am not receiving compensation for it (other than from Seeking Alpha). I have no business relationship with any company whose stock is mentioned in this article.