Formed by Tesoro Corporation (NYSE:TSO) in 2011, Tesoro Logistics LP (NYSE:TLLP) owns and operates logistics assets for crude oil and refined products. Tesoro Corporation has dropped down many of the pipelines, storage terminals and other related facilities that the company previously owned. As a separate listing and structured as a master limited partnership (MLP), TLLP could access funding at lower cost and enables Tesoro to unlock value from its logistics assets. This allowed the refiner to focus on its core business and helped provide the company with the financial flexibility to make the acquisition of BP's former Carson refinery in 2012.
TLLP made a 2013 third quarter distribution of $0.545 per limited partnership unit. With distributable cash flow for the third quarter having risen by 78% to $33.9 million, the distributable cash flow coverage ratio stood at a comfortable 1.15x. TLLP has been growing rapidly from successive dropdowns and acquisitions, including the Los Angeles logistics assets and Chevron's Northwest Products System acquisition. TLLP reported third quarter adjusted EBITDA of $48.3 million, which is a 122% rise over the same period in the prior year.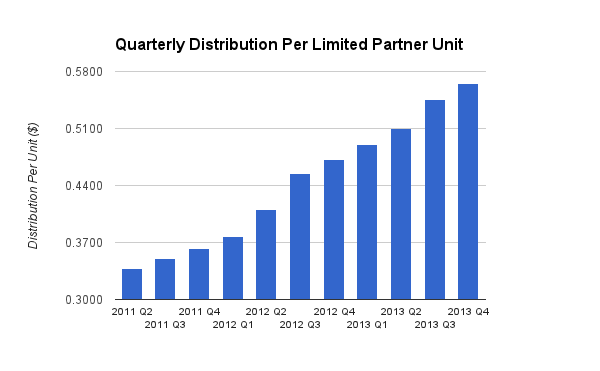 For the fourth quarter of 2013, TLLP increased its distribution to $0.565, which represents a growth of 4% over the previous quarter, or 20% over the prior year. Since its listing in 2011, TLLP has increased its quarterly distribution by 67%, which represents a compound annual growth rate (CAGR) of 21%. At TLLP's current price of $53.16, the MLP yields 4.3%.
TLLP's cash flow is stable because much of its revenue is dependent on long term fee based contracts. Most of its contracts are inflation protected and have fixed minimum volume commitments. However, with the MLP generating almost all of its revenue from Tesoro Corporation, TLLP's stability is ultimately dependent on Tesoro's success. But TLLP has been trying to increase revenues from third parties through the construction of pipeline interconnections and gathering lines. With higher throughput, this should also improve the operating efficiency for its logistics assets.
TLLP has completed the acquisition of the majority of the remaining Los Angeles logistics assets associated with BP's former Carson refinery in December. The Los Angeles logistics assets, acquired for $650 million, are expected to contribute between $60 to $65 million in EBITDA in the first year of operation. Following the integration with Tesoro's adjacent refinery complex, operational synergies are expected to increase annual EBITDA to between $65 to $75 million. Annual maintenance capital expenditures are expected to be $10 million to $14 million, with Tesoro providing capital reimbursements of around $7 million in 2014 and 2015.
A segment of TLLP's North Dakota pipeline leaked around 20,000 barrels of oil in September, and this forced that segment of the pipeline to stop operations. The cost from the damaged pipeline is estimated to be about $5 million; but fortunately, there was no evidence of contamination to groundwater.
With the repair of the pipeline, the integration of the Los Angeles logistics assets and the expansion of newly acquired assets, TLLP should continue to expand EBITDA and distributable cash flow in 2014. Analysts are expecting 2014 cash distributions to total $2.51 per limited partner unit, which represents a 19% rise over 2013's $2.11. This seems conservative, given the optimization opportunities from the Los Angeles logistics assets and the expansion of the Northwest Products Systems. Together with the contribution of the remaining Los Angeles logistics assets, EBITDA for 2014 is likely to exceed $260 million, leaving distributable cash flow at more than $180 million. TLLP could potentially raise distributions by more than 20% in 2014.
For 2015 and 2016, TLLP could continue to grow distributions at a rate of between 12 - 18%, as operational improvements materialize, utilization rises and further acquisitions are made. With a current yield of 4.3%, and continued distribution growth in the mid-teens to twenties in the near term, TLLP seems to be underappreciated.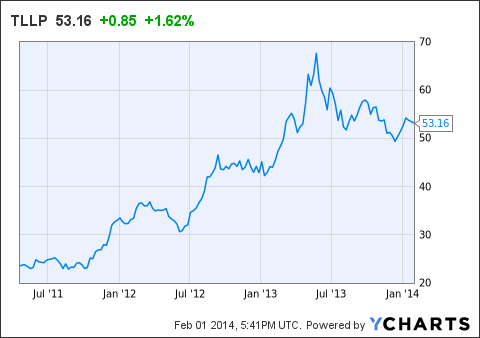 Disclosure: I am long TSO. I wrote this article myself, and it expresses my own opinions. I am not receiving compensation for it (other than from Seeking Alpha). I have no business relationship with any company whose stock is mentioned in this article.