Jabil Circuit Inc. (NYSE:JBL) provides electronic manufacturing services and solutions worldwide. The company operates in three segments: Diversified Manufacturing Services, Enterprise & Infrastructure, and High Velocity Systems. JBL makes products for Apple Inc. (NASDAQ:AAPL) and HP (NYSE:HPQ).
In December, JBL's shares plunged as the company reported fiscal first-quarter profit and second-quarter guidance that fell short of analysts' estimates. Disappointing fiscal second quarter guidance was partly attributable to the unwinding of relations with BlackBerry Inc. (NASDAQ:BBRY). JBL also announced that it would sell its Aftermarket Services business to iQor Holdings for $725 million. The business generated 6% of revenues in the last fiscal year, according to estimates. The first-quarter announcement resulted in a significant re-pricing of risks.
Management is forecasting net revenue of $3.5 billion to $3.7 billion during the fiscal second quarter. Including back of the envelope arithmetic, which included the divestiture, net revenue is forecasted to decline substantially. Substantially in this case is defined as a 13% decline in net revenue, relative to the year-ago quarter. The GAAP loss per share is expected to be in the 6 cents to 20 cents range. But core EPS is expected to be $0.05 to $0.15 per diluted share.
For fiscal 2014, JBL's revenue could decline in the double digits (10%-20%). The decline is partly attributable to the potential sale of the Aftermarket Services business. The revenues decline is partly attributable to also the loss of BlackBerry as a client. Lastly, a client within the Diversified Manufacturing Services business saw a decline in demand for its products. Given the significant share price decline, the market has discounted the majority, if not all, of this information.
Looking forward, Apple will account for a large portion of total sales, after the BlackBerry loss and AWS sale. But over the long term, JBL should experience success in new and less cyclical markets, which will help support sales and margin expansion. For example, the acquisition of Nypro Inc. enhances JBL's position in the Healthcare, Packaging, and Consumer Electronics verticals.
JBL is a long for the shrewd investor as 1.9 or 2 times book (currently 1.5) is my conservative intrinsic value. At the current book value, 1.9 times book value would be about $23 per share, or 27% above $18 per share. JBL is about twice as risky as the market, on a beta basis.
Recent Developments
Mark Delaney, of Goldman Sachs, upgraded JBL to "conviction buy" citing historic trends of the relationship between customer weakness and share price outperformance. Additionally, Delaney expects near-term EPS to be weak but to pick up in 2015 and/or 2016.
The board of directors approved the payment of an $0.08 per share quarterly dividend.
Business Summary
Jabil Circuits Inc. is an electronic product solutions company providing comprehensive electronics design, manufacturing, and aftermarket product management services to global electronics and technology companies. Offering complete product supply chain management from facilities in 30 countries, JBL provides comprehensive, individualized, focused solutions to customers in a broad range of industries.
JBL has three operating segments. Diversified Manufacturing Services focuses on more complex products and regulated industries and accounted for 45% of FY 13 sales. Enterprise & Infrastructure targets cost effective solutions mainly for the computing, storage, networking, and telecommunications industries and accounted for 30% of FY 13 sales. High Velocity Systems aims at consumer lines, such as mobility, display, set-top boxes, printers, and point-of-sale terminals, and accounted for 25% of FY 13 sales.
From an industry prospective, the electronic manufacturing services industry is positioned to capture new business from original equipment manufacturers. Potential participants are better understanding the cost advantages associated with the outsourcing model. Outsourcing allows companies to focus on their core competencies, such as marketing and research and development. Consequently, the industry could be set to grow faster than the overall global economy over the next several years as more manufacturing is outsourced.
JBL agreed to sell its electronics warranty repair business. The electronics warranty repair business was acquired for $30M in 1999. The business generated $1.1B in revenue during fiscal 2013. Consequently, the $725M selling price represents a significant return on investment.
This is a relatively low margin business. The gross margin has tended to be in the 7-8% range during the previous 10 quarters. That is generally flat relative to the prior 10 years. At the same time, the company does generate a consistent operating income of about 3%. The net profit margin is about 2%. The profitability profile is typical of a hardware concern.
During the fiscal first quarter, revenues declined 4.2% sequentially, but were flat relative to the year-ago quarter. The operating margin expanded sequentially on lower restructuring charges. And net income increased 11% relative to the year-ago quarter. The top-line growth slowed during the most recently reported quarter.
JBL should be charged a premium because of its low profit margins and concentrated customer base, in my opinion. EPS would have to be at least $1.17 over the next twelve months, for JBL to earn my investable dollars. The trailing twelve months EPS is $1.87. JBL could create wealth for investors over the next 12 months.
The liquidity and solvency positions are less than stellar. At the end of the first quarter, the cash ratio was 0.16, and the current ratio was 1.20. Net debt was slightly more than $1B. The EBITDA to interest expense was 9.03, and the financial leverage ratio was 3.78. Overall, JBL isn't the worst or the best, from the solvency and liquidity prospective.
The operating cash flow picture during the first quarter wasn't beautiful. The changes in working capital weighed on the cash provided by operating activities. Accounts receivable and accounts payable used cash, which is partly offset by a decrease in inventories. The capital expenditure requirements are significant relative to operating cash flows. There is a significant amount of debt refinancing activity that occurs annually. Free cash flow to firm during the first quarter was non-existent, which can also be said for free cash flow to equity.
The activity ratios of the firm should be monitored. There is a substantial increase in accounts receivable and a substantial decrease in inventory. That could signal a declining demand environment and aggressive billing, but I'm not jumping to any conclusions.
Risks
The share price is likely to remain volatile and investors could lose a portion or all of their investment.
Investors should judge the suitability of an investment in JBL in light of their own unique circumstances.
A decline in the global economic growth rate and/or a decline in the pace of economic growth in the United States could adversely impact the results of operations and the share price.
The technology industry is characterized by rapid technological change, which could materially adversely impact the results of operations.
Competition in product development and pricing could adversely impact performance.
Incorrect forecasts of customer demand could adversely impact the results of operations.
Higher interest rates may reduce demand for JBL's offerings and negatively impact the results of operations and the share price.
This section does not discuss all risks related to an investment in JBL.
Valuation & Portfolio Management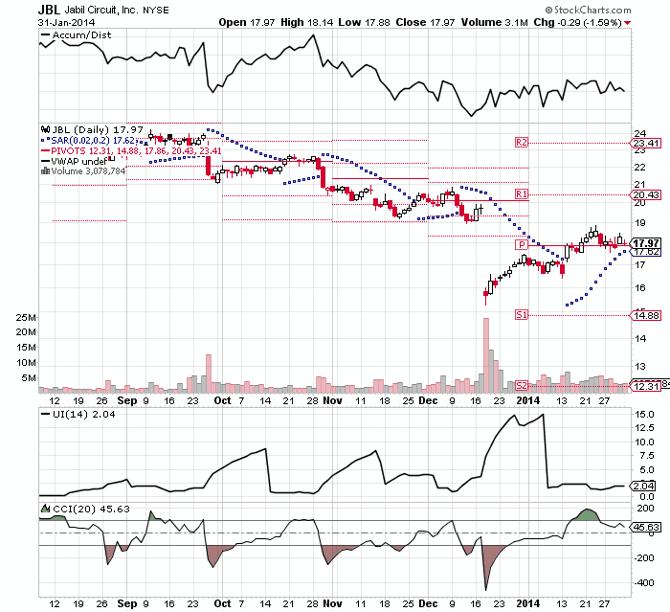 Click to enlarge
Well, right now we are looking at a bear market rally, but on the flip side, at least the share price is rallying. The conservative types would need more confirmation, but the aggressive types would jump in and ride the waves. Hey, the accumulation indicator should eventually signal short covering and/or shrewd investing.
There are diversification benefits from investing in JBL, but at times, JBL is strongly correlated with the broader market (NYSEARCA:SPY). The correlation since 2009 is 0.79, but that drops to 0.14 since 2013. This is mostly on the back of company specific factors, as the variation of the share price of the S&P 500 explained less of the variation of the share price of JBL in the post-2009 periods (2011 & 2013).
On the bright side, JBL is trading below trend, which suggests there is scope for a bull market of significant proportion. The 3-month, 6-month, and 12-month price targets are $24.01, $24.69, and $26.04. The 12-month price target is 45% above the current share price.
How likely is JBL to outperform the broader market? Using my model, it is unlikely that JBL will outperform, near term. But there is significant scope for future outperformance.
When you think about the fundamental factors that go into valuing a business, I don't think that this company should be trading at too steep of discount to the market. Yes, there are near-term growth concerns, but JBL is leveraged to a growth industry. The company is trading at 1.52 times book value, and 1.9 or 2 times book value is not "pie in the sky."
Disclosure: I have no positions in any stocks mentioned, and no plans to initiate any positions within the next 72 hours. I wrote this article myself, and it expresses my own opinions. I am not receiving compensation for it (other than from Seeking Alpha). I have no business relationship with any company whose stock is mentioned in this article.