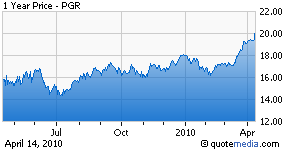 Progressive Corp. (NYSE:PGR) reported first quarter earnings of 44 cents per share compared to earnings of 35 cents in the year-ago period. Excluding the impact of realized gains and losses, the company earned 41 cents per share in the quarter, exceeding the Zacks Consensus Estimate of 37 cents.
The beat is primarily driven by increased premiums earned. Progressive's net premiums written increased 7% year-over-year to $3.8 billion. Net premiums earned were up 3% year-over-year to $3.5 billion.
Additionally, Progressive experienced a considerable investment gain in the quarter. The company recorded a pre-tax investment gain of $30.8 million, compared to a loss of $73.4 million in the year-ago quarter.
Combined ratio, which reflects the percentage of premiums paid out as claims and expenses, slightly deteriorated to 90.9% from 89.5% recorded in the year-ago period.
Policies-in-force were good in Personal Lines, which increased 6% year-over-year. Personal Auto and Special Lines were up 7% and 3% year-over-year, respectively. In Personal Auto, Direct Auto reported a 15% growth in policies-in-force while Agency Auto was up 2% year-over-year.
However, Progressive reported a 4% year-over-year decrease in policies-in-force in the Commercial Auto segment. This line continues to be negatively impacted by the downturn in the economy.
Progressive's recurring pre-tax investment yield was 3.7% year-to-date, versus 4.1% reported in the prior-year comparable period. Reported book value was $9.26 per share as of Mar 31, 2010, up from $8.55 per share as of Dec 31, 2009. Return on equity on a trailing 12-month basis was 20.8%. During March, Progressive repurchased 0.8 million shares at an average price of $17.95.
Going forward, we expect Progressive to benefit from its cost-containment measures, good operating performances and a market-leading position. However, its Commercial Auto business continued to be negatively impacted by the economic downturn. Considering the state of economy, we expect significant pressure on underwriting margins and restriction on the top line growth in the near term.