All we heard about in late December and early January was that retail store traffic was terrible as Christmas approached. Online sales did extremely well, so much so that some carriers couldn't get all of their packages delivered in time. Normally, you would think that Amazon.com (NASDAQ:AMZN), the most prominent online US retailer in many eyes, would benefit tremendously from such a rush. While the company did generate sales towards the upper end of its guidance range, results fell short of analyst expectations. Today, I'll explain how Amazon's meat had no sizzle, but why that may present an opportunity.
Fourth quarter results:
Last week, Amazon reported fourth quarter results. Revenues came in at $25.59 billion, up 20.3% over the prior year period. This figure came in at the higher end of Amazon's range for $23.5 billion to $26.5 billion. However, analysts were expecting more, $26.06 billion, so Amazon missed by nearly half a billion dollars. On the gross margin side, Amazon reported a 237 basis point year over year rise to 26.50%. That was perhaps one bright side of this report.
However, as in most recent quarters, any gains gained on the gross margin side were lost on the operating side. Here's a key breakdown of Amazon's primary operating expenses, and remember, revenues increased by 20.3% and gross margin dollars were up by 32.1%.
Fulfillment expenses up 29.2% to $2.92 billion.
Marketing expenses up 33.1% to $1.13 billion.
Technology and content expenses up 38.4% to $1.86 billion.
General and administrative expenses up 35.3% to $318 million.
Overall, Amazon's operating expenses (not counting the cost of goods sold/revenues) were up 32.66%. Amazon's operating margins rose by 9 basis points, but came in at a meager 1.99%. For every dollar of revenues, Amazon made about 2 cents on the operating side. Operating income came in at $510 million. That was just above the top end of Amazon's operating income guidance, which went from a loss of $500 million to a profit of $500 million.
Further down the income statement, interest expenses rose but other income (loss) items improved a bit. Amazon's pre-tax income was up by nearly 34%, and the company's effective tax rate dropped from 57.57% to 39.69%. Amazon also reported slightly lower losses from its equity method investments. Overall, net income more than doubled from $97 million to $239 million. The good news for Amazon is that the company's trailing twelve month operating and net profit margins have risen, as seen in the chart below.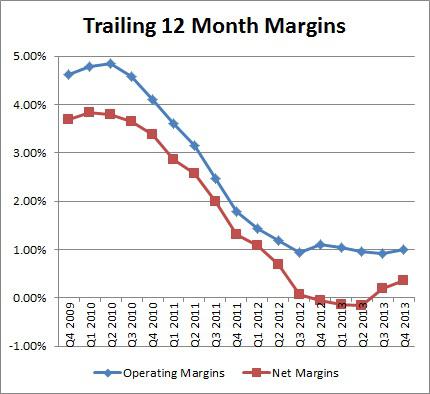 Amazon's EPS came in at $0.51, up from $0.21 in the year ago period. That jump also took into account a diluted share count rise from 461 million to 467 million. Unfortunately, Amazon analysts were looking for a profit of $0.66. In Amazon's biggest quarter of the year, the company missed on the revenue line, and worse on the bottom line. However, margins have started to turn, and I'll detail some items later that could help this process continue.
2013 disappointed - not a surprise:
Amazon investors and analysts probably were not surprised that Amazon disappointed. In fact, it's become a bit of a habit in recent years. Amazon actually made money in 2013 after losing money in 2012. The following table shows how Amazon's 2013 estimates trended back to the summer of 2012, along with the actual 2013 numbers.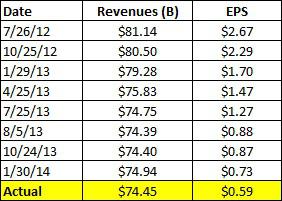 The last couple of years have seen a similar pattern. Estimates start out high and then come down as Amazon misses. Some may say this is a problem with Amazon, others may argue it is a problem with analysts putting estimates too high. This is especially true for EPS numbers. One of my 2013 predictions was that Amazon would miss the EPS estimate of $1.76 on the day I wrote the article. That was a pretty safe bet, and the prediction was correct.
Guidance:
Looking into 2014, estimates have come down a bit already, and are likely to come down more after Amazon's Q4 miss and lower than expected guidance, which I'm getting to. Since Amazon reported Q1 2013 back in April 2013, the average 2014 revenue estimate came down from $92.53 billion to $91.64 billion. The average EPS estimate was down from $3.55 to $2.66. Those numbers were going into Thursday's report.
Amazon provided the following headline guidance for Q1 2014:
Net sales are expected to be between $18.2 billion and $19.9 billion, or to grow between 13% and 24% compared with first quarter 2013.
Operating income (loss) is expected to be between $(200) million and $200 million, compared to $181 million in first quarter 2013.
The revenue midpoint comes in at $19.05 billion. While Amazon has come in towards the upper end if its ranges, analysts were looking for $19.67 billion in Q1. Expect estimates to come down. Amazon guided to flat operating profits. As you know, the company does not provide EPS guidance. Analysts were looking for a profit of $0.54 in Q1. I find that number hard to achieve, even if Amazon comes in at or above the top end of its operating expense guidance. Amazon may still earn a profit in Q1, but I don't think it will be as much as analysts were looking for going into Thursday's report.
Balance sheet update:
With Amazon being a retailer, the company's balance sheet changes dramatically each quarter. Going from Q3 to Q4 is not always the greatest look financially. It's a lot better to go Q4 to Q4, year to year. Amazon ended 2013 with almost $12.45 billion in cash and short-term investments. That was up from $11.45 billion a year ago. Amazon usually has a large cash balance at the end of Q4, which declines in Q1 when the company pays its bills. Working capital dropped from $2.29 billion at the end of 2012 to $1.65 billion at the end of 2013. As a result, the company's current ratio dipped from 1.12 to 1.07. Amazon has worked close to a zero working capital balance at times, so I wouldn't necessarily be concerned.
The one ratio I like to look at is the debt ratio, also known as the liabilities to assets ratio. Because of the seasonality mentioned above, I like to look at this ratio on a 12-month rolling basis. So I calculate an average liabilities balance and an average assets balance for the past 12 months, then chart it, as seen below.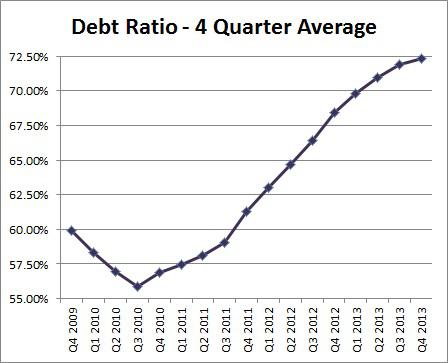 While the ratio is getting worse, the average only increased by 386 basis points year over year. That was the lowest rise since Q3 of 2011, while the high was 730 basis points year over year at the Q3 of 2012 update. Amazon is not in any financial trouble at the moment, but you'd like to see this ratio stop rising. Amazon's balance sheet is getting weaker, and that's something to keep an eye on going forward.
Analysts seem fairly positive:
You might think that after such a large miss on both the top and bottom line for Q4, plus weak guidance for Q1, analysts would be quick to downgrade Amazon and issue large price target cuts. Well, we've actually seen mostly the opposite since then. There have been a couple of analyst changes. Here are the quick summaries:
Evercore Partners kept an Overweight rating and $480 price target. While noting revenue and unit deceleration were not good, margin growth was decent and the potential Prime price hike is positive.
Susquehanna reiterated a positive rating, although the firm cut its price target from $500 to $475. The firm cited a solid quarter with good margins, and noted the holiday season was over-hyped.
Jefferies reiterated a buy rating, and upped its price target from $390 to $450, citing operating income beating the high end of the company's guidance for the 8th consecutive quarter.
Cowen maintained an Outperform and upped its price target from $423 to $440, believing the Prime price hike would be a positive.
Goldman Sachs reiterated a Buy rating, and upped its price target by $10 to $460. While revenue growth will continue to slow, the firm sees margins expanding.
Wells Fargo maintained an Outperform and raised its price target range from $349 to $380 to a new range of $417 to $440. The firm cited strong margins and the Prime price raise as positives.
Amazon closed Friday under $359, so all of these analysts have price targets that represent sizable upside. All of these analysts are citing Amazon's statement on the conference call that the company may raise Prime pricing by $20 to $40 in the US. Currently, Prime costs $79 a year, and gives subscribers access to items like Prime Instant Video and free 2-day shipping on millions of items. Prime Instant Video is Amazon's version of Netflix (NASDAQ:NFLX).
I have a couple of thoughts on the price raise of Prime. First, anyone that signed up for Prime recently probably wouldn't be paying a higher rate until their year is up, so that won't help Amazon. Amazon would get the benefit from new subscribers that sign up. It will be interesting to see if the price raise is $20 or $40. The lower end would mean Prime would cost $99 a year, about the same price as Netflix. Although Netflix has more content, Prime is a package that offers a lot of other items. At $40 more, you're talking about $119 a year. While that still is only about $10 a month, it would be a 50% raise to Prime's price. The key question is how much would margins increase thanks to the rise in pricing, as opposed to the slowdown in subscriber growth thanks to higher prices.
Competition and valuing Amazon:
Amazon's Prime Instant Video competes with Netflix. Both are spending hundreds of millions of dollars or even billions a year on content. Netflix announced a strong fourth quarter, which keeps Netflix in the driver's seat for the number one streaming spot. Both Netflix and Amazon trade at ridiculously high P/E values, but both can make the case that earnings have been pressured by "investments in the company's future". Over time, both companies are expected to improve earnings. Right now, both companies are starting to show margin improvement, but the question remains as to how long that will continue.
So who are some other competitors in addition to Netflix? Well, you have Best Buy (NYSE:BBY) on the electronics side, as well as the big retailer Wal-Mart (NYSE:WMT). I'd also consider Apple (NASDAQ:AAPL) and Microsoft (NASDAQ:MSFT) as strong competitors in the tablet space, competing against Amazon's line of tablets. Trying to find a comparable valuation for Amazon can be quite difficult. Some like to argue P/E ratio, while I have preferred to use P/S as Amazon is primarily a retailer and everyone is mostly focused on Amazon's revenue growth. In the following table, I've shown a comparison of these names for their respective current fiscal years.

My point here is that the numbers are all over the place. You have various stages of growth, and I haven't even brought into the argument dividends and or buybacks. So how do you compare Amazon here? Is it a retailer, a tablet maker, a streaming giant, something else, or all of the above? That's why the valuation argument is so difficult. Because of the retail aspect and lack of earnings, that's why I look at P/S.
In the past, I looked at Amazon being valued at 1.7 to 2.0 times expected sales for the current or forward looking year. At Friday's close, Amazon traded at 2.2 times trailing sales (2013 actual), and that was after shares fell 11%. I think you have to look at Amazon's 2014 at around 2.0 times sales, and 2015 sales at 1.8 times. This is using current analyst estimates, which are likely to change over time. If Amazon does hike the price of Prime, that could also change the discussion a bit. That gives market caps of about $180 billion and $193.55 billion, respectively. Amazon's market cap as of Friday was $164.64 billion. In this scenario, I see about 9.3% upside for Amazon shares this year, and 17.6% as we look towards 2015. Analysts are a bit more positive when it comes to Amazon, with the average price target currently at $433.10 (a little more than 20% upside from Friday's close).
Final thoughts:
While Amazon's revenues and earnings for Q4 missed and Q1 guidance was a bit light, there were some continued positives. The company's margins have continued to improve, and a potential Prime price hike is very positive according to analysts. This potential move shows forward looking vision by the company, and just like the hike to $35 for free shipping, Amazon realizes what is and isn't working. Amazon is still growing revenues at a decent clip, and if the company's investments in recent years start to pay off, earnings should start to improve a bit. I'm not as bullish on the name as analysts are, but I still think Amazon goes higher from here. However, I might wait for a little more of a decline, perhaps to $350, before jumping into this name. Amazon shares have pulled back $50 already, which means support could start to come soon.
Disclosure: I have no positions in any stocks mentioned, and no plans to initiate any positions within the next 72 hours. I wrote this article myself, and it expresses my own opinions. I am not receiving compensation for it (other than from Seeking Alpha). I have no business relationship with any company whose stock is mentioned in this article.
Additional disclosure: Investors are always reminded that before making any investment, you should do your own proper due diligence on any name directly or indirectly mentioned in this article. Investors should also consider seeking advice from a broker or financial adviser before making any investment decisions. Any material in this article should be considered general information, and not relied on as a formal investment recommendation.