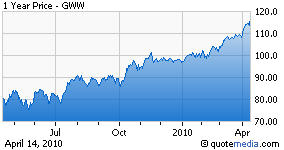 W.W. Grainger (NYSE:GWW) reported results for the first quarter of fiscal 2010. During the quarter, net earnings were $97 million up from $94 million in the year-ago quarter. EPS was $1.31, up 5% from $1.25 reported in the same quarter of fiscal 2009. Reported EPS was slightly below the Zacks Consensus Estimate of $1.38.
The company reported revenues of $1.7 billion up from $1.5 billion in the first quarter previous year. Grainger generated 84% of total revenues from the U.S. segment and 11.5% from Canadian operations. The rest was earned from Other business in different locations.
Revenues from the United States segment increased 8% year over year, partially due to the integration of Lab Safety Supply and Grainger Industrial Supply. Revenues from the Acklands-Grainger business in Canada increased 35% based on the overall growth in the Canadian economy.
Revenues from the other businesses, which include Japan, Mexico, India, Puerto Rico, China and Panama, were up 259%. The increase was attributable to new acquisitions in Japan and India, together with strong growth in emerging economies.
Gross margin decreased by 70 basis points to 42.2%, while warehousing, marketing and administrative expenses as a percentage of revenue decreased by 90 basis points.
Operating cash flow was $113 million compared to $43 million in the first quarter of 2009. Capital expenditures decreased to $14 million from $28 million during the same period in fiscal 2009. At the end of the first quarter, net cash position was a positive of $31.0 million compared to a negative of $272.7 million at end of year-ago quarter.
The company expects 2010 revenues to grow 6%-10% compared to 2009. EPS is expected to fall within the range of $5.40 to $5.90.
With most of its competitors being forced to reduce inventories, Grainger is confident of increasing its market share through market expansion and product line expansion. We believe the company has adequate financial strength to invest in growth opportunities.