According to Robert A. Stanger & Company, non-listed REITs and Business Development Companies (or BDCs) raised a record of $24.5 billion in 2013. Approximately 80% of total capital raised was committed to non-listed REITs.
Kevin Gannon, managing director of Stanger, attributed the popularity to the illiquid asset class to three primary factors: (1) recent liquidity events that produced attractive total returns, (2) yield advantages over traditional fixed income alternatives, and (3) continued uncertainty of the impact of macro-economic forces on the stock market. The first factor seems to be the most obvious as Gannon explains (source: Yahoo Finance):
The most significant factor lifting the industry to new levels of equity fundraising is successful liquidity events.
During 2013 seven non-listed REITs provided liquidity events that returned more than $16 billion of equity to their investors. Several REITs that gained more attention later include American Realty Capital Properties (ARCP) and Cole Real Estate Investments (NYSE:COLE). Although ARCP did not commence as a non-listed REIT, the company listed on NASDAQ in June 2011 and since that time has served as a consolidator of many non-listed REITs including American Realty Capital Trust III (ARCT3) and American Realty Capital Trust IV (ARCT4). In addition, ARCP is set to merge with COLE, a non-traded REIT, any day now.
One former non-traded REIT that has been flying below the radar is Chambers Street Properties (NYSE:CSG). On May 3 (2013) I wrote an article on Chambers Street, and at that time the Princeton (NJ)-based REIT had assets of around $3.14 billion (Q4-13) that consisted of 129 properties in states and 3 countries.
Originally established on July 2, 2004 as CB Richard Ellis Realty Trust, the company commenced as an externally managed REIT with an initial $55 million private placement (common shares placed by Wells Fargo). In 2006 the predecessor, CB Richard Ellis Realty Trust, commenced an IPO offering by raising around $607 million from its non-traded listing. In 2009 the company commenced a follow-up offering and raised another $1.9 million.

On July 1, 2012, the company internalized management operations and changed the name from CB Richard Ellis Realty Trust to Chambers Street (simply named for the side street of its corporate office building). On May 21 Chambers Street listed on the New York Stock Exchange.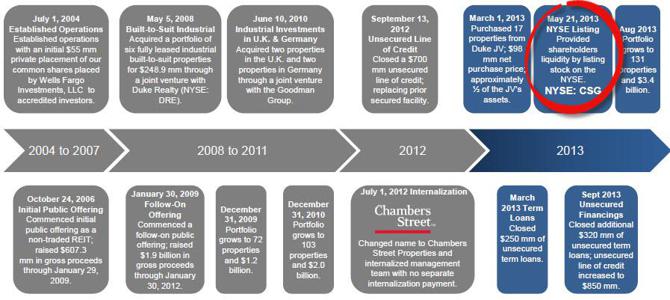 For those who don't remember, May 22 was the day that the Federal Reserve announced that it would begin to taper its bond-buying program, and almost all REITs felt the reaction. CSG listed its shares (on May 21) a day before the Fed's taper news, and then CSG's stock price fell by more than 28% in just about 90 days to a low of $7.17. However since that time the shares moved back up to $9.50 (on October 25), allowing time for the market timers to capitalize on a quick buck (a well-timed trade could have produced a 30% return in 60 days).
I bought shares in CSG at a cost of $7.39 and at $7.67. I was not looking to time the market; instead I bought shares off for the long haul. CSG is currently trading at $7.74, so I'm up a few points (granted I could have made a nice pop); however, I made the decision to own CSG for its long-term benefits and of course the power of the dividend income for my portfolio.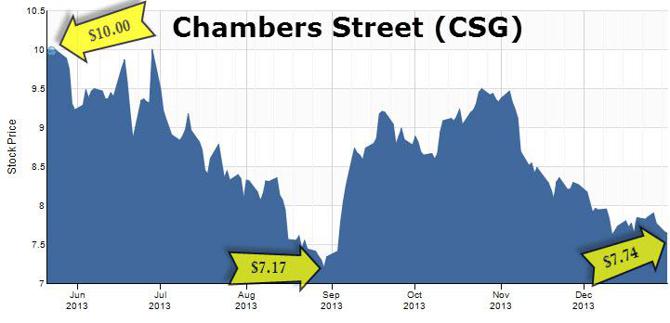 Since my first article on Chambers Street (in May), the company has increased its number of properties to 131 with a total portfolio acquisition cost of $3.344 billion. A large majority (90%) of CSG's portfolio was acquired after 2007.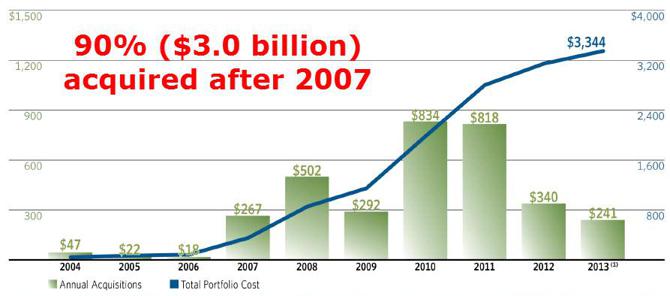 Chambers Street owns and invests in single tenant net lease office and industrial assets, and although the peer group is considered to be industrial, I often compare the company to a broader peer group that includes many traditional "Triple Net" REITs. Here is a snapshot of the entire "universe" that CSG operates within:
CSG owns more than 34 million square feet that consists of 24.9 million square feet of industrial assets and around 9.1 million square feet of office assets. The company has a well-balanced portfolio that includes concentrations in gateway markets including NYC Metro and DC Metro. Also, CSG has a strong presence across the US as well as the United Kingdom and Germany.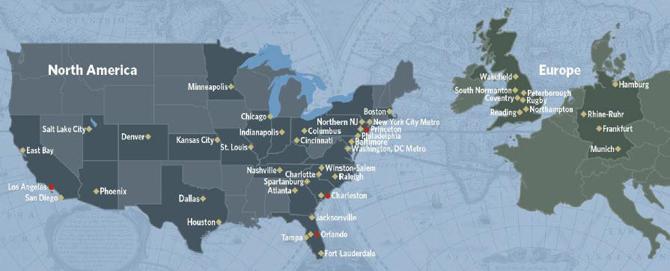 No market represents more than 15.1% of CSG's portfolio, and the top 5 markets represent 44.5% of the company-wide portfolio. The top markets include New Jersey (includes NYC Metro), Florida, Texas, Ohio and South Carolina. Many of CSG's assets located in South Carolina were acquired from Spartanburg (SC)-based Johnson Development Associates.
I am very familiar with many of the assets given I live in Spartanburg, and I have friends and colleagues who assisted with developing these industrial properties. Johnson was instrumental in bringing BMW to the Upstate of South Carolina, and the strength of the market can be best explained by the 7,500 jobs (just at BMW) and the more than 2 million vehicles that have been produced at the BMW plant since opening in 1994.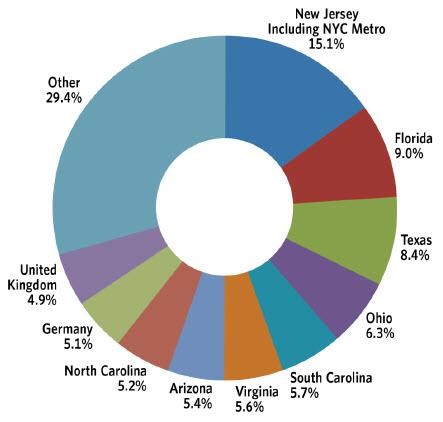 In addition to the U.S., CSG owns a European portfolio that consists of 13 properties with a total investment of around $335 million. All of these properties are 100% leased and comprise around 10% of CSG's overall portfolio. Just more than a month ago CSG announced that it picked up its first asset in France, a 966,000 square foot distribution center located within the Lauwin-Planque Business Park in Lille, France.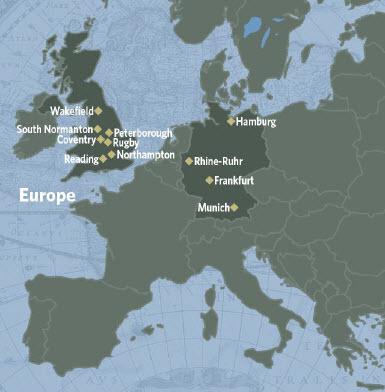 As mentioned above, CSG is somewhat of a "hybrid" operator in that it is more diverse than most industrial REITs. Instead, CSG invests in some recognizable companies in distinct industries or categories. For example, CSG leases to over 271 distinct operators with an attractive mix of defensive industries including Pharmaceutical & Healthcare, Consumer Products and Defense & Aerospace. Also CSG invests in Internet Retail and Logistics. As evidenced below, CSG has limited concentration as no industry represents more than 14% of annualized base rent (or ABR).
Chambers Street's Largest Tenant is Amazon
In the Wall Street Journal last week Spencer Jakab wrote:
Amazon's (NASDAQ:AMZN) growth stems in part from accepting puny margins, though - a fraction of those at retail behemoth Wal-Mart Stores Inc. for example. Mushrooming revenue certainly justifies some premium ... Amazon's shares fetch five times as much as Wal-Mart's relative to revenue.
As Jakab explains, "doubling of revenue in three years is the real reason Amazon receives the benefit of the doubt from so many investors. The stock fetches the same multiple of sales, 2.6 times, that it did three years ago, meaning Amazon's market value has doubled." Jakab isn't kidding. Amazon is trading at $358.69 a share, and as you can see below I find NO MARGIN OF SAFETY in the shares of this logistics giant.
Fueling the growth, however, for Amazon, has been the company's reliance on the landlords that rent more than 93.8 million square feet (most of AMZN's property is leased).Source: 10-K

Since acquiring its first Amazon facility in 2007, CSG has added four more Amazon-leased properties bringing CSG's total exposure to Amazon around 8.1%. CSG has continued to expand its relationship with Amazon, and the tenant's credit quality has improved (Amazon now has a AA- S&P rating).

In addition to Amazon, Chambers Street has many other high-quality tenants including Barclays Capital (NYSE:BCS), General Services Administration, Raytheon Company (NYSE:RTN), and JPMorgan Chase (NYSE:JPM). With the exception of Amazon, CSG has no other tenant with more than 5% exposure (based on ABR).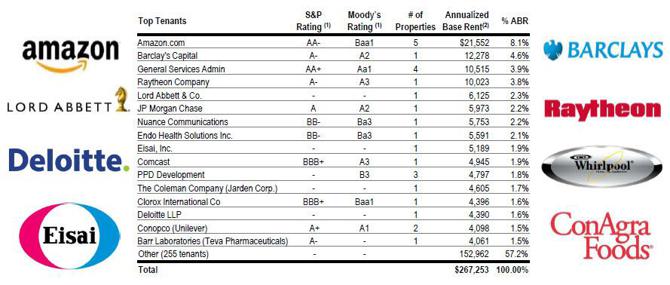 Chambers Street has staggered lease expirations that reflect a weighted average lease term of seven years. In addition, more than 91% of the company's leases expire after 2015.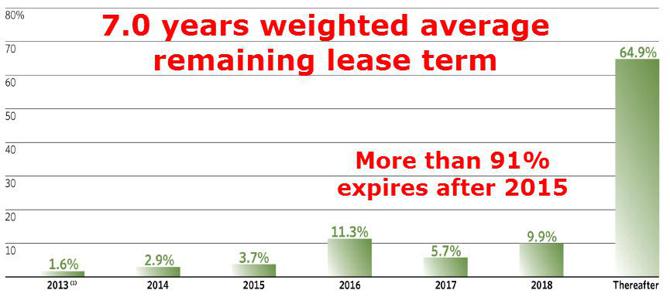 How Does Chambers Street Make Us Money?
As mentioned above, Chambers Street commenced as a non-traded REIT. That means that the company has built a portfolio of mostly new assets, and the company has extensive relationships for sourcing deals. It's true that CSG does compete with the other industrial and triple net REITs; however, CSG has been able to build out a model of differentiation (I will discuss more in depth below).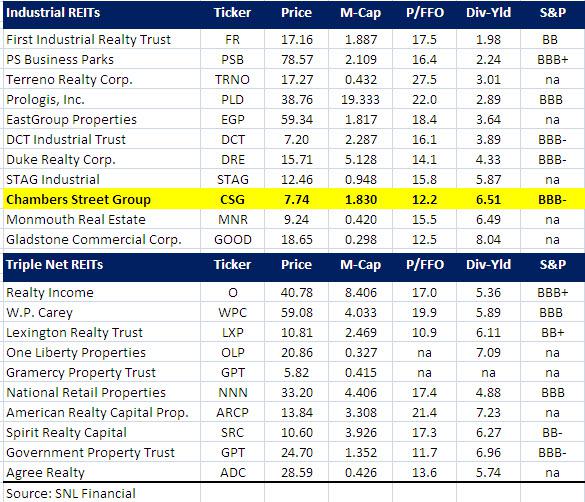 I often tell investors that you must not only consider the properties in a REIT portfolio but also the folks who manage them. In other words, one must consider the track record of the management team and determine whether or not the company is delivering growth or just collecting a management fee.
In the case of Chambers Street, let's examine the company's existing relationships and determine whether or not CSG has been able to capitalize on expansions (or relocations).
As mentioned, CSG owns several properties in Spartanburg, SC, and one is leased to Sally Beauty Holdings (NYSE:SBH). Recently CSG assisted Sally Beauty by expanding its 100,606 square foot facility to 190,606 square feet. As part of this proactive management strategy, CSG extended Sally's lease for 10 years (through May 31, 2023). The total expansion cost was around $3.4 million, and CSG's yield on (expansion) cost was 12%.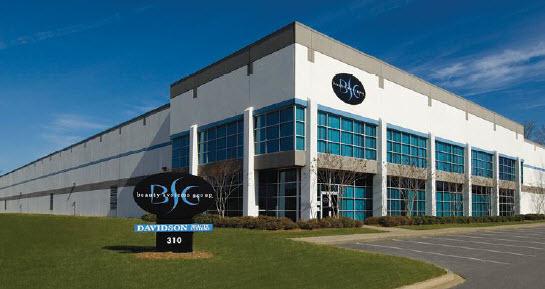 Another way that CSG is able to maximize investor value is to originate build-to-suit (or BTS) transactions whereby the REIT seeks to source new projects with established tenants and/or brokers. By focusing on BTS deals, CSG captures attractive initial yields and long-term triple net lease to credit tenants.
Recently CSG completed a 300,000 square foot BTS deal for Endo Health Solutions (NASDAQ:ENDP) in Malvern PA. The 100% leased property is under a 12-year triple net lease with 2.25% fixed annual rent increases. Endo is a leading pharmaceutical company with more than $3 billion in sales (in 2012). Completed around a year ago, CSG's development costs were around $65 million with a development yield of 8.4%.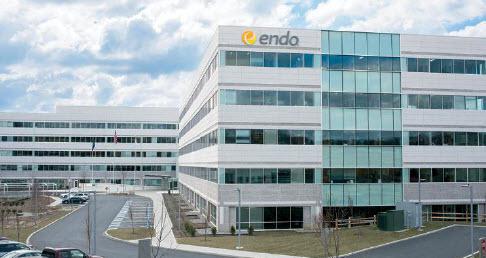 Chambers Street has a vetted lineup of experienced, real estate professionals that includes Philip Kianka, Chief Operating Officer (formerly VP with Lexington Realty Trust (NYSE:LXP)), Martin Reid, CFO; and around 25 other full-time employees with substantial experience. Chambers Street's CEO is Jack Cuneo, an industry veteran with deep roots in the REIT sector. Cuneo has been President and CEO since 2004, and he was also formerly CEO for CBRE Advisors. (In my upcoming newsletter I have a Q&A with Cuneo).
During the third quarter, CSG reported occupancy of 96%, a 50-basis point increase from 95.5% at June 30, 2013. The portfolio's occupancy reflects the quality of assets and the strength of the active management program. In the third quarter CSG executed 13 leases, totaling nearly 1.2 million square feet.
Chambers Street reported third quarter funds from operations (or FFO) of $37.5 million or $0.16 per diluted share compared to $19.8 million or $0.08 per diluted share for the same quarter in the prior year.
The year-over-year increase in core FFO is primarily attributable to higher property net operating income, resulting from additional property acquisitions completed, since the end of the third quarter of 2012, lower G&A due to efficiencies and expense reductions resulting from internalization of management. These factors were partially offset by higher interest expense, related to debt incurred to grow the portfolio.
During the quarter, Chambers Street completed an amended consolidated credit agreement and another term loan financing to provide the company with approximately $1.37 billion of new and refinanced unsecured borrowings and available capacity. These transactions help to extend the weighted average remaining term on CSG's debt to 5.2 years from 4.4 years.
These financings included a new $850 million unsecured revolving credit facility with the maturity date in January 2018, and carries an interest rate of LIBOR plus 1.7%. The new credit facility has an additional $150 million of capacity. A $120 million unsecured term loan, scheduled to mature in January 2021. The interest rate on this loan was fixed at approximately 4.42%. A $200 million unsecured term loan scheduled to mature in January 2019 with an interest rate that was fixed at approximately 3.27%.
Also, CSG has a new $200 million unsecured term loan scheduled to mature in March 2018 which replaces a previous $200 million term loan, with the same maturity date. The interest rate on this loan was fixed at approximately 2.64%.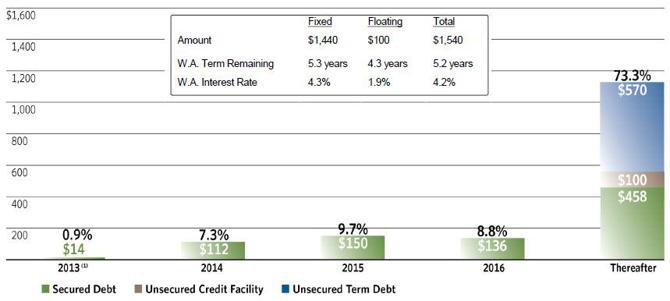 All of these balance sheet enhancements are consistent with those of an investment grade rated REIT. Accordingly, S&P recently (January 6) assigned CSG a BBB- rating with a stable outlook. This rating reflects the rating agency's view for favorable macroeconomic and industrial and office sector trends to support the company's growth strategy and lead to good revenue and EBITDA growth for the 2013 full year and 2014-2015. Also, in December Moody's has assigned a Baa3 issuer rating to CSG. The outlook is stable and this is the first time Moody's has assigned a rating to the company.
At the end of the third quarter of 2013, CSG had total debt outstanding of approximately $1.5 billion, including pro rata share of unconsolidated entities. The debt has a weighted average interest rate of 4.2% with a net debt to enterprise value of approximately 42%, well within target range for efficient operating leverage.
At September 30, CSG had just $126 million of debt scheduled to mature through year-end 2014 of which approximately $50 million was paid off subsequent to the end of the third quarter. CSG's debt maturity schedule beyond 2014 remains evenly distributed, and the unencumbered asset base now represents nearly 50% of the total portfolio at cost.
In terms of available capacity, CSG had $63 million of cash on hand and $100 million outstanding on its $850 million revolving line of credit, leaving $750 million of available capacity on the line. Here is a snapshot of CSG's balance sheet capitalization: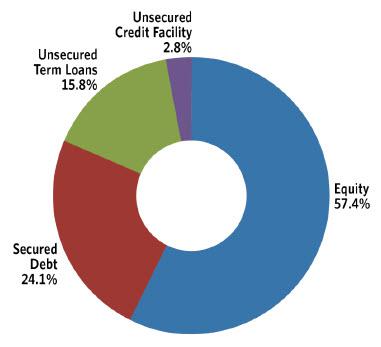 Why Am I Holding for the Long Haul?
As mentioned above, I could have sold CSG back in October and collected a handsome profit. However, I'm not looking for big swing - I'm happy with steady and reliable income. We all know that most triple net REITs fell hard in May of 2013, and that can be best illustrated with the snapshot below (total return data from May 21, 2013 through current):

While most of the triple net REITs have begun to recover from the thrashing of the shares, CSG has not. As evidenced below, CSG has returned negative 15.71%, making the REIT the worst performing (based on price) over the last 90-day period.

Could that mean that there is a "margin of safety" in Chambers Street? Perhaps. Let's take a look at the most widely used REIT valuation metric: Price to Funds from Operations (P/FFO). As you can see below, CSG is trading at the lower end of the broader net lease peer group with a P/FFO multiple of 12.2x. Wow.

Wow. The average of the peer group (above) is trading at 16.6x, and CSG is trading more than 30% below that (or 12.2x). Let's examine the dividend yield now. CSG has a current dividend yield of 6.51%, and here is the peer comparison:

Sweet! CSG has an above average dividend yield, and the company pays it MONTHLY. Last week I wrote an article on Monmouth Real Estate (NYSE:MNR), and CSG is paying a higher dividend. As I wrote, there appears to be a "margin of safety" in Monmouth shares; however, Chambers Street looks safer.
CSG has an investment grade balance sheet (NOW), and the monthly dividend is $0.042 for January, February and March (2014). The annualized dividend per common share is $0.504, and there is no news on a dividend increase (yet). Alternatively, Monmouth has not increased its dividend for a number of years.
However, another positive sign is that CSG raised its guidance for core FFO for diluted shares for the year ending December 31, 2013 to a range of $0.60 to $0.63 from a previous range of $0.57 to $0.62. This current guidance range incorporates several assumptions including general and administrative expense being between $25.5 million and $27.5 million, and the effects of property acquisitions dispositions or capital transactions are limited to those that have closed.
Later this week I plan to post an article called "Too GOOD To Be True." I think the title will give you a few clues as to my tolerance for owning Gladstone Commercial (NASDAQ:GOOD). The high dividend yield looks good on paper, but...
So in closing, I'll stick with Chambers Street. In fact, I plan to increase my exposure, as I believe the shares remain significantly undervalued. I like all that I see, and the best part for me is that I can drive around my home town and see how some of my assets are performing.
Management has demonstrated conservative risk management practices, and I believe the company is disciplined in its allocation of capital resources. Here's how Chambers Street CEO, Jack Cuneo, reminded me of my "long-haul outlook" for the under-valued shares (source: Q3 earnings call):
Our approach has been consistent and disciplined since our founding. We continue to execute the strategy by focusing on ownership of modern, high-quality and well-located properties, leasing our properties to a diversified mix of creditworthy tenants across a range of industries. Also, actively engaging our tenants to understand their real estate needs, and how we can provide solutions as those needs evolve. And of course, maintaining a strong balance sheet, to provide financial flexibility, the capacity for growth, and to support our dividend. This approach should result in sustainable dividends of long-term value for our shareholders.
In conclusion, I don't see the margin-of-safety in Amazon, but (at $7.74 a share) I do with this Triple Net REIT landlord! Kind of reminds of W.P. Carey (NYSE:WPC) on sale (here's my latest article on WPC). Like Bill Carey (founder of W.P. Carey) always said, "invest for the long haul."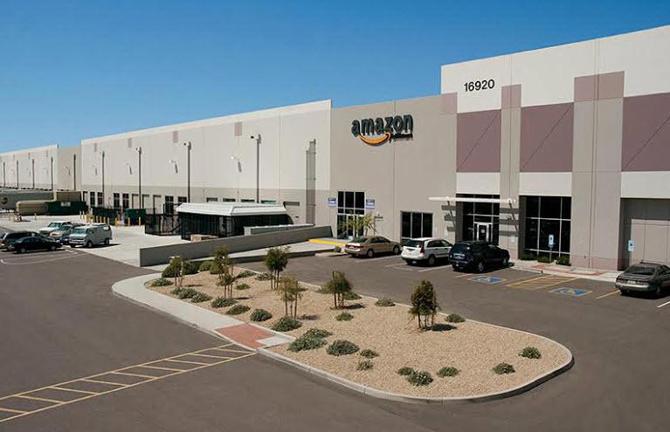 REIT Newsletter: The author is the Editor of a monthly REIT newsletter. For more information click HERE.
REITs mentioned: (NYSE:FR), (NYSE:PSB), (NYSE:TRNO), (NYSE:PLD), (NYSE:EGP), (NYSE:DCT), (NYSE:DRE), (NYSE:STAG), (NYSE:O), (NYSE:OLP), (NYSE:GPT), (NYSE:NNN), (NYSE:SRC), (NYSE:GOV), and (NYSE:ADC).
Source: SNL Financial and Chambers Street Investor Presentation.
Disclaimer: This article is intended to provide information to interested parties. As I have no knowledge of individual investor circumstances, goals, and/or portfolio concentration or diversification, readers are expected to complete their own due diligence before purchasing any stocks mentioned or recommended.
Disclosure: I am long O, DLR, VTR, HTA, STAG, UMH, CSG, GPT, ARCP, ROIC, MPW, HCN, OHI, LXP, KIM. I wrote this article myself, and it expresses my own opinions. I am not receiving compensation for it (other than from Seeking Alpha). I have no business relationship with any company whose stock is mentioned in this article.