The ongoing saga of Apple (NASDAQ:AAPL) should go down in history as an resounding vindication of behavioral finance. 12 months ago, the obsession du jour was with declining iPhone and iPad margins to the exclusion of higher unit sales in Asia and North America. Today, Wall Street's obsession is with slight and ultimately meaningless decline unit sales growth.
In this article, we'll continue with our data-driven, visual guided tour of Apple's recent performance and see what it can tell us about the company's plans for 2014.
Apple Continues To Retain Its Pricing Power. One thing analysts fret over is whether or not Apple will lose its ability to charge a premium for its devices. Despite increased competition, evidence for shrinking margins via commodization just isn't there. iPhone and the Mac Desktop/Portable ASPs are actually rising, while lower iPad margins are due to the inclusion of the iPad Mini line.
Fig. 1: Apple Sales Growth By Product Line (YOY% Change)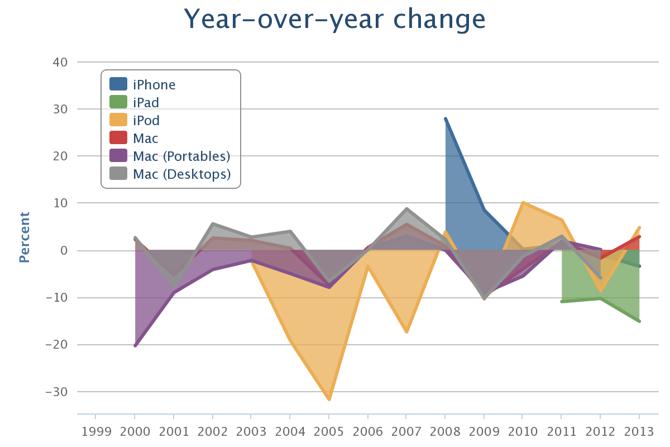 (Source: Apple Investor Relations/SEC Filings, Bare Figures)
Apple's Nominal R&D Spend Has Increased Dramatically. Apple's recent $360 million acquisition of PrimeSense and as well a flurry of recent patent awards suggests that a new wave of product releases is on the horizon, including curved screens, enhanced biometrics, 3D gesturing, wireless charging and a major upgrade to Apple Maps are all in the works for 2014. Increased R&D spend typically coincides with new product releases.
Fig. 2: Apple's Annual R&D Spend (in billions)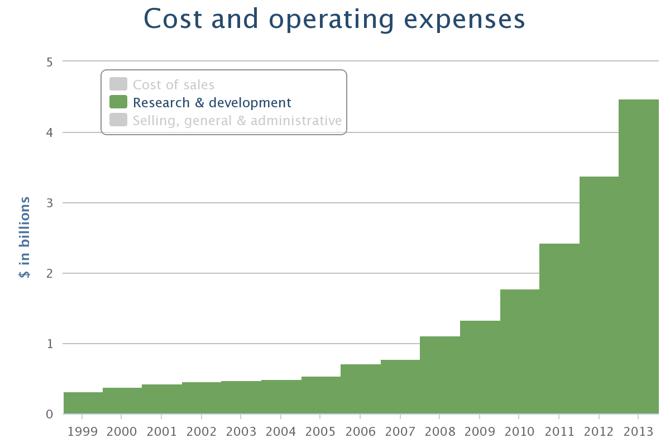 (Source: Apple Investor Relations/SEC Filings, Bare Figures)
Investors Will Eventually Demand A Return To Fundamental EPS Growth. Apple's current buyback is largely defensive play until new products exit the pipeline. However, while I believe that depleting the share count to boost EPS has been a successful short-term strategy in terms of putting a floor under the stock, it wouldn't be in shareholders' long-term interest to make it a habit.
Fig. 3: Apple Earnings Per Share 1999-2013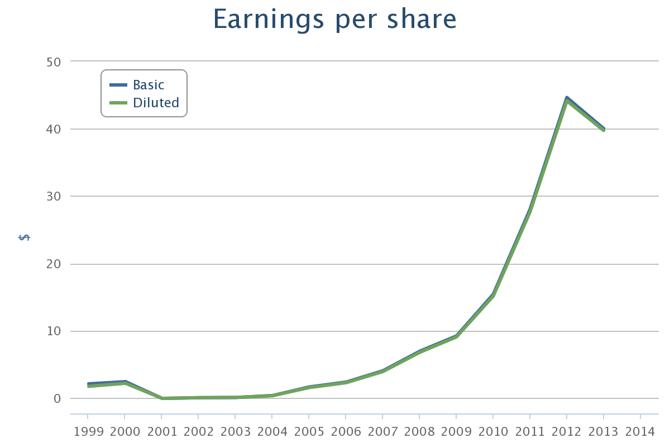 (Source: Apple Investor Relations/SEC Filings, Bare Figures)
The Treasure Trove Grows (Again). Unless Mr. Cook has inside information to the effect that God intends to destroy the world for a second time by Flood, building an Ark of this size "for a rainy" day is excessive.
Fig. 4: Apple's Cash & Marketable Securities Growth (Q1/99-Q1/14)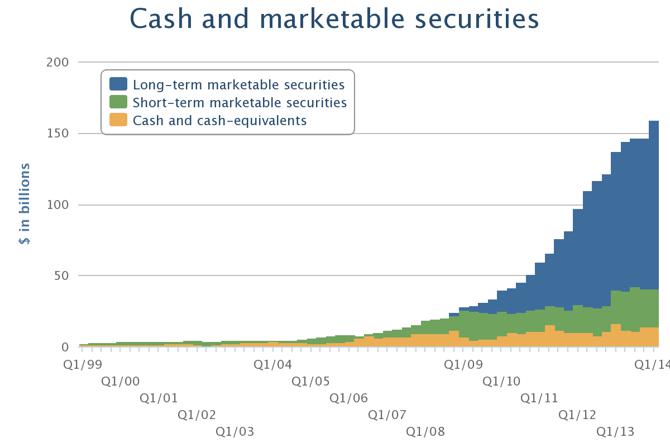 (Source: Apple Investor Relations/SEC Filings, Bare Figures)
Google's Higher R&D Commitment Is A Concern. Regardless of how efficiently Apple leverages its R&D dollars through low M&A costs, the fact that Google (NASDAQ:GOOG) consistently outspends Apple by a factor of nearly 2 to 1 will, all else equal, give Mountain View an increasing edge in innovation over time.
Fig. 5: Google's Research & Development Annual Spend 2004-2013 (in billions)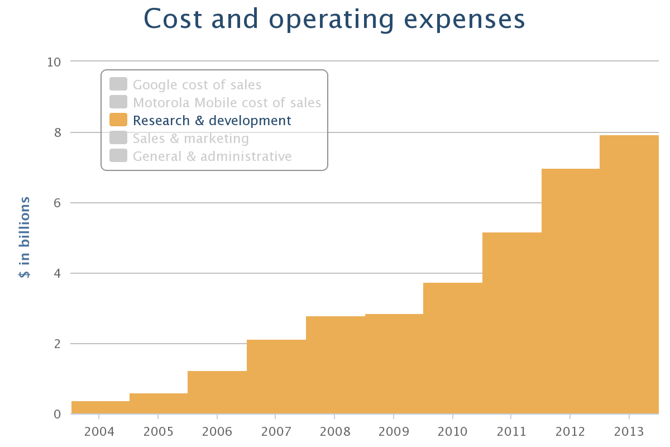 (Source: Google IR, Bare Figures)
Whether these innovations (Driverless Cars, Project Loon, Google Glass, etc.) ultimately prove to be breadwinners or not, the sheer number of new product releases is beginning to have an impact on the narrative.
Conclusion
To summarize, Apple is currently in the usual holding pattern until new products exit the pipeline, and I expect a relatively tight trading range of $500-$550 to reflect that fact going into the next two quarters. Apple's R&D spend is still low compared to Google, and this disparity is undeniably working in Mountain View's favor despite the relatively immature status of many of these prototypes.
As of this writing, the stock is trading at a 72% discount to the S&P on a P/E basis. Given Cupertino's historical determination to defend the share price at around $425, the current dip offers an attractive entry point for going long on Apple's 2014 product cycle.
Disclosure: I have no positions in any stocks mentioned, and no plans to initiate any positions within the next 72 hours. I wrote this article myself, and it expresses my own opinions. I am not receiving compensation for it (other than from Seeking Alpha). I have no business relationship with any company whose stock is mentioned in this article.