As I noted in a recent article, General Electric (NYSE:GE) now appears to be attractively priced due to the recent pullback in its share price. The stock now yields roughly 3.50% and is rather cheap with a 14.00x forward 2015 multiple. However, the news regarding GE Capital and the IPO of its North American retail finance unit should be considered yet another major positive development for the company.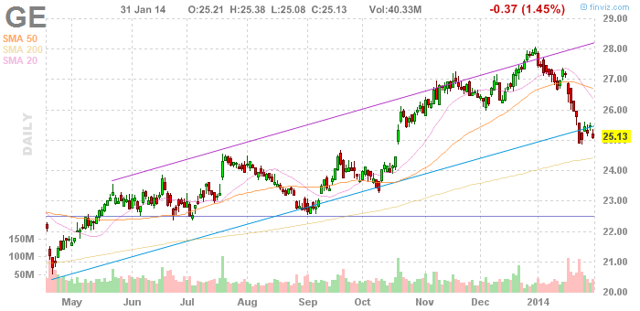 General Electric hires bankers to IPO N.A. Retail Finance unit
According to a recent Financial Times report, General Electric has hired Goldman Sachs (NYSE:GS) and JPMorgan Chase (NYSE:JPM) to lead the IPO process for the North American retail finance unit of GE Capital. A filing is now expected sometime in the next two months. This IPO is likely to be the largest in the US since the 2012 IPO of Facebook (NASDAQ:FB).
General Electric has previously noted that it is aiming to offer up to 20% of the business in the offering, with an expected valuation of north of $20B. General Electric is expected to raise nearly $4B via the IPO. In addition, General Electric plans to eventually spin off the remainder of the business to its shareholders sometime in 2015.
Why this IPO is good news for General Electric
While the North American retail finance unit is only about one-third of GE Capital by revenues, it does mark a good first step by General Electric.
It has long been argued that GE Capital is an albatross around the neck of General Electric, overshadowing the strong double-digit growth seen in the industrial segments. For 2013, GE Capital contributed over 45% of segment profits for General Electric.
The principal argument here is that General Electric as a whole is extremely hard to value due to a large chunk of its earnings coming from GE Capital. At the moment, General Electric is a sort of a hybrid between an industrial-growth and bank stock, with a valuation somewhere in the middle of the two.
As an example, by enterprise multiple, General Electric trades at about a 11.50x multiple, compared to say a Siemens (SI) at 16.00x. Even some of the slow to no growth industrial names such as Emerson Electric (NYSE:EMR) and Illinois Tool Works (NYSE:ITW) demand multiples of above 12.00x.
Simply put, General Electric trades at a discount to its pure-play industrial peers and will continue to do so unless it sheds significant portions of GE Capital.
Why buy General Electric?
As I noted in the intro, General Electric is quite cheap based on forward 2015 earnings. In addition, the stock offer a solid 3.50% dividend yield and has shown considerable dividend growth over the past few years. General Electric's dividend has basically doubled since the dividend cut in 2009.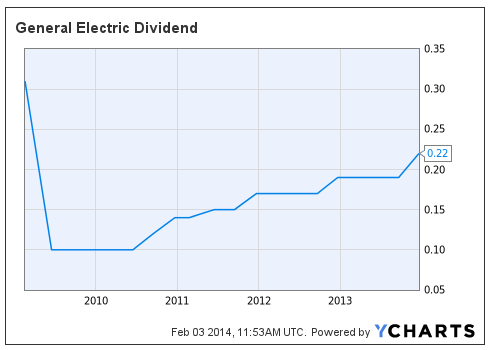 Furthermore, General Electric is now focused almost entirely on returning capital to its shareholders. For 2013 alone, General Electric returned over $18B to its shareholders. The company is estimated to generated up to $90B in cash through 2016, with over half slated for shareholders returns via dividends and share buybacks. General Electric has a long term goal to significantly reduced its float, targeting a 9.5B share count by 2016.
2014 is slated to be a lean year in terms of EPS growth. However, earnings quality will improve, with more and more earnings from the industrial segments compared to GE Capital. 60% of General Electric's profits should come from its industrial segment this year, with this figure improving to 70% in 2015.
Conclusion
Divesting GE Capital is a long-term plus for General Electric. Yes, EPS may fall short-term. However, so will General Electric risk profile.
It will be interesting to see how the market values GE Capital's retail finance unit as it will give us a better picture of General Electric's overall valuation. I expect demand for the IPO to be quite strong, especially given that recent similar offerings, such Santander Consumer (NYSE:SC) and AIG's Springleaf Holdings (LEAF), have both soared post IPO.
Disclaimer: The opinions in this article are for informational purposes only and should not be construed as a recommendation to buy or sell the stocks mentioned. Please do your own due diligence before making any investment decision.
Disclosure: I am long GE. I wrote this article myself, and it expresses my own opinions. I am not receiving compensation for it (other than from Seeking Alpha). I have no business relationship with any company whose stock is mentioned in this article.