(Editors' Note: This article covers a micro-cap stock. Please be aware of the risks associated with these stocks.)
Sometimes a deal appears that seems just too good to be true. In most cases, such deals are just that - too good to be true. However, there is a deal about to be completed in the mining sector that, although seeming too good to be true, is, in fact, true. If you haven't heard of the soon to be completed deal between Asanko Gold (NYSEMKT:AKG) and PMI Gold (OTC:PMVGF), then this may just be the opportunity of a lifetime to get in on the ground floor and purchase gold for pennies on the dollar.
Asanko Gold owns 100% of the Esaase Gold Project in Southwest Ghana. See the map below.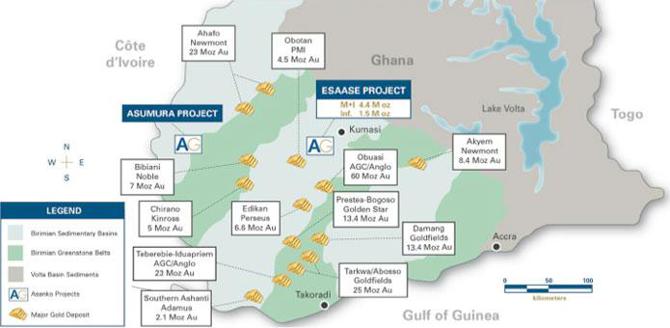 The company is targeting production of 200,000 ounces of gold per year over the life of the mine (+12 years). First gold production is planned for Q4 2015/Q1 2016.
PMI Gold's flagship property is the Obotan Gold Project and is located in the same geographic area in Southwest Ghana as Asanko's Esaase Gold Project.
On January 31st, both companies announced that their respective shareholders overwhelmingly approved the acquisition of PMI Gold by Asanko Gold. (See PMI's news release here and Asanko's here).
PMI is expecting the Supreme Court of British Columbia to approve the Arrangement by February 4, 2014. Once the final order is received, the Arrangement is expected to be completed on or about February 6, 2014.
To make a long story as succinct as possible, if all goes as expected, the new Asanko Gold will have:
Basic Shares Outstanding of 172 million
Fully Diluted Shares Outstanding of 172.7 million
Market Cap of US$301 million (based on Asanko's closing price of US$1.75 on January 31, 2014).
Cash and Cash Equivalents of $280 million
Total Proven and Probable gold reserves (Esaase & Obotan) of 4.81 million ounces
Asanko's February 2014 Investor Presentation (see here) contains the following highlights for your reference:
Integration plan already formulated and ready to be rolled out upon completion of transaction.
Esaase & Obotan projects to be combined into one multi-deposit mining & processing complex.
US$280 million cash plus US$150 million debt available for development.
Development decision for Phase 1 production in Q2 2014.
Targeting production of 200,000oz/year Q1 2016 and targeting 400,000oz/year by 2017.
Here are some numbers to think about. Shares of Asanko closed on Friday, January 31 at US$1.75, giving the company a market cap of US$301 million. If we subtract the US$280 million in cash the company will have post acquisition of PMI, it means that the resource is being valued at virtually nothing. Does this make sense to you? It certainly doesn't make any sense to me.
Additionally, on page 19 of Asanko's February 2014 investor presentation, which you can view for yourself here, there is a comparison made of Asanko to its producer peers. On an EV/oz of reserves basis, Asanko's peers are valued at US$152/oz, while Asanko is valued, as I've already shown above, at US$0.
Asanko also has a deep and experienced team running it. On pages 23 & 24 of the investor presentation you can get all the information you need on the team running the company.
So, to sum up Asanko has:
Near term Phase 1 production of 200,000 per year by Q1 2016 from the Esaase Gold Project.
Lots of cash to fully fund Phase 1 and a debt facility of US$150 million if needed.
An organic growth pipeline to add another 200,000oz per year by 2017 from the Obotan Gold Project.
4.8 million ounces of P&P resource and up to 7.5 million total ounces if we include M&I figures.
A land package of 1,000 square kilometers for further exploration.
A proven management team that can execute the company's strategy of becoming a mid-tier gold producer.
Very compelling valuations compared to its peers.
Yes, it may seem too good to be true, but right now with Asanko Gold you can buy almost five million ounces of gold for nothing, because that's what the market is valuing the company's 4.8 million ounces of P&P resources at.
Disclosure: I have no positions in any stocks mentioned, but may initiate a long position in AKG over the next 72 hours. I wrote this article myself, and it expresses my own opinions. I am not receiving compensation for it (other than from Seeking Alpha). I have no business relationship with any company whose stock is mentioned in this article.