By Craig Bowles
Overview
LinkedIn, Corp. (NYSE:LNKD) is slated to report 4Q 2013 earnings after the bell on Thursday, February 6. The earnings release is expected at approximately 4:00 p.m. EST followed at 5:00 p.m. with a webcast presentation available through LinkedIn Investor Relations. LinkedIn is the premier social network for professionals around the globe.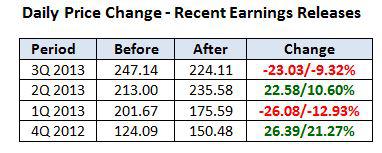 Outliers & Strategy
Key measures:
Non-GAAP Earnings Per Share: The current Street estimate is $0.38 (range $0.27 to $0.47) (Source: Yahoo! Finance). Results have beat estimates every quarter since the IPO but the last two quarters outpaced estimates by 7c, down from the 14c beats of the two earlier quarters.
Revenues: Revenues are seen rising 44.4% y/y to $438.28 mln (range $420.00 mln to $472.72 mln). The company's guidance has a range of $415 mln to $420 mln, so analysts expect an upside revenue surprise.
Revenue Guidance (1Q 2014): The Street is looking for an increase of 44.9% y/y to $470.41 mln (range $451.00 mln to $498.40 mln).
Revenue Guidance (FY 2014): The Street is looking for a 42.6% increase to $2.17 bln (range $2.06 bln to $2.34 bln).
Registered User Base: The Registered User Base for 4Q 2013 is projected to increase from 259.0 mln at the end of 3Q 2013 to 275.2 mln, with some estimates running as high as 279.9 mln, according to Zack's Investment Research.
Expedia shares have a 1-day average price change on earnings of 10.54%. Options are pricing in an implied move of 9.53% off earnings.
Recent News
01/17 Wunderlich Securities reiterated a Buy rating and $280 price target after the company hired Derek Shen as president of LinkedIn China which they see as an eventual introduction of a native language site, according to a post on StreetInsider.com.
01/17 Topeka Capital initiated coverage with a Hold rating and a price target of $230.00 due to high multiples limiting valuation upside, according to a post on StreetInsider.com.
01/07 BofA/Merrill Lynch downgraded LinkedIn to Neutral from Buy with a price target of $240 and expressed caution on 2014 and 2015 estimates, which he thinks may be aggressive given slowing job postings and usage in Q4 that likely carry over into the first half of 2014, according to a post on StreetInsider.com.
01/02 Citigroup said Q4 revenue is not likely to beat consensus and the best case scenario for Q4 Hiring Solutions revenue is in-line with consensus based on tracker data, according to a post on StreetInsider.com.
Technical Review
LinkedIn shares had a meteoric rise into September 2013 but gave back 25% by early January of this year, so the last six months of wild gyrations finds the stock having market performed overall. The stock is currently trying to firm up a $204-$232 balance area and currently ranging around the 200-day moving average. Positive earnings results and guidance would help push the stock above the 50-day moving average just below $220 where this past Friday's trading saw selling. Conversely, a poor report pushing shares below $200 has the next support area at $180 where shares traded for much of the first half of 2013. (Chart courtesy of StockCharts.com)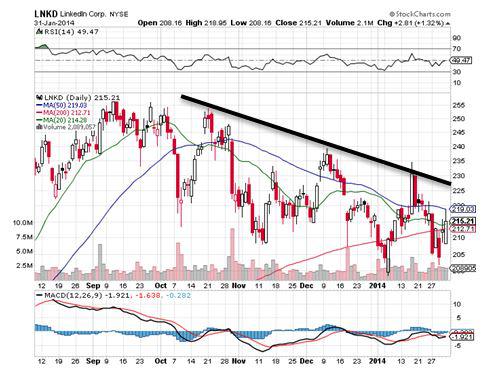 Summary
LinkedIn has optimism surrounding expansion into China but this is a slow and developing story. The more immediate worry is that slowing job postings and usage may carry over into the first half of 2014, so more attention might be paid to revenues and revenue guidance assuming the company beats earnings estimates again. Analysts' range of expectations for revenues is above the company's guidance, so a strong report will need to be accompanied by strong guidance. The stock is trading in a convergence of moving averages, so the next intermediate-term direction may be determined by Thursday's report.
DISCLAIMER: By using this report, you acknowledge that Selerity, Inc. is in no way liable for losses or gains arising out of commentary, analysis, and or data in this report. Your investment decisions and recommendations are made entirely at your discretion. Selerity does not own securities in companies that they write about, is not an investment adviser, and the content contained herein is not an endorsement to buy or sell any securities. No content published as part of this report constitutes a recommendation that any particular investment, security, portfolio of securities, transaction or investment strategy is suitable for any specific person.
Disclosure: I have no positions in any stocks mentioned, and no plans to initiate any positions within the next 72 hours. I wrote this article myself, and it expresses my own opinions. I am not receiving compensation for it (other than from Seeking Alpha). I have no business relationship with any company whose stock is mentioned in this article.