By Craig Bowles
Overview
Walt Disney Co. (NYSE:DIS) is slated to report 1Q 2014 earnings after the bell on Wednesday, February 5. The earnings release is expected at approximately 4:15 p.m. EST followed at 5:00 p.m. with a webcast presentation available through Disney Investor Relations. The media and entertainment giant is also a member of the Dow Jones Industrial Average and could therefore influence direction of the index futures and other broad market gauges.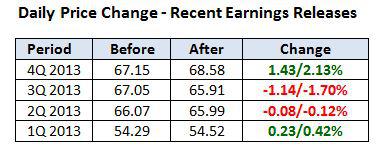 Outliers & Strategy
Key measures:
Earnings Per Share Excluding Items: The current Street estimate is $0.91 (range $0.84 to $0.97) (Source: Yahoo! Finance). Estimates were increased by $0.02 during the last three months and Disney has been beating estimates by approximately $0.02 previously.
Revenues: Revenues are seen rising 7.8% y/y to $12.23 bln (range $11.92 bln to $12.54 bln).
Insiders have sold 1,653,240 shares the last six months but Disney is more than offsetting the selling by increasing company stock buybacks from $4 bln to $6-8 bln in 2014.
Keep an eye on advertising revenue this quarter. Rival Viacom (NYSE:VIA) reported last week that ad revenue increased 4%, due to favorable ratings trends despite the company's overall revenue declining 4%.
We haven't heard analysts discuss how some unseasonably cold weather in Florida might affect theme park revenues, so it might be something to consider with the recent water park closures in the news. Disney doesn't provide guidance, however.
Disney shares have a 1-day average price change on earnings of 3.26%. Options are pricing in an implied move of 2.6% off earnings.
Recent News
01/22 Bernstein explained Disney's 25% ownership of A&E TV Networks isn't priced into the stock and is worth approximately $6/share, which is why they rate the stock Outperform, according to a post on Benzinga.com.
01/15 Nomura was very bullish on Disney with a Buy rating and $90 price target citing further growth at ESPN and theme parks in FY2014 and consistent EPS growth in the coming years. Also, success of animation studio content has easy YoY comparables and the stock is at a historically reasonable valuation, according to a post on Barron's Blogs.
12/30 Guggenheim upgraded Disney to Buy from Neutral and raised its price target to $87 on positive momentum of products and films from Marvel, Pixar, Star Wars brands that should drive growth the next three years. Thor 2 and Frozen have both outperformed in fiscal Q1, supporting the strengthening content story, according to a post on StreetInsider.com.
Technical Review
Disney shares consolidated from the late 1990s to 2012 and have quickly doubled since breaking out. Disney has more than doubled the S&P performance over the last two years, outperformed by close to 8% the last six months, by 5% the last three months, and underperformed the last month, so relative performance shows a weakening trend. Disney's stock found recent support at the 50-day moving average, below which is a large balance period in the $63-$67 area where the 200-day moving average is located. A bullish earnings report has limited technical resistance around $74 with the all-time high at $76.84. (Chart courtesy of StockCharts.com)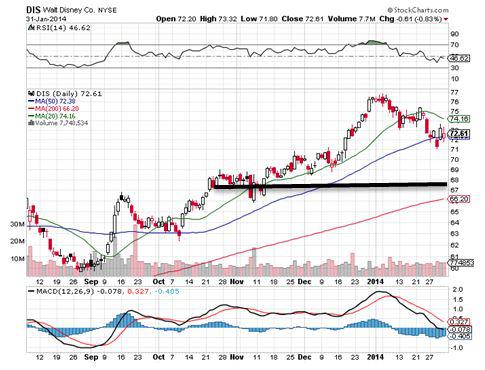 Summary
Disney analysts remain optimistic and talk glowingly about the company's growth prospects for animation studio content into 2015. The company has ramped up their buyback program which more than offsets any insider selling. The stock normally tests the 200-day moving average once each year and hasn't since late 2012, so seems a little overdue. Expectations for the current release have been slightly increased by analysts over the last three months and Disney has been beating estimates by an average of 2c during the last year. Given the interesting technical position as the stock clings to its 50-day moving average, the reaction to Wednesday's report will dictate whether support has been established or an overdue retest of the 200-day moving average becomes more likely. In either case, Disney is an exciting story that also pays a 1.2% yield.
DISCLAIMER: By using this report, you acknowledge that Selerity, Inc. is in no way liable for losses or gains arising out of commentary, analysis, and or data in this report. Your investment decisions and recommendations are made entirely at your discretion. Selerity does not own securities in companies that they write about, is not an investment adviser, and the content contained herein is not an endorsement to buy or sell any securities. No content published as part of this report constitutes a recommendation that any particular investment, security, portfolio of securities, transaction or investment strategy is suitable for any specific person.
Disclosure: I have no positions in any stocks mentioned, and no plans to initiate any positions within the next 72 hours. I wrote this article myself, and it expresses my own opinions. I am not receiving compensation for it (other than from Seeking Alpha). I have no business relationship with any company whose stock is mentioned in this article.